AAII or American Association of Investors is the go to site for credible investment information for do-it-yourself investors. I'm a lifetime member and find the AAII sentiment survey, AAII Journal, AAII stock screens, AAII Investor Pro and AAII Shadow stock portfolios educational and inspiring.
To be honest, although I was a former portfolio manager, stock picker and university finance instructor, today my investing style leans towards passive index fund investing. (Although, I do own several individual stocks and bonds.) Despite following a passive index fund investment strategy, there are resources and information that I value on the AAII website.
This article may contain affiliate links which means that – at zero cost to you – I might earn a commission if you sign up or buy through the affiliate link.
For individual investors, stock researchers and stock pickers there are an abundance of screens, webinars, articles and resources. But, there's also a value for passive investors in an AAII membership. The best mutual funds and ETF lists are filled with investment ideas. And, I appreciate that the AAII information is based upon research and presented by credentialed investment professionals.
The free trial enables individual investors to check out the model portfolios, stock, ETF, and mutual fund screeners, investment education, AAII monthly Journal and more.
If you're looking for like minded investors, the AAII local chapter meetings offer investment programming with top notch guests.
What is AAII?
"The American Association of Individual Investors is an independent, nonprofit corporation formed for the purpose of assisting individuals in becoming effective managers of their own assets through programs of education, information and research. " ~AAII website
Think of AAII as a full service, non-biased, non-profit portal to learn about all types of investing. The educators and authors on the site are experts with advanced training, education and experience investment strategies.
"AAII has educated over two million investors and continues to help them develop their "investment philosophy" based on individual objectives. This is accomplished by illustrating how to evaluate different investment vehicles and opportunities, showing how to obtain necessary information for effective decision making, and even informing investors how various investments relate to each other within the economic climate. "

~AAII mission
AAII doesn't recommend just one style of investing, but offers insight into an expansive array of finance, economic, and investment topics. Although if your focus is primarily technical, day or options trading, you be better served elsewhere. Many of the AAII stock strategies have a "value" bent.
AAII stock, fund, financial and economic topics include:
Fundamental investing
Dividend Investing
Mutual and exchanged traded funds
Stock picking with A-F stock grades
Financial planning
Retirement
Asset allocation
Portfolio Construction
Small stock investing
Tax planning
Although the basic website is free and includes general investment education, the best content is available to members.
Who is AAII Best For?
Individual investors who want to learn smart strategies for investing in stocks, bonds, mutual funds and ETFs. The organization has analytical tools for advanced stock researchers and educational materials for beginners.
AAII is also great for those seeking a basic understanding of investment fundamentals by a reputable non-profit organization. If you're interested in choosing your own investments, screeners for various investment styles including those of investment legends and a feature-rich investment journal then check out the free trial. I'm a lifetime member of AAII and have been using their resources for decades.
AAII Pros and Cons
Pros
Vast range of educational articles and guides on the website and within the Journal
Strategies for all types of investors from value to momentum investors
Shadow stock portfolio returns have been excellent, and you can follow the AAII roadmap for buys and sells
Screeners narrow down investment choices
Free trial
Cons
No mobile app
Fees could be high for some investors
AAII Membership | Benefits
There are various tiers of membership and distinct products aligned with each level. The AAII basic membership costs $49 per year and provides an abundance of information including the AAII Journal, delivered by US mail. Investors seeking specific information about value and dividend stock investing along with deep dive research tools, will appreciate the additional AAII memberships.
Basic AAII membership benefits and investment resources:
AAII Journal – I love this monthly periodical which includes actionable information for every type of investor. Some of my favorite recent articles include best mutual fund and best ETF lists. The AAII Shadow Stock Portfolio is a fascinating resource for stock pickers attempting to beat the market with a small cap value investment approach.
The returns of this well-researched model portfolio – AAII Shadow Stock – have surpassed the Vanguard Small Cap Index mutual fund and the S&P 500 stock market index since inception.
Asset Allocation Guidance – Great data on performance and returns of various asset allocation models.
Guides – AAII Tax Guide, AAII ETF Guide, AAII Robo-Advisor Guide, Discount Broker Guide and more.
AAII Stock Screens – Pre-made stock screens are enough for most investors. Sample screens include those that follow legendary investors like Buffett, large cap growth outperformers, momentum domestic funds, value funds and more. Many screens are included with the Basic Membership, while other screens are available in the A+ Investor Tools.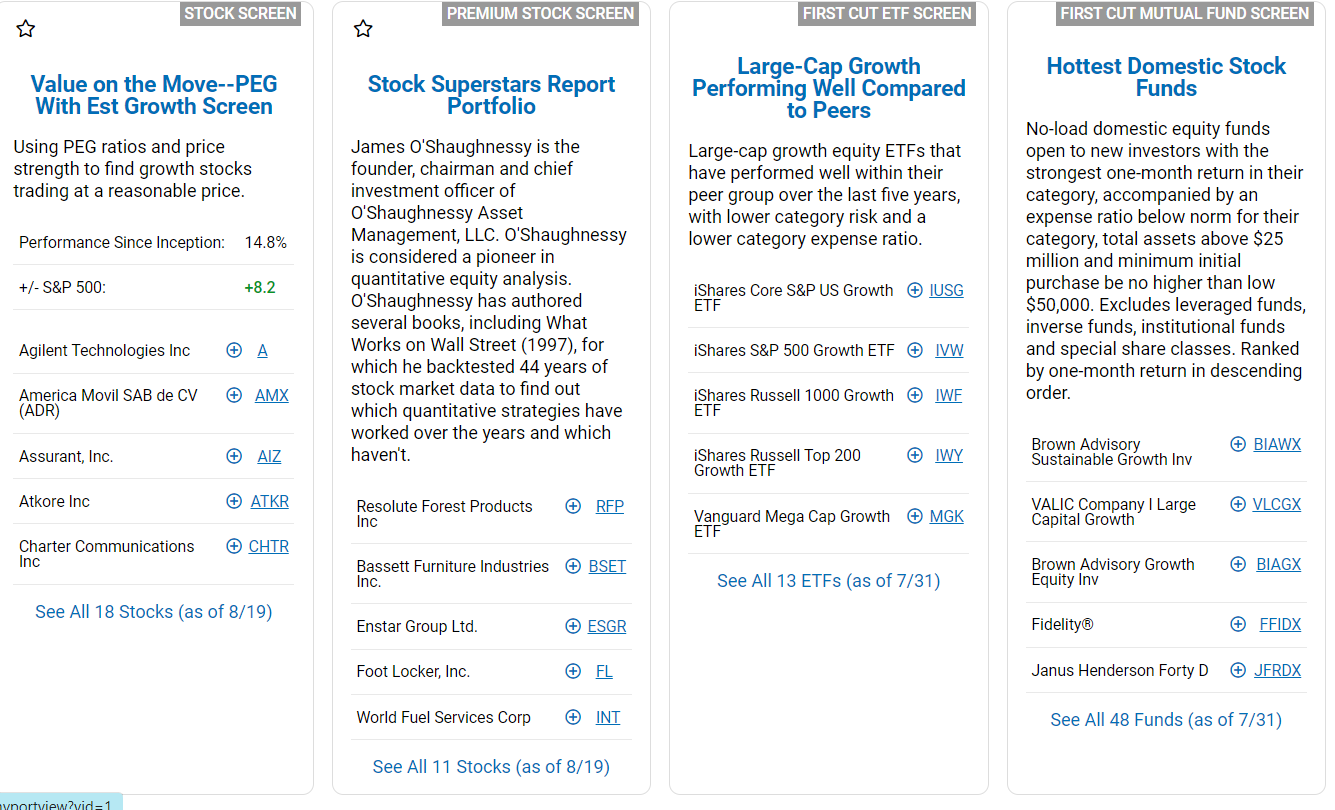 Those seeking advanced screening will need to sign up for the A+ Investor for $149 per year.
Portfolio Management Tools and Tracker – Tools to help individual investors create and manage the best investment portfolio for their goals. Input your investment portfolio to get insights into your asset allocation, sector, geographic location, and market cap. This is comparable to the freemium Morningstar Portfolio X-ray.
Model Portfolios – In addition to the Shadow stock portfolio a AAII basic membership entitles you to other model portfolios; Stock Superstars Report, Dividend Invest and VMQ (value stocks with momentum).
Local Chapters – The local chapters provide educational programming and an opportunity to interact with like-minded investors. The chapters host top-level financial professionals and offer a forum for individual investors to learn and network. A recent Silicon Valley California meeting discussed "Ins and Outs of Investing with ETFs" and was hosted by Ben Johnson, director of global ETF research at Morningstar and Jason Browne, president of Alexis Investment Partners.
For investors seeking greater resources and investing ideas the additional paid memberships offer more stock market, bond market, ETF, mutual fund, portfolio analysis and premium services. Stock pickers and individual investors seeking research supported investment strategies from a non-profit organization with highly credentialed contributors might consider one or all of the paid services.
AAII Premium Services
A+ Investor Investment Tools
$149 per year for members
Serious investors will appreciate the suite of investment tools. There is a dizzying array of strategies for the independent investor to create a diversified portfolio. The stock data, investing ideas and stock screening tools cut down on the time it takes to pick investments.
Portfolio insights tracking and analysis
Diversification analyzer with recommendations for an improved portfolio
50+ guru, quant and factor stock screens updated daily
Customizable stock and fund screens
A-F grades for over 30,000 stocks and funds
The value with this membership is that regardless of your investment approach, you'll get strategies, screens and education to fill your portfolio with assets that have a chance of outperforming the market returns.
Try the FREE trial of A+ Investor Toolkit to find out if it's right for you.
VMQ Stocks – Value, Momentum and Quality
$279 annually for members
Stock service for investors interested in creating a portfolio comprised of quality value stocks with current price momentum. Get regular updates and information about low cost stocks with positive momentum and quality.
These stocks are expected to outperform the returns of the overall market.
AAII Dividend Investing
$199 Annually for members
Guidance in becoming a successful dividend investor. You'll get access to a model portfolio of 24 hand-picked dividend-paying stocks.
Stock Superstars Report
$199 Annually for members
A time tested system to uncover winning stocks in just 15 to 20 minutes per week, using the AAII resources. Additional benefits include weekly buy and sell alerts and a monthly newsletter. This investment service is ideal for the time-strapped stock picker.
Stock Investor Pro
$299 annually for members (Windows OS only)
Fundamental stock pickers will appreciate this stock screening and research database for individual investors. This service includes a database of 6,000+ stocks with data updated daily.
Features include:
Stock research database
Stock screener with 60+ pre-defined screens
Customizable stock screener
This service is geared to the sophisticated, analytical individual stock market investor. The screens are designed by the expert AAII investment professionals.
AAII Platinum
$499 per year with 90 day money back guarantee (The value of the individual services is $826 according to AAII)
This bundle is for the investor that is interested in receiving all of the premium AAII offers. Subscribers have access to a personalized dashboard with portfolio alerts, expert commentary and special reports.
Included with AAII Platinum:
Dividend Investing
Stock Superstars Report
VMQ Stocks (quantitative approach to investing in value, momentum, and quality)
A+ Investor
Every newsletter
More
FAQ
Is AAII right for me?
We recommend taking advantage of the free trial to find out if you'll benefit from AAII. If you are an individual investor who wants to manage your own investments, then the AAII membership might be a good choice for you. If you're looking for quick investment profits, then this is not the service for you.
Is AAII legitimate?
Yes, the site was founded by Dr. James Cloonan in 1978 as a non profit organization to help individuals become successful investment managers. The organization is run by highly educated investment professionals and offers excellent investing resources.
What is AAII Sentiment?
The AAII Investor Sentiment Survey asks AAII members, "What direction do you feel the stock market will be in the next 6 months?" The three choices are up, down or no change. The results are published weekly and provide a barometer of how investors are feeling about the stock market.
Related
I have an article published in the AAII Journal too!
Disclosure: Please note that this article may contain affiliate links which means that – at zero cost to you – I might earn a commission if you sign up or buy through the affiliate link. That said, I never recommend anything I don't personally believe is valuable.