I Don't Invest in Individual Stocks Because I'm Smart and a Lazy Investor
According to Warren Buffett, Chairman, Berkshire Hathaway:

 

"Most institutional and individual investors will find the best way to own common stock is through an index fund that charges minimal fees. Those following this path are sure to beat the net results [after fees and expenses] delivered by the great majority of investment professionals."

1996- Shareholder Letter (sourced from IFA.com/quotes/)
Over the past several years, I've gradually moved my family portfolio and my corporate portfolio away from individual stocks and into index mutual and exchange traded funds (ETF's). Although both portfolios have sported excellent long term returns, not every holding was a winner. In the case of two stocks, I did not fare well.
The Investing Story Began Decades Ago
First a bit of background, I have been investing for decades with excellent outcomes. For many years both the portfolios I managed handily outperformed the S&P Index. I was never a frequent trader or market timer, but stuck to a value investing approach. I spent hours researching the individual stocks, studying valuation, debt, profitability and other ratios. I read annual and quarterly reports and studied the industries.  I was disciplined and didn't buy over-valued stocks but looked for bargains and solid companies stung by a short-term price drop. 
As anyone in the investing field understands, no matter how many winners you have in your portfolio, there are bound to be a few losers. Over the years, I tired of the hours of research required to invest in individual stocks. On top of that, finance research convincingly supports the out-performance of index fund investing over that of stock picking. In fact, in a typical year, a majority of actively managed mutual funds do not beat the returns of their index fund benchmarks. And those managed funds that outperform one year, rarely repeat that performance year after year. 
The takeaway is simple; it is quite difficult to beat the overall market consistently.
In spite of my resolve to transition to mutual and exchange traded funds (ETFs) during the past decade, I didn't immediately sell all of our individual stocks.  I decided to get rid of them gradually, after analysis and determination that their growth prospects were fading. In the case of Nokia (NOK) and Best Buy (BBY), I waited too long to sell.
Best Buy and Nokia = Poor Performance
Here's why I don't invest in individual stocks anymore. 
Best Buy (BBY) was a remarkable growth story over the years with nationwide store expansion. Walk into Best Buy and you could find any computer, television, refrigerator, gadget or electronic you craved. With the closure of Circuit City in 2008, I thought Best Buy would go through the roof and pick up all of their growth. When when I purchased Best Buy, its future looked promising and its growth initiatives and store expansion foretold a rosy future for the company. 
Best Buy is volatile and always has been. It's shelves are filled with commodity products. This makes it difficult to make a profit because these types of goods lack a competitive advantage. Although some investors read the tea leaves and bought Best Buy on dips and sold at peaks, I wasn't one of them. This was one of the stock buys that didn't go my way.
Nokia (NOK) a former technology darling seemed like a sure fire holding as well. With a market share topping 40% in 2008, how could the company falter? Here's how, with the advent of the smart phone, Apple's iPhone and the android, the cell phone landscape shifted. Other players, stole Nokia's lead, and Nokia became just one player in the pack. In 2013, Nokia's market share fell to 29%, with no rebound in sight. In fact, according to Statistica.com:
"In the third quarter of 2007, Nokia's market share was 48.7%. By the third quarter of 2012 the company's market share had slipped to just 3.5%."
Since it's peak $39.00 price in October 2007, Nokia's stock price has steadily declined. Since 2012, the company's stock price has traded in the the $2.00-$8.00 price rante. 
I bought Nokia in 2008 at $30 per share at what I thought was a bargain from it's 2007 $40 high. Clearly, I was wrong. I sold the shares in the single digits after realizing the company wouldn't be returning to its former glory.
This Yahoo!Finance chart shows why it is so difficult to invest in individual stocks.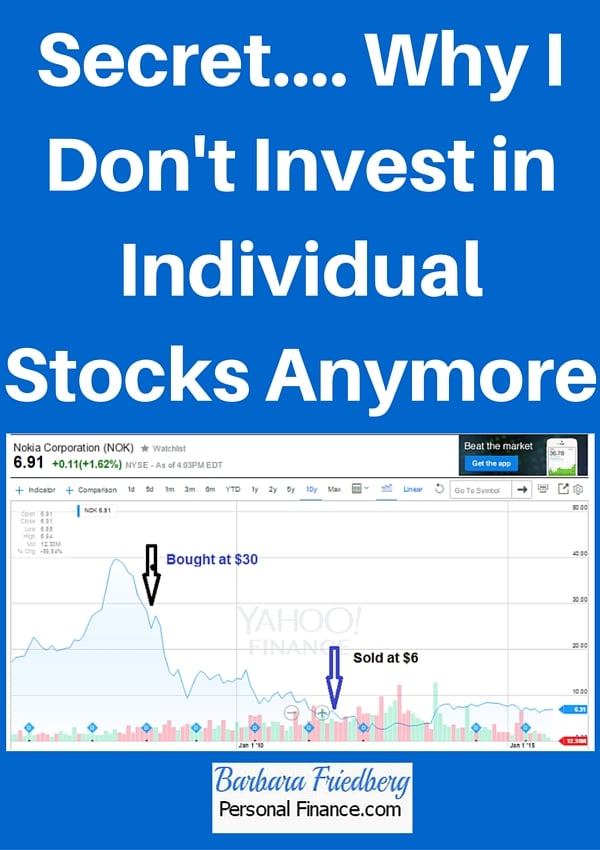 At present, we still hold one individual stocks, Lowes (LOW). 
Excellent Index Fund Investment Decisions
In 2009, as the stock market declined from the financial crisis and mortgage meltdown, I made a smart and difficult investing decision. I invested sum of money at the trough in several index ETFs –  Vanguard Total Stock Market ETF (VTI) and Vanguard REIT index fund (VNQ) along with several others.
Although I don't advocate 'market timing', there's nothing wrong with deploying some cash into the markets during a systematic market trough. In general, I prefer the index fund lazy investing approach.  If you still want to try your hand at individual stock investing, here are some guidelines.
Takeaway: Why I Don't Invest In Individual Stocks Anymore
Research proves that index fund returns outperform professional fund managers returns most of the time.
Individual stock picking is time-intensive.
It used to be fun and a challenge to try to 'beat the market'. Yet, with the advent of algorithmic trading, it's more difficult than ever to outperform the markets.
All of this research and analysis is quite time consuming. Add the strong possibility that you will not beat a passive index fund even after all of the research, and you have the reason why I don't invest in individual stocks anymore.
Investing Caution
Please understand that you can just as easily lose money investing in mutual funds or ETFs as in individual stocks. Stock and bond investments are volatile and the prices go up and down, whether you hold individual stocks, bonds, or funds. That said, if you have the stomach for a bit of volatility, investing in stocks and bonds offers the  potential for long term growth.
Just remember not to put any money into the stock market that you will need during the next 5 to 10 years. Keep those funds you need for the shorter term in TIPS, I Savings Bonds, and money market funds. If you happen to have a lot of debt, it's a good idea to get rid of most of the debt before embarking on any type of investment program.
This advice is for information purposes only and should not be considered as a recommendation to buy or sell any securities. For financial advice, please see your personal investment advisor.