Should I Invest in Pot?
Is Medical Marijuana the Investment of the Future?
I saw a fascinating show on television about the benefits of medical marijuana. In fact, a young girl with up to 75 seizures per day found that a form of marijuana ameliorated her symptoms. Unfortunately for her family, the marijuana derivative treatment was only available in Colorado, and this family lived in New Jersey, where marijuana is illegal. Because of the efficacy of the medical marijuana, and the lack of availability in their home state, they made the difficult decision to uproot the family and take up residence in Colorado.
The benefits of marijuana for pain, multiple sclerosis, and a host of medical ailments is exploding. What was once a method for hippies to get high in the 1960's has turned into an exploding medical industry.
Is Investing In Pot a Way to Make Money?
How big is the marijuana playing field anyhow?
According to the NY Times, "Next Gold Rush: Legal Marijuana Feeds Entrepreneurs' Dreams" by Jack Healy and Kirk Johnson.

"With marijuana now legal for medical use in 23 states and Washington, D.C., and full legalization heading to the ballot in Alaska and Oregon, the size of the noncriminal marijuana industry is expected to grow to about $2.6 billion this year from about $1.5 billion last year, according to estimates by the ArcView Group, a marijuana research and investment firm in San Francisco."
Is the time ripe for the retail investor to invest in pot?
There's a lot of discussion about ways to invest in this exploding new legal industry, yet the question remains, "Should the average investor get on the pot bandwagon now?"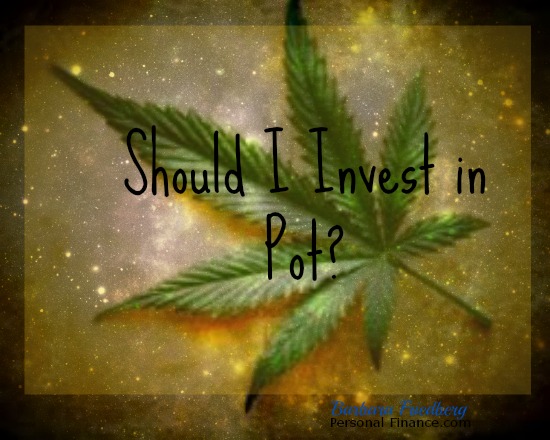 First, let's look at the how of investing in pot. 
An investor can check out individual stocks which benefit from the pot industry. Before we go any further, be warned that investing in individual stocks is much riskier than investing in a mutual fund. And, I have never recommended investing in a single stock. That said, Investor Place mentioned 5 stocks likely to profit from the marijuana boom. Invest at your own risk:
Hemp (HEMP)-This stock is a collection of companyies. In contrast with other marijuana companies, HEMP is focused on the potential of hemp as opposed to cannabis. Hemp can be used to make many products from food to paper, building products and more.
Cannabis Science (CBIS)-This company focuses on turning cannabinoids into prescription medications. Their curent focus is treating HIV/AIDS and cancer.  The treatements are currently in pre-clinical trials. This company might also be considered a biotech stock.
GW Pharmaceuticals (GWPH)-This pharmaceutical company has one product, Sativax. This drug is a cannabinoid-based medicine that treats multiple sclerosis. It is approved in several countries, but not the U.S.
Medical Marijuana (MJNA)-This firm owns a few cannabis related companies. Additionally the company recently launched the industry's firs armored car service.
American Green (formerly Tranzbyte Corporation)(ERBB)-is traveling a different route. ERBB aspires to develop young companies and prducts, and after the firms are up and running, spin them off into their own publicly traded companies. One of it's recent products is the ZaZZZ line of recreational marijuana vending machines. 
I put my portfolio manager hat on and did a quick check of the fundamentals of these companies. Only one company, Medical Marijuana (MJNA), had any positive earnings. The $.03 per share didn't scream "buy" to me. With the exception of GW Pharmaceuticals, each of these stocks are penny stocks, selling for less than a dollar.
This is not the way to invest. If you want to speculate, that's another matter. Each  of these holdings are extremely risky investments at present.
Future Pot Mutual Fund
High Times Magazine has been devoted to pot lovers for decades. Now the magazine is getting into a new venture, the High Times Growth Fund. The fund is attempting to raise $100 million over the next two years, according to  Michael Safir, the business manager of High Times, in a CNBC article by  Jeff Morganteen, "High Times Looks to Form $100M Marijuana Fund".
Before you pull out your checkbook, this investment is for accredited investors only and expects to go with a typical private equity investing plan. The average investment is expected to be $2 million.
Thus, most retail investors are out of this fund!
Should I Invest in Pot?
Back to the question at hand. Remember the gold rush? Who got the richest during this time in history? Of course it was the people selling the equipment to the miners. If you've ever seen an old movie about the gold rush, you'll notice there's always a shop where the hopeful gold-miners go for their ropes, pics, and all the other gear they need for the endeavor. 
Could the pot industry be the same? There are companies springing up who provide security for the new marijuana shops. There's all types of equipment nascent growers need to buy. Who manufactures that equipment?
My take is a conservative approach. I may not get in on the latest and greatest investing fads, but just like the tale of the tortoise and the hare, I've found that slow and steady wins the race. And regarding investing, that means taking the tried and true index fund investing approach (in line with your risk tolerance. 
If you want to take a flyer, go ahead. Just realize any time you are chasing an unproven investment, you are speculating. Don't invest any money in risky investments that you can't afford to lose.
Action Step
Before you invest in any asset. Do your homework.
When considering a stock investment, look at the valuation. Check debt ratios and the price earnings ratio. If those are not reasonable, walk away.
Have you ever taken an investing flyer? How did it work out?