2016 Robo-Advisor Mash Up – Links to the Best Posts
Robo-advisors or technology assisted investing platforms are all the rage. What's not to love-low fees, research-supported investment approaches and regular rebalancing. Not only are there stand-alone robo-advisors such as Wealthfront, Betterment, and Personal Capital but we've got the big brokers starting their own versions. These well known firms have joined the robo-advisory ranks; Schwab Intelligent Portfolios, Vanguard Personal Advisor Services, and then there's TrakeKing Advisors. TradeKing offers a unique robo with access to a momentum style investing along with the passive approach.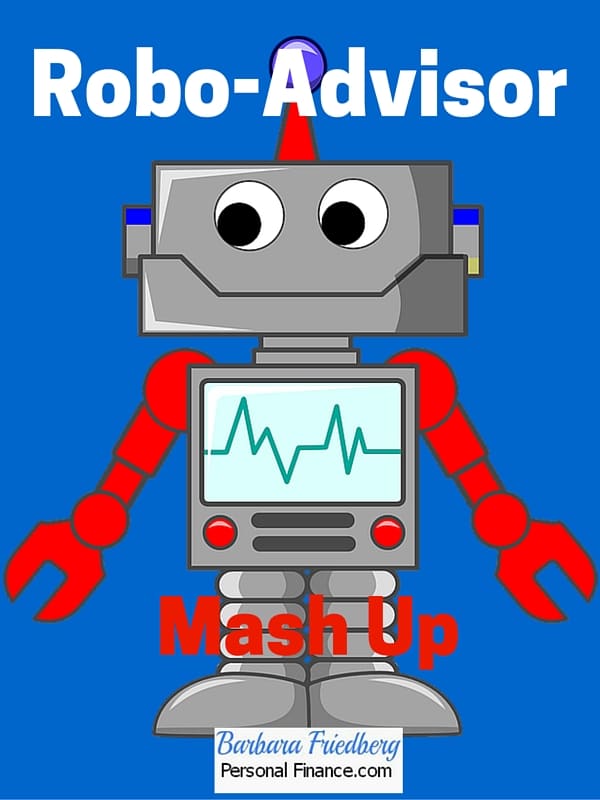 I've been writing a lot about this new platform for Investopedia and think the opportunities for investors are so useful, I co-launched a review site called RoboAdvisorPros.com along with Grayson Bell. If you're interested in a lazy and low cost approach to investment management, learn a bit about the growing robo-advisors. These new investment management firms are not all alike. The differences include investment style, available investments, features, minimums, types of accounts, access to advisors and more. You may find one to suit your style and save time and money.
2016 Best Robo-Advisor Posts
Following are some of the best current articles about the robo-advisors (including a few of my own):
Investopedia.com, Pros and Cons of Using a Robo-Advisor
Forbes.com, 7 Robo Advisors That Make Investing Effortless
Investopedia.com, The 5 Best Robo-Advisors for Investors in 2016
Investopedia.com, Top Robo-Advisors for Retirees
Marketwatch.com, Why Investors Should Approach Robo-Advisors With Caution
Investopedia.com, Robo-Advisors: 3 Times to Ignore Their Advice
Investopedia.com, Active management Enters Robo-Advisor Platforms
Kiplinger.com, Is a Robo-Advisor Right for You?
Investopedia.com, How Financial Planners Can Adjust to Robo-Advisor Platforms
Investopedia.com, Robo-Advisors and Human Advisors: How They'll Work Together
RoboAdvisorPros.com, Robo-Advisors are Doomed-How Passive Investing Might Harm Them, Or Not
Investopedia.com, How Robo-Advisors Can Help You and Your Portfolio
Investopedia.com, What the Wealthy Can Learn From Robo-Advisors
Nerds Eye View Blog, How (Human) Advisors Might Adopt Robo-Advisors-Client Segmentation, Trading Tools and Indexing 2.0, and full Stack Solutions
Click here to visit Robo-Advisor Pros for the latest news about the technology enhanced investing platform