COURSERA-GET FREE ONLINE EDUCATION FROM TOP UNIVERSITIES
According to the Bureau of Labor statistics, the more highly educated not only earn more, but have higher rates of employment. Even skill building and adding a certificate can boost earnings. Coursera offers free courses on-line from world renowned professors. In fact, I received an email this morning from Zvi Bodie, MIT educated, Boston University distinguished professor, and world renowned author about their latest offerings in the finance area. Coursera has caught the attention of the legitimate academic world.
 MORE EDUCATION LEADS TO GREATER LIFETIME WEALTH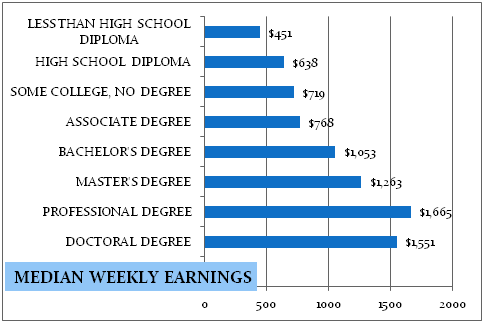 The chart demonstrates how even an Associate's degree increases your annual earnings $6,760 over that of a high school graduate.  Compound the additional $6,760 each year (and adjust for 3% inflation) and over a 40 year lifetime that money grows to $487,661.  Graduate from college and your annual earnings soars $21,580 over those of your high school educated neighbor.
With college costs increasing faster than the rate of inflation, any available method to obtain free education is a huge financial windfall. Add well respected institutions and highly regarded professors to the mix and you have a wealth building opportunity.
"We offer high quality courses from the top universities, for free to everyone. We currently host courses from Princeton University, Stanford University, University of California, Berkeley, University of Michigan-Ann Arbor, and University of Pennsylvania. We are changing the face of education globally, and we invite you to join us." Coursera
Coursera is changing the face of education and lowering the cost as well. They are beginning a collaboration with American Council on Education (ACE) to initiate a process for their students to receive transferable credit. That means a student can take a free class at Coursera, take an exam, and qualify for transferable credit (for a small fee). Imagine taking courses from world class professors and transferring the credits to degree granting institutions. What a creative way to increase your knowledge base and cut down on educational expenses.
HUMAN CAPITAL CONTRIBUTES TO LONG TERM WEALTH
Although I talk a lot about wealth building, there is another type of capital to consider; human capital. That's the value today of all of your future earnings. Although you can't bank it immediately, that intangible sum is what creates your future wealth. Take steps today to boost your lifetime earnings, and you gift yourself with a more prosperous life. That's where skill and education boosting comes in. By broadening your skill and educational base you increase your future earnings and your human capital.
The 60 free Coursera Courses this winter range from Professor Ed Hess's "Grow to Greatness: Growth for Private Business" from UVA, to the beautifully designed "Calculus: Single Variable" with Professor Ghrist from the University of Pennsylvania, to "Introductory Philosophy" from University of Edinburgh, to "The Fundamentals of Personal Finance Planning" from UC Irvine with Professor Debok, and many more.
Find a reason to learn more. It will increase your confidence and your pocketbook.
Have you ever taken a course online? What worked and what didn't?
Image credit; compiled from bureau of labor statistics data