This guest post is not an endorsement for buying into the speculative cryptocurrency markets. This comprehensive article is for those of you interested in this new asset class. Personally, I'm a late adopter and prefer to invest in more traditional instruments. Yet, this article is for those of you who want to learn about bitcoin and other cryptocurrencies-how to buy, where to store, what are the differences and more.
Owning Bitcoin and other altcoins seems to be a daunting task but many people just need to take the first step. The first step is to simply choose to go ahead with it. Many people get hyped up about Bitcoin, create an account on an exchange and stop. They don't make any other moves to accomplish the full step to purchase Bitcoins, Ethereum, Litecoins or any other cryptocurrencies. Then months pass by and they hear that their investment shot up 200%. That's when the regret kicks in. The regret of knowing you were a couple minutes away to owning a digital asset that will revolutionize the way we use currency.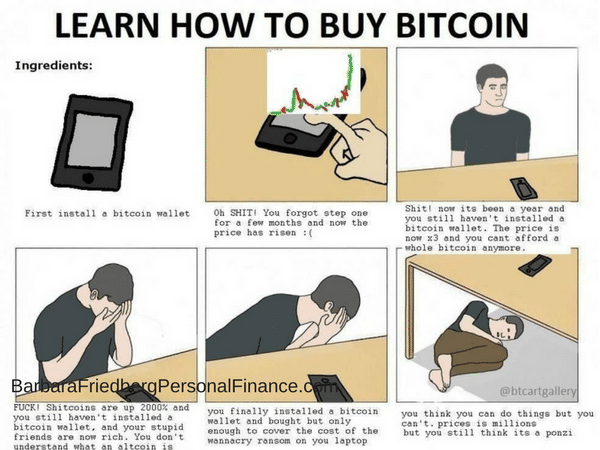 Cryptocurrencies are actually helping us with the transfer of wealth through peer to peer. Paypal was one of the first to pave the way with sending money to a friend or a business but cryptocurrencies are making it easier. Not only is it easier but it's cheaper. With Paypal, you receive the money into your account then transfer it to your bank which can take a few days. Bitcoin is intended to be your store of value, almost like a bank. Contrary to popular belief, Bitcoin is the biggest cryptocurrency but it is not exactly meant to be an everyday currency anymore. You have other coins that are meant to do that like Litecoin or Vertcoin. This is because there are more in circulation along with the fact that they're cheaper and faster. Transactions happen really quickly and the transaction fees are less than a penny most times. Compare that to using Paypal or Visa where they charge you 3.5%.
Steps to Own Bitcoin
Bitcoin is usually the currency used to purchase other altcoins and it's very easy. First and foremost, you want to find how you will store your Bitcoin. You can either choose a paper wallet, a hardware wallet, the specific coin's wallet or choose to leave it the exchange you used (not recommended). A paper wallet can be generated through various websites. It assigns a string of numbers and letters and a QR code that you can scan to transfer your coins too. It's the hardest way but the semi-safest way. In the case your computer gets hacked or you lose your information, you can use a paper wallet as a backup. A cryptocurrency hardware wallet is a small pad the size of 2 fingers. You put it into your USB, log onto the website of the manufacturer and enter your wallet. It is the safest way of storing your cryptos. The specific coin's wallet is usually developed by the developers which you can download onto your desktop and access it directly from there. Leaving it on exchanges is dangerous because the exchange can be hacked leaving you very vulnerable.
Invest in crypto with an app- Domain Money Review: Stock and Crypto Investing
How to Buy Bitcoins and Other Cryptocurrencies
CoinBase – Coinbase is the leading exchange with the most amount of users. It currently has 12.5 million customers and has exchanged $40 billion worth. It is led by Brian Armstrong who is also a really big believer of Bitcoin and a visionary entrepreneur. Coinbase supports Bitcoin, Ethereum and Litecoin only. They also have a subsidiary company called Global Decentralized Asset Exchange (GDAX). This is their trading platform meant to make it easier for people to buy and sell along with swing trading cryptocurrency. Coinbase makes it the easiest to purchase but they have higher fees. You simply log in and use your credit card or bank account to purchase.
LocalBitcoins– Another great way to start is purchasing it locally through Local Bitcoins. It is a website that people can sell or buy Bitcoin from someone close by. If you find someone close by who will sell it for a good price, go ahead and purchase it through there. Just make sure you meet in a public place like the police station to make sure everything is ok.
Bitcoin ATMs – Bitcoins are so new yet they already have different kinds of ATMs for them. Simply go in, put your money in (sometimes they require an I.D.), enter how much you want and it will print out a slip with your hash address and a QR code. Bitcoin ATM's do charge the highest fees to sell and buy Bitcoins.
NoFiat App – Last but not least is an app that is mainly to spread awareness and increase mass adoption. In order for cryptocurrencies to survive, you need to be able to spend it, which this app aims to help. However, the NoFiat app has another feature that is interesting. It shows a group of exchanges and which exchange is selling Bitcoin for the cheapest. You can pick then go purchase from the exchange you choose.
Author Bio: Alex M. has been very deep in the cryptocurrency space for the last 3 years soaking in everything there is to know. With such a new industry popping up, Alex is constantly sharing about the latest news and updates in cryptocurrencies on CoinPupil. To learn more about him and his work, read here.