By guest contributor, Jamie Hill
Zero to £45,000 –  How to Make Money with Upwork, Uship, Fiverr, Freelancer, 99 Designs and More
I have been working in the freight industry as part of the family business for 21 years, that is a long time in one particular industry and as the saying goes you can do less time for murder. Within a year and a half, I managed to earn £45,000 (that's equivalent to $55,000) through the online marketplace Uship. This is my story and inspiration for how to make money with Upwork, Fiverr, Uship, Freelancer, 99 Designs and other online marketplaces.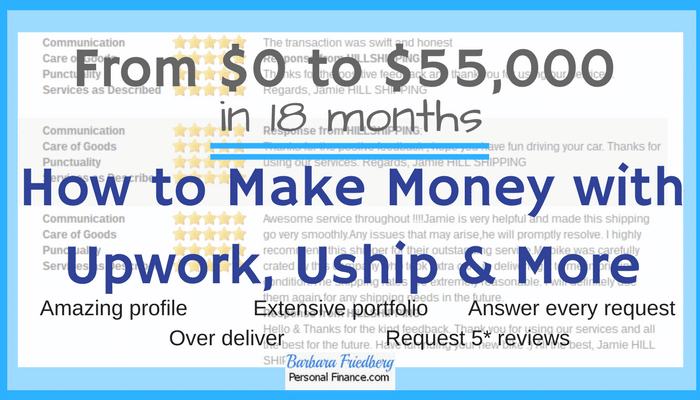 In my 21 years in the freight industry, I have tried to find new ways to make money for the family business. It's a thrill to attempt a new money making idea and I love seeing it come off, even more so when there is a great financial reward for my efforts.
Off course, not all my attempts at earning money have worked…I have had plenty of failures.
The world is changing when it comes to earning extra income, the days of going door to door to as a salesman no longer apply and there has been a shift in how deals are done and how business is created. Today, you can make money on Upwork, Fiverr, Uship and more without leaving your couch.
Online marketplaces have created a huge opportunity for people to earn an additional income.
Visit the Make More Money Resource Center >>>
What Is An Online Marketplace and How Can You Use it to Make Money?
Online Marketplaces are the new battleground for solopreneurs to acquire work. You no longer need to walk the streets knocking on doors to find new business. Today, enter your email address and password, create an account and you are all set to sell online. Your new clients will span the globe.
The best sites for freelancers looking to earn an additional income include:
Upwork
Fiverr
Freelancer
99 Designs
Uship
These types of websites have created wealth for many individuals, both full and part-time. Of course, there's more to it than signing up and watching the money roll in. Before marketing yourself on these online marketplaces, survey your skills and expertise. You're not going to become a freelance writer if your language skills are poor. To make money on Upwork, Freelancer, Uship and more, you need to stand out from the crowd. Because it's easy to sign up, these marketplaces are busy places and in the beginning, it can be difficult to secure jobs because you lack feedback and reviews. But don't let that put your off, everyone on the site who is doing well now started with zero feedback.
Take these steps to grab some opportunities and make money online when you first sign up?
Create an excellent user profile
Upload a professional photo of yourself
Show examples of previous work
Confirm that you are prepared to over deliver
Be prepared to work for low pay at the start
Promise to deliver on time every time
Always respond to any questions from interested parties in a timely fashion with detailed answers
It can feel like a chicken and egg type scenario when you first sign up to a marketplace, but if you put in the hard work you will be presented with opportunities, just make sure that you grab them, even for low pay, in order to build up your feedback. Over time you will then see your online business grow.
Remember, as with all money earning ideas, it tends to be a marathon, not a sprint. Don't be afraid to put in the time at the outset. As your portfolio grows, so will your clients and income.
Online Marketplaces Also Save You Money
These marketplaces not only create opportunities for solopreneurs to earn extra money but they also create opportunities for people looking to save money in a number of different areas. For example, if you want an ebook cover designed before the invention of these online marketplaces, you'd pay a lot of money to have a cover designed. Now, through sites such as Fiverr and Upwork, you can purchase a cover for your new ebook for as little as $5! Okay, you might want to spend a little more to ensure the quality is as professional as possible but even if you doubled your budget and paid $10, you're still getting a bargain!
The same scenario applies to content writing, logo design etc. You can now purchase many tasks to promote your online business, so that you spend your time providing your specialized services, freeing more time to earn for your work.
Anyone can have success by earning additional income on a marketplace. I did it and so can you.
How I Went From Zero to  £45,000 in a Year and a Half
I will now run through how I was able to earn extra revenue for the family business.
I have earned money from various ideas but one of my most profitable encounters was by simply entering the phrase "shipping auctions" into Google, I then discovered what was at the time a new website by the name of Uship.com
My immediate thought was "WOW!", why hadn't I thought of this idea before?
The idea behind the website was basic but very effective. If you are looking to ship a car, motorcycle, boat or personal effects, you enter the items details into the site along with where you would like to ship the item – to and from – and then sit back and wait for freight forwarders such as myself to make bids on the consignment. Next, you accept the preferred bid, typically it will be the lowest offer.
I started placing bids on vehicles and cars that needed to be moved across Europe and to/from the USA as that is primarily the routes we cover in the family business.
It took a few bids to get going but before I knew it, my bids were accepted on a regular basis. The whole process was easy enough, I was not doing anything different than what I did in my everyday job routine; bid on an item, hopefully win the auction and get the item to its destination in the quickest time possible.
Speed and great customer service are imperative to win business on online marketplaces.
The first job that I won the bidding on was to ship a Saab motor vehicle from the USA. The owner was somewhat apprehensive to use my services as I had zero feedback…that is understandable, so it was challenging starting out. I needed to win jobs to be able to receive good feedback from a happy client and it was tough to get jobs without feedback. Luckily, the owner of the Saab showed faith in me and we shipped the car across without a hitch and he then left me 5 out of 5 stars with a glowing review. This helped me tremendously when bidding for future shipments.
Tips to Make Money with Upwork, Uship, Fiverr, 99 Designs and Freelancer
Customer service is key to building up any new business and it is even more important when trying to build up your reputation an online platform.
Word of mouth travels fast online.
My average overall score was also 5 stars out of 5. Ask customers to tell you if they're dissatisfied, before leaving a review. 
I won bids for 65 Jobs. Yet, I also bid on jobs that I didn't get. You must be persistent.
This was a great start. Yet, even more success was to come as some of my customers were companies and not individuals. This drove repeat business and recommendations to other companies looking to employ a freight forwarding company.
The compounding effect was amazing and led to approximately 100 additional jobs. In fact, some of these clients are still working with me now.
All in all, I earned at least £45,000 from using an online marketplace. It has been a huge success for me and has helped me build up the business, create great working relationships and opened up new doors and opportunities for me.
I have also learned a great lesson, opening one door and then having some success can lead to more and more opportunities.
Try something new, if you do not succeed do not think of it as a failure, think of it as a learning experience to help you do something better next time, keep trying hard and when the door opens to a great opportunity make sure you step through it and make the most of it.
Jamie Hill has been involved in the freight industry for over 21 years. Jamie has also published 7 books on Amazon and owns the website www.MoneyEarningIdeas.com.
Disclosure: Please note that this article may contain affiliate links which means that – at zero cost to you – I might earn a commission if you sign up or buy through the affiliate link. That said, I never recommend anything I don't believe is valuable.