Hoo wah, hey ya, shoo wa, zad up wow!!!: Lessons from the success of the new musical Book of Mormon
Guest post by El Carino, my best friend, significant other, and one-of-a-kind guy. When not watching theatre, sports, or playing games, he is an academic.
As you may recall from Barb's previous posts, I am passionate about the theatre and believe the theatre provides life lessons which are generalizable to just about every human action.  The new Broadway smash, Book of Mormon, packs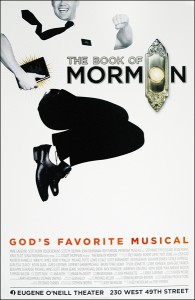 such a powerful payload. Heralded as the best musical of this century, owner of 9 new Tony awards, and predicted to change the future landscape of American musical theatre, Book of Mormon's success teaches us these lessons.
LIVE OUTSIDE THE BOX
Don't just think outside the box: Blow the sides out of the freakin' thing! The Book of Mormon is the brain child of South Park creators Trey Parker and Matt Stone as well Robert Lopez who created another iconic musical, Avenue Q.  The concept, dialogue, music, and lyrics are so fresh because there is nothing like it. There is a type of danger in this sort of audacious creativity and the audience profits from this sense of the production working without a safety net.  So what does it mean for me?
TAKE RISKS
Their creative courage inspires me to take risks to break the boundaries of my own comfort zone.  I need to stretch myself to do new, unfamiliar things in my professional life.  I am an old dog and I must learn new tricks! If I don't, I risk far greater dangers: the sad peril of being obsolete and replaced by new a fresh puppy. The past is great but don't become chained by tradition, convention, or nostalgia. Embrace the future along with its uncertainty and unremitting demand for change!
HAVE FAITH
Believe in what you are doing.  The musical is ultimately about faith…Faith in yourself..Faith in your relationships, and faith in what you do. Sure, the musical takes a poke at sometimes blind and oblivious faith but in the end it celebrates the notion of faith in an uncertain world. This faith is really what helps sales people, marketers, etc. Faith in ourselves helps us sell ourselves and our ideas. Ultimately, regardless of what jobs we do, don't we want others to be infected with a contagious faith in us?
HAVE A SOCIAL CONSCIENCE
Stone, Parker, and Lopez take on provocative issues. Their musical like any good theatre engages us by holding up a mirror to us. The AIDS epidemic, female genital mutilation, homophobia, violence, poverty, etc . all are addressed. This is a hilariously funny piece but it is not light weight at all. The take away message is that as a global community we must become more responsible to each other. We cannot ignore famine, genocide, female mutilation,  and abject poverty in our near and far neighbors.
Go make a difference somewhere!
Thank you Trey Parker, Matt Stone, and Robert Lopez!!! Go see the Book of Mormon on Broadway. If you can't make it there, go get the CD!!!
What inspires you to leave your comfort zone?
image credit; playbill