5 Keys to the Perfect Scam
Find out How to Avoid the Perfect Scam
Setting; A hot day in the most popular Asian city, teeming with tourists and excitement.
My husband and I were walking down a metropolitan city street towards the beautiful grand central park for a Saturday morning stroll.
"Are you American?" asks the impeccably dressed man, in perfect English.
"Yes we are," my husband replied. Not one to be swayed by strangers, having grown up in NYC, my husband knew a swindle, from a mile away.
"I'm a dentist waiting for my wife. We're going to the local temple. Did you know that our son is studying at Cornell in upstate New York?" stated the attractive man. His diamond ring and silk striped shirt, didn't go unnoticed by my discerning eye.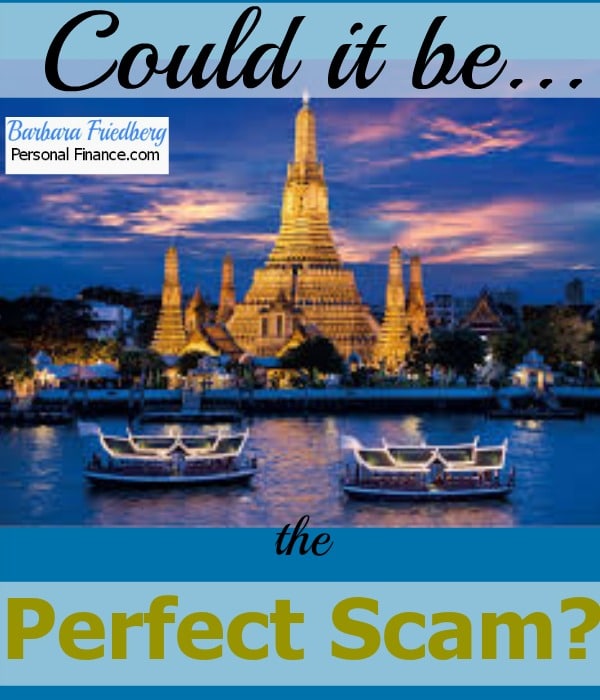 My husband and I were equally impressed by the pedigree of the dentist with the bright and studious son, studying at Cornell.
The man asked us where we were headed.
After we told him the park, he offered some helpful information, the park is closed on Saturday mornings for washing, see…. as he pointed to the wet streets and further made his point- Saturday morning is cleaning day.
Oh, how would we know this key fact?
How helpful, he saved us some time.
Meanwhile, there was a bit of doubt in my mind, it seemed a bit peculiar to close a park on a busy week end morning.
Then, he went on to tell us how to save money at the various sites. After all, who doesn't want to save money?
He went on to advise that we shouldn't go on a tour to the temples, because they overcharge, and the individual entrance fees for each temple was quite reasonable. Another helpful tip. Clearly this concerned stranger was out for our well-being.
Then, continuing with his helpful advice for touring the city, he recommended China town as a great place for excellent food. He and his wife go there when they're in the area.
Who could argue with that?
Next, as we looked together at the map, he proposed an affordable boat trip up the river. It looked like so much fun, and the boat dock didn't look like too far a walk for us. After a few more helpful tips, we were off to walk to the boat dock.
Then, after a few moments, our new 'friend' said, we must take the tuk tuk (motorized rickshaw). He called over the driver and said, don't charge them more than $1.50 for the ride. Wow, he really had our best interests at heart. We readily jumped into the tuk tuk for the ride to the boat dock.
After a 10 minute ride, we arrived at a small parking lot.
My mind started to question, "Is this legit?"
We were hurried up to a small desk where the woman wrote an official receipt and told us the price for a 2 hour boat trip with one half hour stop for shopping in a local market would be $90. This seemed higher than the $60 I thought the stranger had suggested.
We figured, 2 hours for a private boat ride up the river and canals at $22.50 per person per hour 'seemed' okay.
When I grabbed my wallet to pay the tuk tuk driver, he said to pay him later, after he picked us up. "How considerate", we thought.
It turns out that the boat ride was exciting. We stopped to feed a school of fish and bought a few gifts at the market. So far, just a bit of skepticism, and after all, the adventure was a delight.
After the boat ride, our diligent tuk tuk driver was waiting. As I pointed out where we wanted to go, he shook his head vehemently, and said there was a much better place to shop. He dropped us off at a multi-story building; jewelry on the first floor and silks and clothing on the upper levels. Then, we knew, as the cajoling began, "We have the best prices on rubies-here, take a look". We scurried out of the first floor and on up to the silks and clothing.
After about 15 minutes of browsing, avoiding the overly enthusiastic sales people, we got out without a purchase. By then, I knew, this is not right.
The tuk tuk driver attempted to take us to another market, where he would get a 'gas coupon' if we bought something. By then, I was done. I knew we had been scammed and I vehemently requested he take us to our hotel.
How the Perfect Scam Transpired
The Front Man
1. Affiliate-A well-educated front man approaches. He's got a son at Cornell and loves Americans. We're from the U.S. and who isn't impressed with an Ivy League university?
2. Gain Trust-The front man is a dentist, that's a respectable profession, he wouldn't scam us. He was well groomed and wore an expensive shirt and diamond ring. A scam artist would look so affluent, would he?
3. Be Helpful-He talked about how to 'save us money'. He saved us from going to the wrong places. He negotiated a low fare with the tuk tuk driver on our behalf. Clearly, he was on our side.
The Tuk Tuk Driver
4. Reciprocity and Trust-He didn't take payment for the first leg of the trip. He trusted us, so he must be trustworthy.
5. The Final Ploy-Take us to the tourist traps where he gets a kickback.
The Perfect Scam Takeaway
Be wary when a stranger strikes up a conversation. If he says the place you're going is closed, get a second opinion from a hotel desk clerk.
Don't stay around to talk, no matter how convincing the 'friendly stranger' appears.
Actually the damage wasn't too great, we probably overpaid a bit on the boat ride, lost some time going to the tourist trap store, but thwarted the total scam by holding on to our wallets at the gem/silk shop.
The perfect scam takeaway for us is don't be seduced by seeming attempts at affiliation by a high class local. In the scope of things, we didn't lose much, we learned a lot, and we watched a master scam artist at work.