"I'd like to add that negotiating is not something to be avoided or feared – it's an everyday part of life." ~Leigh Steinberg
Win win negotiation means that both parties leave the negotiation happy. Of course, you want to get what you want, but the best negotiations leave with both parties feeling satisfied.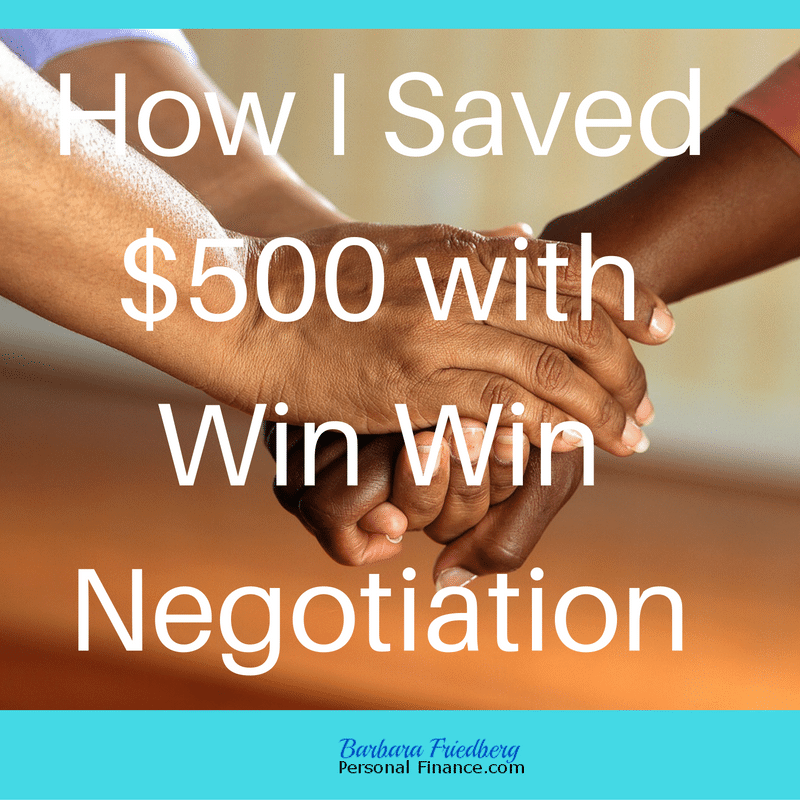 Win Win Negotiation in Everyday Life
There is hardly a consumer situation I've encountered that wouldn't benefit from a little negotiation. If you take the opportunity to negotiate-for a better price or an add-on service, you'll bank more money over time. And each year, if you save extra cash, over time, it adds up.
Here's a story from the beginning days of this website, to show you how a bit of organization and negotiation saved me $500.
Several years ago I got a call from the mechanic looking at my 1998 SUV with 100,000 miles on the odometer. He had the nerve to tell me that my timing belt needed replacing. Ordinarily, on an older car it shouldn't come as a surprise. Yet, I had recently replaced the timing belt.
Bonus; Is Holding a Garage Sale Worth it?
A quick view of my computerized record of all of my car maintenance showed that the timing belt had been replaced at 90,000, just 10,000 miles previously. Now, I didn't remember the manual suggesting that the timing belt needed replacing  every 10,000 miles.  So, I asked the mechanic, "How long is the timing belt supposed to last?" 
He replied, About 60,000 miles.
In a matter of fact and cordial tone I mentioned, "You just installed a new timing belt about 10,000 miles ago and since the average timing belt life span is about 60,000 miles, I'm unwilling to pay for a new one."
Click here and find out how we grew our retirement account 538% and get the 14 Rules of Investing.
In this win win negotiation strategy, I laid out the problem and surrounding issue. That same mechanic had recently installed a new timing belt. If the car needed a new one, and that same mechanic had installed the old one, then it's unreasonable for me to pay for another one just 10,000 miles later. 
In the next part of this win win negotiation strategy, I explained my loyalty to this repair shop as well as my options, should he not pay for the new timing belt. 
Bonus read; Best Negotiating Story Leads to More Money >>>
Next, I mentioned to the mechanic, "As you know, I have used your company exclusively for the past 6 years. What can you do for me?"
I began thinking about my options.  I decided that I would be willing to split the cost of the repair with the company. Additionally, I was also willing to go to another mechanic if they would not stand by their work. I had nothing to loose.
As I expected, the auto repair company agreed to cover the cost of parts, about $500 for the timing belt and accompanying parts, and I paid about $350 for the labor.
The end result of this win win negotiation was $500 savings for me, for 10 minutes of my time.
Win Win Negotiation-Anything is Negotiable
In most negotiating situations there is a middle ground that leaves you and the other party satisfied. Yet, if you don't stand up for yourself and try to get the best deal you can for yourself, you will definitely lose.
Here's another win win negotiation example. I'm one of those "cable holdouts". My spouse and I are big televisions watchers and we love having all of the premium channels. Yet, it's expensive, and the rates continue to rise. Yet, every time I get a price increase, I call up the cable company, tell them I'm willing to switch to satellite and end up with a lower price on our cable service and frequently more service. This last time, I got extra channels, a DVR recorder and voice activated remote, for less money than my previous bill.  
Bonus; The Best Way to Play the Lottery – You're Not Going to Like it
Whenever you attempt to negotiate, the worst result is a no response. The best result is free. Somewhere in between is frequently where you end up. 
The best negotiation is one in which both parties leave satisfied-win win negotiation! When negotiating, consider a reasonable outcome and work towards that result. The more you negotiate the more money you have to spend on other things and invest for the future. 
Simple Step by Step to a Win Win Negotiation Result
Negotiation is a skill, and requires a system and practice.
Win win negotiation steps:                       
First gather information. Fortunately, in the timing belt negotiation, I had previous vehicle maintenance records.
Set acceptable outcomes in your mind.
Let the company know what a loyal customer you are.
State your case to the other party in a calm and reasoned manner.
Ask for what you want and explain why you deserve it.
Let the other party know the consequences, if they don't offer a solution for your request.
If you are not getting the result you want, continue to offer reasonable options.
Ultimately, you can always walk away and choose another vendor.
Win Win Negotiation-Idea to Result
Negotiate something today. Practice with your son, daughter, husband, wife, boss, co-worker, or anyone you are dealing with.
Then practice again tomorrow. The more you negotiate, the more you get what you want!
Use your negotiation savings to build wealth for the future.
This post may contain affiliate links, to help keep the lights on.
Updated December 21, 2018