UNIVERSAL LIFE INSURANCE – REALLY?
WOULD YOU BUY A FINANCIAL PRODUCT FROM AN UNSHAVEN GUY IN SHORTS AND A TEE SHIRT?
I am biting my tongue as I sit across from a guy in gym shoes, shorts, and a tee shirt selling a universal life insurance policy to a 29 year old single guy at Starbucks. Is this the right investment for him?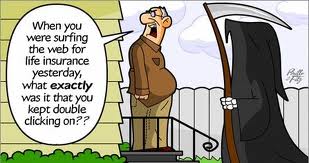 What is Universal Life Insurance?
"A type of flexible permanent life insurance offering the low-cost protection of term life insurance as well as a savings element (like whole life insurance) which is invested to provide a cash value buildup.  Universal life insurance allows the policyholder to use the interest from his or her accumulated savings to help pay premiums." Investopedia
There is so much wrong with this picture, I don't know where to begin.
DO YOU NEED LIFE INSURANCE?
This is easy, do you have someone depending upon your income? If you have kids, dependents, or a special situation that will be financially impacted if you die, then you need insurance.
If you have no kids or anyone depending upon your income for their survival, then you do not need life insurance.
The guy filling out the life insurance paperwork was unmarried with no kids and barely opened his mouth during the entire transaction. I held myself back from chiming in. At the very least he should have asked a question or two.
If you have dependents, you need life insurance. In most circumstances, the most affordable type of insurance is term insurance. Pay a set amount each year (or monthly) and in return you get insurance which is paid out to your survivors upon your death. Plain vanilla, low cost, life insurance.
WHAT'S WRONG WITH UNIVERSAL LIFE INSURANCE?
High commissions to the sales agent are the first thing wrong with universal life insurance (for the purchaser). Combining two different products into one package; investments and insurance is another. Both products are cheaper and easier to manage if purchased separately.
Some folks may benefit from universal life insurance, but in general it's a good idea to separate insurance from saving and investing. It saves money in the long term and gives you more investing flexibility.
WOULD YOU GO TO A BUSINESS MEETING IN SHORTS AND A TEE SHIRT?
Maybe I'm out of touch….. But when I'm selling something or trying to make a professional impression, I dress professionally. I'm not suggesting the guy should have worn a suit, but some pants and polo shirt would have been alright. Is it too much to suggest the salesman should shave?
I understand that over the decades, casual attire has become more popular. Many of my university colleagues teach in jeans. When I watch old movies from the 1960's I smile at the ladies in their white gloves, heels, and dresses accompanied by the men in suits and hats. I'm certainly not recommending a return to those formal times. When I come home after work, I throw on a pair of sweat pants.
Men, before attending a business meeting, pull out your razor and long pants. Women, put on a nice pair of slacks and a blouse with a jacket. Although the slob in Starbucks made a sale, I don't think his shorts and tee shirt are going to win him any awards.
What you wear, how you look, and how you carry yourself speak volumes about your credibility. Okay, Mark Zuckerberg, CEO of Facebook can get away with wearing a hoodie, but unless you are CEO of a major corporation, dress up a bit. You'll garner more respect, and feel better about yourself.
What do you wear to work? Would you buy insurance from a slob?
 image credit; google images_tumblr