Best Investing Quotes and Investing & Money Links
 Have you ever been inspired by a quote?
A quote may validate what you already know or a quote may give you an alternative way to look at life.
There's a reason why twitter and pinterest are filled with quotes. Quotes can inspire, connect, and educate us.
These top 12 Investing Quotes don't disappoint. Which are your favorite "best investing quotes"?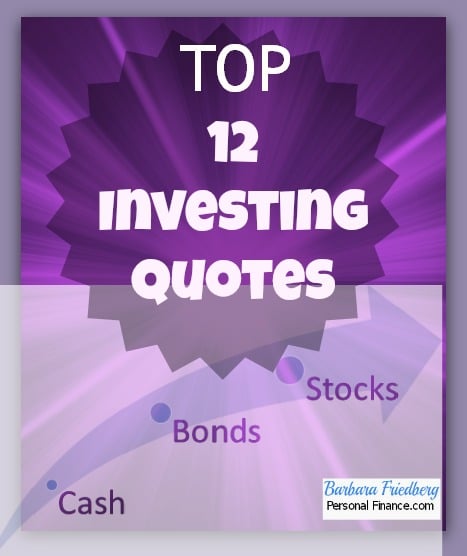 12 Top Investing Quotes
1. "Investing should be more like watching paint dry or watching grass grow. If you want excitement, take $800 and go to Las Vegas." – Paul Samuelson, Inside the Economist's Mind: Conversations with Eminent Economists
2. "It amazes me how people are often more willing to act based on little or no data than to use data that is a challenge to assemble." ― Robert J. Shiller, Irrational Exuberance
3. "Games are won by players who focus on the playing field –- not by those whose eyes are glued to the scoreboard." ― Warren Buffett, The Essays of Warren Buffett: Lessons for Corporate America
4. "An investment in knowledge pays the best interest." ― Benjamin Franklin, The Way to Wealth
5. "In this day and age it's really stupid to be stupid about financial matters. It doesn't do you any good to make money if you don't know what to do with it other than spend it." ― Maria Shriver, Ten Things I Wish I'd Known Before I Went Out Into the Real World
6. "If there is one thing that marks families with money over the long term it is this: delayed gratification." ― Bill Bonner, Family Fortunes: How to Build Family Wealth and Hold Onto It for 100 Years
7. "The individual investor should act consistently as an investor and not as a speculator." – Benjamin Graham, The Intelligent Investor: The Definitive Book on Value Investing
8. "Financial peace isn't the acquisition of stuff. It's learning to live on less than you make, so you can give money back and have money to invest. You can't win until you do this." – Dave Ramsey, The Total Money Makeover
9. "If you have trouble imagining a 20% loss in the stock market, you shouldn't be in stocks." – John Bogle, Enough: True Measures of Money, Business, and Life
10. "If investing is entertaining, if you're having fun, you're probably not making any money. Good investing is boring."   -George Soros, The Alchemy of Finance
11. " When an investor focuses on short-term investments, he or she is observing the variability of the portfolio, not the returns – in short, being fooled by randomness."   -Nassim Nicholas Taleb, Fooled by Randomness: the Hidden Role of Chance in Life and in the Markets
12. "Everyone has the brainpower to make money in stocks. Not everyone has the stomach. If you are susceptible to selling everything in a panic, you ought to avoid stocks and mutual funds altogether."   -Peter Lynch, One Up On Wall Street
Money and Investing Reads
Bonds Had Good Returns: Wrong in CDs? The Finance Buff
To Infinity and Beyond? Don't Be Surprised If the U.S. Stock Market Cracks -Vitalizy Katsenelson's Contrarian Edge
How to Get Into Harvard Business School-Reach Financial Independence 
The Tiny House Movement and Binge Saving; The New Retirement -U.S. News and World Report-Smarter Investor Blog (my recent article)
The 3 No-Brainer Investments That Should Come First-Christian Personal Finance 
Should I Invest In Private Equity?-The Aleph Blog
Your Handy Guide to Stock Orders-Crossing Wall Street
Share your favorite investing quotes.