Part Time Work; Women's Money Week!
Womens Money Week brings together the best and brightest in personal finance the first week in March to discuss money issues as they uniquely relate to women. It's about taking control of your finances and reshaping your financial future.
Moms, Dads, Babies and Part Time Work-2 Scenarios
My baby is grown up but, many of my friends are parents of young children. Last week my good friend Kiki and I went on an outing to Ikea with her little one, Sophie. Kiki works part time and takes Sophie to a supportive "church based" preschool. Sophie is really social and thrives in this environment. At age three she is content to leave mom and dad and play with her friends. In fact the afternoon we went to Ikea, Sophie begged to leave mommy and play with the other children in the Ikea playroom.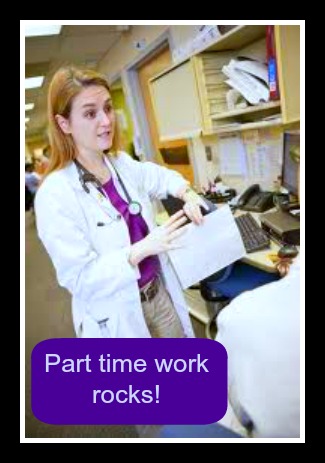 When our daughter was born, after six months I went back to work full time. After 2 1/2 years leaving our daughter with a combination of a nanny, dad, and later preschool, I was ready to stay home. Although our daughter adjusted to being cared for by others, I wanted to be a full time mom, For about 6 years I enjoyed being a full time stay at home mom.
And then I was ready for work…… part-time work.
My husband and I moved from pricey San Diego to the affordable Midwest when I quit working full time. I understand this is not a viable choice for everyone, but for us it was a perfect decision. The lower cost of living allowed us to save and invest and live a nice lifestyle on less than two full time incomes.
Kiki and my situation are ideal for us. We each balanced being a mom, with work, childcare, and additional childcare from the dads. If you're thinking about how to make part time work successful, read on for some discussion and tips.
Tip: Let your personal values drive the decision for part time work. For us, working part time was an awesome solution for the active parenting stage of life.
My Part Time Work Secrets-How to Live Rich On Less
Understand that the sacrifice of working part time, may not be as bad as you think. For example, no full time work means less money spent on clothes and commuting. Another one of my friends, here in San Jose, shares a car with her husband. Living with one car instead of two is a huge financial win for her family.
I was lazer focused on lifestyle issues and understood that living on less meant screening every spending decision. My mind was the most important crutch in successfully living large on less.
I wanted to be with our daughter and work less much more than I wanted more stuff. Thus, certain spending was off limits. With more time than money, I needed to learn to spend creatively.
We bought a small house, and paid much less than the bank said we could afford. We knew where we wanted our money to go, and it wasn't to a big house payment.
I am a do-it-your-selfer so home repairs, decorating, cooking was my domain. Small repairs are easy to do on your own (YouTube anyone?). Sewing decorative pillows is fun and affordable with remnant fabrics. Cooking, well anyone can cook and it is so much cheaper than eating out. I'ms till trying to get the gardening thing down, but many folks save a lot of money growing some of their own food.
We didn't feel like we were sacrificing because we had what we wanted, more family time. Saving money became a challenge with the end goal of the crafting the life we wanted.
Decide on your family's priorities first. That makes saving and spending decisions easier. If watching the new shows isn't a priority, ditch the cable and substitute a $7 Netflix subscription. If you have to eat out every week, go to the early bird special or the spot where "kids eat free".
Tip: Decide where you can save and how you can substitute cheaper alternatives for expensive spending.
Pro's and Con's of Part Time Work
The advantage of working part time is more time to be with the kids, do the housework, chores, and have fun. Additionally, some children are less social and thrive when spending more time with a parent.
The primary disadvantage of working part time is less income. And if you're not mindful, you may not feel you can save for the future without two full incomes. If you forgo saving for retirement, this part time work decision can thwart your future happiness.
It's not an easy decision for a family to forgo two full time incomes in exchange for one and a half (and sometimes less). It certainly takes some getting used to if you're reducing your family's income. There's no right answer to the question, "Should I work part time?" And there's no guarantee that you won't have regrets in the future. But, who doesn't have a few regrets? Let go of perfectionistic thinking because there is no perfect scenario, so make the best decision for your family.
Action Step
If you're thinking about working part time, spend ten minutes on this time tested strategy.
Pull out a sheet of paper.
On one side write Pros and the other side Cons. list the advantages and disadvantages of working part time for you and your family.
Remember, few decisions are irrevocable. If the part time option doesn't work out, you can always go back to work full time.
What are your thoughts, have you worked part time. Would you like to work part time?