MBA Course: Investing & Portfolio Management-Class 3-The Lazy Investor's Guide to Asset Allocation
The Lazy Investor's Guide to Asset Allocation
"Don't put all Your Eggs in one Basket."  Anonymous
This adage is crucial to investing. Plainly put, spread your risk around to keep your overall risk level lower. This guide to asset allocation explains this fundamental principle of investing success.
There is an irony about investing-sometimes adding a high risk investment to a portfolio reduces overall risk.
I'm teaching an 8 week course in the MBA (Master of Business Administration) program at a local College. I thoroughly enjoy the information I am teaching as well as sharing it with the 15 students in the class. This knowledge is so important that each week, I'm going to take one of the basic concepts from the class and distill it for you. After reading each article you will gain a useable investing skill. This is the third class in the series, please check out MBA CLASS 1: Risk & Reward  and MBA CLASS 2: Bonds, as well.
Before beginning any investment program, please follow these steps.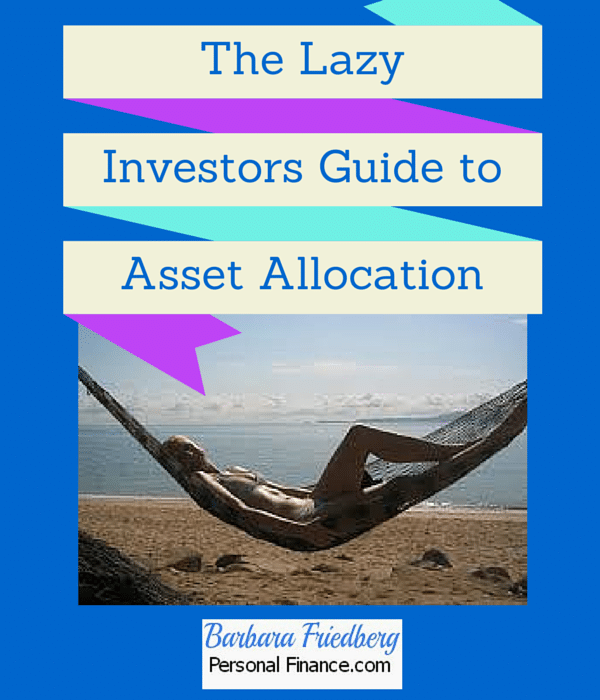 What is Asset Allocation?
Jack is afraid of the stock market, investing, and any movement in the value of his assets.
Jill understands that in order to receive greater wealth in the future, she must take some risks.
Here's the Scenario:  Jack and Jill each save $300.00/month for 40 years.
(Assumption: average annual long term returns for stocks 8.5%, bonds 5.0%, cash 3.0%; cash assets are certificates of deposits from a bank or a money market fund)
Look what happens with each of their finances:

Jill invested in a combination of 60% stock assets; 30% bond assets; 10% cash for a combined average return of  6.90%; Final account value =$770,077.00

Jack invested in only cash assets for an average return of 3.00%; Final account value =$278,512.00
$300 INVESTED MONTHLY FOR 40 YEARS
| | | | | |
| --- | --- | --- | --- | --- |
|   | Average annual return | Monthly contribution | Total amount invested | Value after 40 Years |
| JILL | 6.90% | $300.00 | $144,000.00 | $770,077.00 |
| JACK | 3.00% | $300.00 | $144,000.00 | $278,512.00 |
Clearly, a mix of assets offers higher long term returns than cash alone. Jack and Jill are a perfect example of how investing the same amount of money yields widely different returns.  Jill invested in a conservative asset allocation and ended up with $491,565.00 more than Jack.
But, wait a minute. What about the risk? Who had more risk or volatility? Well, Jack had NO VOLATILITY WHATSOEVER. The value of his investment never went above or below the interest payment + initial investment. On the other hand, Jill had to weather some ups and downs. There were even some years when her total investment value declined.
How to Use the Guide to Asset Allocation?
Jack and Jill's simple example illustrates the potential returns and risks of investing. In life as well as in investing, the greater the reward, the greater the risk. So, ask yourself, for future goals like retirement, college for your kids, a down payment on a home, are you willing to take on a bit more risk for a chance at a larger long term return?
Jill didn't spend a lot of time of effort on her investing; in fact, she chose these Index funds for her portfolio:
40% Vanguard Total Stock Market Index

20% Vanguard FTSE All-World ex-US Index

30% Vanguard Total Bond Market Index

10% Money market fund
Don't make investing mysterious or complicated. Satisfactory returns can be gained with regular investing over the long term. 
Caveat: This article is for information purposes only and may not be appropriate for your individual situation. 
Action Step:
Educate yourself in investing by visiting Investopedia and Moneychimp.
 Basic Terms:

Risk: Volatility or the price of your stocks and bonds going up and down.

Return: The amount of additional money you receive (or lose) on top of your original investment.

Financial asset: Stock, bond, cash etc. These assets can be combined in a myriad of ways and purchased in a mutual fund or exchange traded fund (ETF).