I just returned from Fincon 2015, a peer conference for the financial media community. Now, I'm totally inspired with too much to do on my plate.
In conjunction with the exciting conference, I also co-launched Young and Oldish Money Podcast with my partner, Bobby Lee of 2 Minute Finance.com. If any of you have launched a new endeavor, then you understand; there's the first part of content creation, in this case, recording many episodes of the podcast for publication. Next, and equally as challenging, is promoting the product. 
Click to tweet + you'll be in my debt!
Over-inspired, I want to share my enthusiasm with you. Following is a list of some great investing and money money reads for your enjoyment.
"Asset Allocation Plan-7 Factors to Consider" by Ken Faulkenberry of the newly launched Dividend Value Builder Site  
"Money Buys You Time" by Jim Wang of Wallet Hacks.com
"Whitepaper: A Case for Index Fund Portfolios" co-written by Rick Ferri, Portfolio Solutions and Alex Benke, Betterment downloaded from Rick Ferri.com.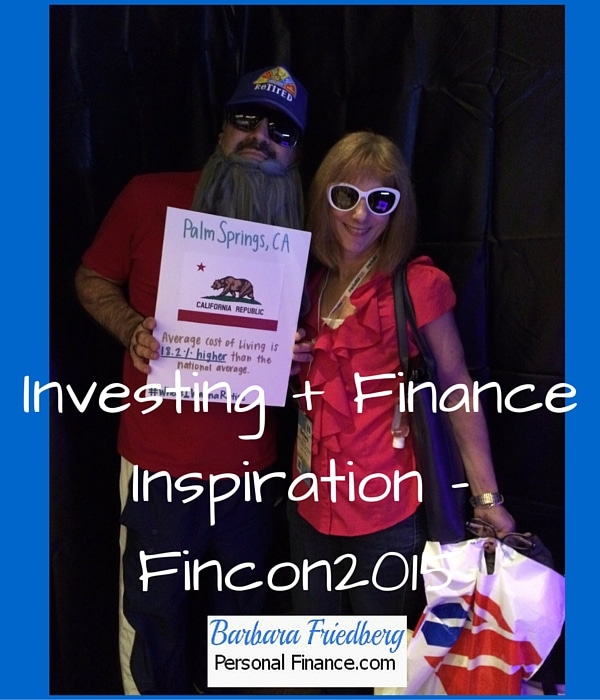 "The ETF Problem With Stop Loss market Orders" by Michael Kitces of Nerd's Eye View.
"What if You Invested Only at Market Peaks?" by Ben Carlson of A Wealth of Common Sense. 
"S+P 500 Return Calculator" Proof of the Power of the Market, from Don't Quit Your Day Job.com.
High Quality Bonds-the Rodney Dangerfield of Investing" by Frank Kinniry of Vanguard Blog for Advisors.
"Stock Investors Haven't Been This Bearish in Fifteen Years" by Mark Hulbert of Marketwatch.
"Are You Biased? Hint, Yes You Are" by Jim Blankenship of Financial Ducks in a Row.
"What is a Hedge Fund?" by Roger Wohlner of The Chicago Financial Planner.
"Why I (Still) Like All-in-one Mutual Funds" by Mike Piper of Oblivious Investor.
Books I'm Reading:
Leap: Leaving a Job With No Plan B to Find the Career and Life You Really Want by Tess Vigeland.
Financial Tales by Carlos Sera (soon to be released).
Barbara Friedberg Across the Web
I write a lot, so here's a sample of some of my recent work (and an interview). Enjoy!
"Inspiration Interview Featuring Barbara Friedberg" at Simple Financial Lifestyle.com
"How to Multiply Your Money" at Young and Oldish Money Podcast
Click to tweet>How to Multiply Your Money
"Take an Investing Premortem Now, to Guard Against Bad Decisions Later" at U.S. News and World Report.
"Is Delaying Social Security Until Age 70 Always a Good Idea?" at Investopedia.
"Top Things to Know about IRAs" at Investopedia.
"Haven't Turned 60 Yet? You can still save $430,453 Before Retirement" at GoBankingRates.