How to Clean Up My Credit History
What People Overlook After They Get Out Of Debt
 Guest contributor, Neal Frankle of Wealth Pilgrim.com
One of the many things I love about Barb's personal finance blog is that it provides a wealth of strategies to help you build a solid financial future.  As Barbara repeatedly points out, the first order of business is to get out of debt if you have any.
That step is very clear.  But what many people overlook is the aftermath that debt leaves. The problem is, if you were late in making payments or had a charge off or two, when you were struggling, that leaves a mark on your credit score – even if you subsequently get current on all your bills. And a negative credit history means it will be harder and more expensive to get credit now. So even if you've cleaned up your credit act, you may be still pay the price if you don't clean up your credit history on your report as well. 
Cleaning up your credit history an important step to take before investing and building wealth.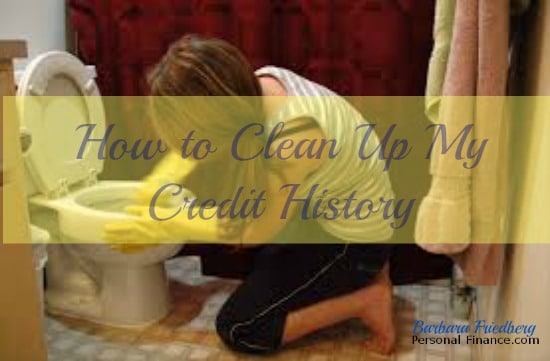 How to Clean Up My Credit History?
There are some companies who promise you the moon and the stars and claim they can help you wipe out any credit blotches – no matter how ugly.  Sadly this is not true.  If there is a negative item on your credit report, it will have to stay on your record for a number of years unless it is inaccurate, unverifiable or incomplete.
On the face of it, that may sound discouraging but actually there is a big ray of hope in that statement, if you read between the lines.  Again, in order for a negative item to remain on your credit report, it must be accurate, verifiable and complete. 
Is My Credit Report Accurate?
You probably already know that the three major credit bureaus are required to provide you with a free report once each year.  Make sure to order yours and go through it with a fine-tooth comb. Ask yourself these questions when thinking about, 'how to clean up my credit history'.
Are there any misrepresentations?
Are there any negative items reported that never really happened? 
Are there other errors? 
If there are, you can force the credit bureau to remove them from your report.
Is the Credit History Information Verifiable?
Even if a negative item did occur the bureau and the vendor have to be able to prove it.  If the vendor was bought by another company or went out of business or simply doesn't feel like pulling the paperwork to prove their case, the bureau must also take that item off of your report.
This is a good thing, when thinking about how to clean up my credit history. You need to take action and advocate for yourself to get inaccurate information removed.
Is the Credit Report Information Complete?
You might have some negative information on your credit report that is both accurate and verifiable, but if it's not complete, off it must come. 
What's an example of incomplete information?  Well….what if you failed to pay a bill because you were called up for military service and never got notice. 
What if you were in town, but the vendor sent it to an address that doesn't exist and you never got it? 
What if they sent you the wrong merchandise and refused to accept it in return? 
In all these cases, the information on your report may be accurate but can still have that negative blotch removed from your credit history because it is not complete.
There are many negative items that get reported on credit reports that really have no business being there.   As a consumer, you have legal rights which protect you.  I'm not asking you to go to law school, but it's important to ask yourself "How to clean up my credit history?"  But if you went through all the trouble of digging yourself out of debt, it only makes sense to take it to the next level.  Look through your credit report and make sure any negative information you see is accurate.
Once you got out of debt, do you make sure your credit report was as clean as possible? Spend a little extra time and go through these steps and make sure you understand the answer to "How to clean up my credit report".
Neal Frankle is a Certified Financial Planner in Los Angeles.  He is also the senior editor of WealthPilgrim.com, MCMHA.org and CreditPilgrim.com.