How You Turned Your Passion Into Cash
Sign up on right to get free WEALTH TIP's Newsletter, and FREE bonus eBook; 20 Minute Guide to Investing!
Welcome to Part 3 of this series.
If you are just joining us, don't miss Part 1; "Why I Freelance"
And Part 2 of this series; How to Live Well if You Work in a Low Paying Field
A commenter from part 1 asked this question:

I'd love to hear stories of folks who monetize passions that people think "don't pay."  It might be a great "part 2″ (or 3 or 4).

Nick from Step Away From the Mall
The integration of "doing what you love" and making money is a popular topic. There's lots of advice about doing what you love and the money will follow. Is this always true? What if the money doesn't follow?
What if you are doing what you love and the money isn't following. Need some motivation? Read on about how others are are making money
from their passions.
Readers, let's hear about your experiences about "doing what you love, and making money as well."
We are particularly interested in those experiences which started without monetary expectation, and turned into a cash flow stream.
I'll begin by talking about my story. I began blogging to educate others with my decades of personal finance and investing experience. I had no idea there was a possibility to make money from a blog. Initially, I assumed if enough people liked my work, I would get a book contract, and then I would make money.
Well, I'm still working on the book contract…. Any publishers out there? 🙂
In the meantime, I found a love of blogging, educating, interacting with others and lo and behold, I'm making some money. The income streams come from ads, freelance writing, and hosted content. I'm lucky, as my passion and work in the investing field is lucrative and my money habits have allowed our family to grow our net worth.
Yet, there are many stories of folks with average salaries who amass great sums through their passions.
What are your stories? Write in and inspire and learn from others.
Here are a few more success stories to get you started:
I'm currently in Seattle for a work trip. While strolling along the waterfront at Pike's Market I met Pixie, an inventive vendor. She and her husband have taken a love of creating art and crafted a full time cottage industry. They make large artwork and sell it at their booth along the water. After sold, they shrink the image, encase it in plexiglass and create smaller pieces to be used as wall art, magnets, coasters or other. Their business is simple, creative, and supports their family of 3 (without a website).  Jr. Carino and I bought 4 small pieces to use as magnets and other decoration. Her shop is on the side of the water (west). Stop by when you're in Seattle. The art is affordable, one of a kind, and really cool!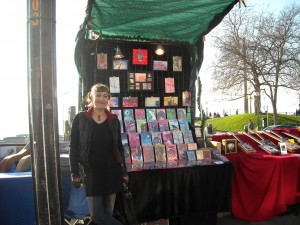 Mark Riddix is studying the on line world and building quite an empire. He has a wealth of resources for you. Mark is a perfect example of determination.
Crystal of Budgeting in the Fun Stuff was so determined to become a full time blogger she quit her salaried job months ahead of schedule. Read about her strategies at How I Make Money Blogging.
Jessica Streit wrote about a fascinating opportunity as a "Sample Passer Outer", over at Budgets are Sexy. She's one of those friendly folks who gives out free yummy samples at supermarkets; and gets PAID FOR IT! It sounds fun and diverting. Maybe this could be your passion!
Need some ideas about how to find your passion? Check out LifeHack's Susan Baroncini Moe's article, How to Find Your Entrepreneurial Passion and Purpose.
Ordinary Traveler talks about his big break came, in spite of the naysayers. He never believed photography, surfing, traveling, and writing could become his livelihood.
Don't miss Part 1 of this series; "Why I Freelance"
And Part 2; How to Live Well if You Work in a Low Paying Field
image credit; Ayham Al-Hamwi
Now, it's your turn, write in and share HOW YOU MAKE MONEY FROM YOUR PASSION.
Forward this link to others for their input!! Let's make the comments a huge list of SUCCESS RESOURCES.