Harvard Endowment Returns vs Passive Index Fund Investing – Which Approach is the Best?
Can the Harvard Endowment Returns Win Over a Lazy Passive Investment Approach?
Imagine you had the choice between investing your money with the Harvard endowment fund managers or going with a lazy passive index fund approach? Which would you choose? 
Harvard is one of the top universities in the world, home to the most brilliant professors and students. A Harvard degree is basically a ticket to professional success. So you would think that Harvard endowment returns would surpass the returns of the most basic passive index fund investment strategy.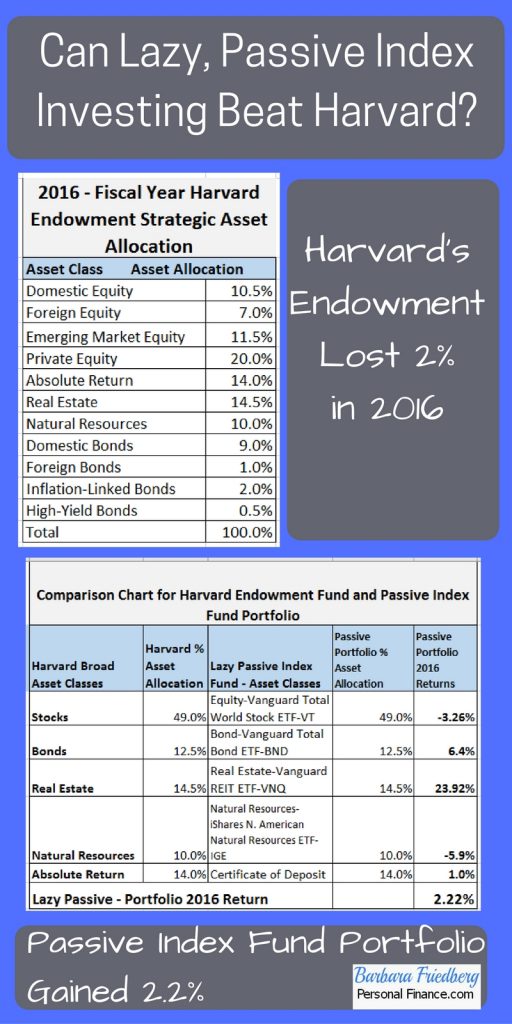 The Harvard Endowment Lost Almost $2 Billion in 2016
In fiscal year 2016, ending on June 30 of this year, the Harvard university endowment fund reported a 2 percent loss. The fund's value sunk from $37.6 billion down to $35.7 billion. The explanation for the loss was, a combination of low interest rates, market volatility and execution. In other words, economic factors and the fund managers are to blame. Volatility is an investing reality, nothing new. Interest rates have been low since 2009. The explanation for Harvard's poor performance is weak. 
Certainly, anyone can have a bad year, but Harvard? Sure, even Harvard misses the mark on occasion, but  President and CEO Robert A. Ettl's explanation is feeble. 
The Harvard endowment lists their investment goals as targeted or strategic asset allocation. Here's the Harvard endowment strategic asset allocation investment approach:
Identify asset classes expected to outperform, while keeping the objectives of the university in mind. 
Remain diversified.
Use a factor based approach that examines future expected macro factors.
The endowment creates an asset allocation range for each class, dependent upon their future asset class performance projections. 
Harvard's Strategic Asset Allocation for 2016
According to Harvard Management Company report, the fund's Strategic Asset Allocation for fiscal year 2016 was divided among U.S. equities, international equities and private equity. The bond portion contained a relatively small allocation of 12.5%, spread among domestic, foreign, inflation and high yield. Harvard invested 20% of the endowment in the risky private equity sector and made 2.6% on this portion of the fund. The Ivy-league fund went in big for natural resources with a 10% allocation, and lost 10.2% on this choice, according to the endowment report. The fund's biggest gain of 13.8% came from the real estate holdings. The final tally of a 2% loss for the fiscal year, is below the fund's benchmark return of 1.0%.
Bonus read: Lazy Investors Guide to Amass $787,355>>>
In aggregate, the Harvard endowment held 49% stocks, 12.5% bonds, 14.5% real estate, 10.0% natural resources with a healthy 14.0% in absolute return.  
The highly compensated Harvard endowment portfolio managers projections and investment decisions resulted in a 2% loss last year.
Most lazy passive index fund investors could have done better than Harvard last year.
Harvard's Asset Allocation vs. A Lazy Passive Index Fund Asset Allocation
With the Harvard fund managers earning millions of dollars per year, I set out to find out if I could beat their 2016 fiscal year performance with a lazy passive index fund exchange traded funds (ETF) portfolio.
Step 1-Combine all equities into a broad allocation.
Harvard's equity four asset classes combined equal 49% of the total portfolio:
| | |
| --- | --- |
| Domestic Equity | 10.5% |
| Foreign Equity | 7.0% |
| Emerging Market Equity | 11.5% |
| Private Equity | 20.0% |
In the model passive index fund portfolio, I allocated 49% to the Vanguard Total World Stock ETF (VT). This ETF is a proxy for the entire world equity market. The private equity portion was replaced with publicly traded stocks. Average investors don't have access to private equity, which in reality is more difficult to analyze, less liquid, and riskier than the public securities markets. 
Step 2-Combine all bonds into one asset category.
Harvard's bond holdings comprised 12.5% of their investment portfolio and were diversified across U.S., foreign, inflation-protected and the high yield categories.
| | |
| --- | --- |
| Domestic Bonds | 9.0% |
| Foreign Bonds | 1.0% |
| Inflation-Linked Bonds | 2.0% |
| High-Yield Bonds | 0.5% |
In the lazy passive investment portfolio, I chose the low-fee, readily available Vanguard Total Bond ETF (BND) in the same 12.5% as the Harvard bond allocation. 
Step 3-Choose a broad real estate index ETF.
Harvard has 14.5% invested in a variety of real estate projects. For the passive portfolio, I chose the diversified Vanguard REIT ETF (VNQ) in the same 14.5% asset allocation. 
Step 4-Choose a broad natural resources index ETF.
Harvard made a big bet on the natural resources category with a 10% investment. To mirror that choice, I selected the iShares N. American Natural Resources ETF-IGE and allocated 10%, the same proportion that the Harvard fund holds. 
Step 5-Replace the absolute return fund with certificates of deposit (CD).
Absolute value is supposed to yield a positive return, regardless of market conditions. Sounds great, but, it's not as simple as it seems and doesn't always meet it's objectives. Harvard made a 20% allocation bet on absolute value, and lost. The absolute return portion of the Harvard endowment lost 1.2% during 2016. Although cash isn't paying much, it would have outperformed the absolute return's loss of 1.2% during the year. With some internet research, anyone can find a certificate of deposit paying at least a 1% interest rate.
Who won? The Lazy Passive Index Fund Portfolio or The Harvard Endowment Fund
The lazy passive index portfolio beat the Harvard endowment fund returns. The passive index fund portfolio gained 2.22% during fiscal year 2016 and the Harvard portfolio lost 2.0% during the same period. 
I wrote about passive index fund investing in How to Invest and Beat the Pros, and the research is quite clear – most active fund managers under perform broadly based and diversified index funds.
So why are the Harvard endowment fund managers earning between $4 and $13 million, to under perform a low fee passive index fund? To be fair, the Harvard annual endowment report stated that over the last 20 years, the fund averaged 10.4% returns annually. Nevertheless, a loss of $2 billion is significant, even for a fund valued at $35.7 billion.
2016 Winner Between Harvard and a Passive Index Fund Portfolio
Attempting to time the markets, using strategic asset allocation may work some years, but over the long term, most investors are wise to choose an asset allocation that reflects their personal time horizon, goals and risk tolerance. You won't beat the market, but if history is any guide-your investment returns will beat inflation and create long term wealth. Harvard lost last year, let's see if they rebound during 2017.