Sneak Preview from "How to Get Rich; Wealth Building Guide for the Financially Illiterate"
"How to Get Rich; Without Winning the Lottery" available from Amazon
As a girl, at homework time, I procrastinated and avoided. My homework was too overwhelming, so I put it off. Locked in my room, I read, snacked, and talked on the phone. By nighttime, I was tired so I went to bed only to arise at 5:00 am and slap together some semblance of homework. Needless to say, this approach failed. I was stressed and miserable. There had to be a better way. Clearly, avoiding unpleasant tasks does not work out.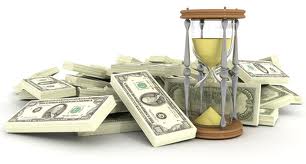 In the same way, running from debt or looking at your credit card statements, makes you feel awful. There is a better way.
Over time, I learned to break down my homework into small tasks and focus on one segment at a time.
This strategy calmed my anxiety and to this day, this singular habit allows me to be quite productive. I subsequently went on to finish college and obtain two masters degrees.
Go From Money Procrastinator to Achiever
Poor money habits are similar to my excessive procrastination. The more you practice them, the worse your money management becomes and the worse you feel. The shift from procrastinator to achiever didn't happen overnight, but over time. This Guide steps you through small money solutions bit by bit.
Take one small step at a time towards smart money behavior. In the end, you'll form the habits for sound money management and eradicate financial stress.
How to Get Rich breaks down the wealth building strategies and instructs how to:
• Get rid of debt systematically and quickly.
• Have cash for emergencies, vacations, down payment for a home, and retirement.
• Spend smart on stuff you really want and squeeze the most out of every dollar.
• Buy the smallest amount of insurance at the cheapest price, to keep you covered.
• Make more money from the cash you invest.
• Contribute the max to your 401(k).
Read about other folks like you who are living great and how they do it. Don't worry, even if you lack good money models or dislike numbers, How to Get Rich will be your guide to smart money management.
You do not need to know the ins and out of credit card interest rates. Who cares if the Dow went up or down? Just be aware that when you don't pay your credit card balance off every month in full, you are throwing away lots of money. Not just a few dollars but thousands. That's the difference between being rich or poor!
Read the book fast, in a few short sittings. You'll be finished in no time. Skip over the sections that do not apply to you. There is no way out, to achieve financial success, you must learn personal finance. How to Get Rich teaches you how to set up the systems to build lifelong wealth. There is no jargon or complicated investing scenarios; take in only essential financial rudiments.
Start today, implement the simple and quick money strategies and get on with your life!
Get money smart now, so that you do not spend your life worrying about whether you have enough money to pay the bills, have fun, save, and live a life free of money stress.
Do You Need Money Help?
I want to help you learn the money tricks and strategies that work. That's why I started this website and why I wrote the book. I used to wonder why successful folks didn't just sit back and enjoy their success. And trust me, some days I do wonder, why am I working so hard. I really do not need to! But, I deeply want to give back. I can instruct you in wealth building by translating my experience, education, and practice into step by step strategies.
The Best Money Tip to long term wealth is not rocket science.
Free Money Tip
Practice this one habit and you are on your way towards a wealthy life.
Transfer a small amount of money every pay period into a retirement or investment account. Visit your work personnel office to have the funds transferrred. Invest as much as you can to start. You're going to be surprised because after a few weeks you won't miss the money. In a few months, boost the savings by $30 per period. Guess what? You're not going to miss the extra $30 either. Every three months, increase the amount by a few bucks and before you know it, your savings will multiply.
Once you have the savings deducted, you are on your way towards building wealth.
Read How to Get Rich; Without Winning the Lottery and you'll be on your way to a wealthy life.
What is your wealth building strategy? What money topic are you most interested in?
image credit; em fast income dot com_google images