9 Best Mother's Day Gifts + Activities
9 Ways to Treat Mom this Mother's Day – Without Breaking the Bank!
Staff Contributor, Alexandra DeLuise-Alexandra combines her banking experience with real-world financial advice to provide simple money tips to everyday people.
Mother's Day was always a holiday I enjoyed celebrating as a child. Although every day of the year is a time to show mom how much you appreciate her, there was something special about giving mom her own day.
The best Mother's Day gifts bring the family together, create special memories, and true wealth.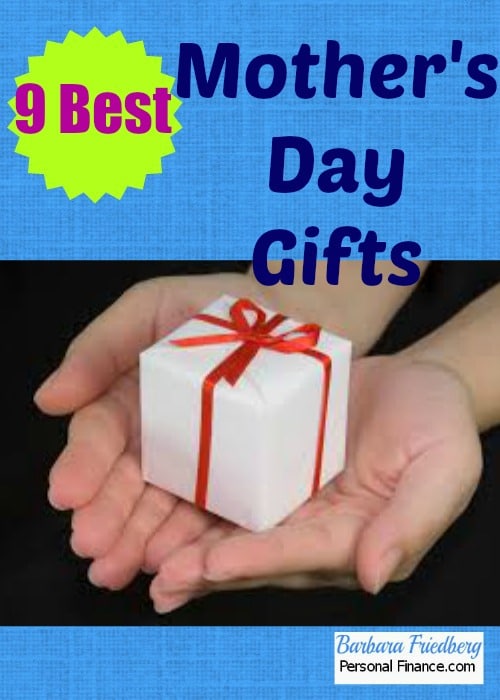 A handmade card, sign, or a bouquet of flowers picked directly from the garden – the one mom grew herself, ironically – were perfectly acceptable Mother's Day gifts when I was a child, but buying grown-up gifts for mom can be even more fun. The best part about Mother's Day is that these gifts do not have to be expensive or cliché at all!
Here are  the best Mother's Day gifts -without going to the poor house!
The Best Mother's Day Gifts + Activities
1. Combine Gifts with Experiences
In the busyness of daily life it can be easy to forget to spend time with the woman who raised us. Even though mom might love a card and flowers, you can pack a bigger appreciation punch by giving mom gifts that mean more time with you.*
2. For the Outdoorsy Mom
If your mom likes to garden, as mine does, there are many plant companies that sell gift cards, or allow you to create custom gifts of saplings that will be mailed to mom during ideal planting time. Sometimes this means that mom will have to wait until after Mother's Day for her plants to actually arrive, but when they do the two of you can spend time together working in her garden.
Does mom like to hike or spend time in nature? Make and pack a picnic lunch to share along the trail as the two of you spend quality time in the beautiful Springtime weather.
Does Mom need a bit of money help? Click here for a great find.
3. For the Culinary Expert
Cooking mom breakfast in bed is always a great gift, but if mom prefers to do the cooking herself, setting up a gift basket with some cooking tools – spatulas, if hers are getting old, fresh kitchen towels, and a box of specialty seasonings – can be the perfect gift for mom. Since this is completely customizable you can be sure mom is getting exactly what she needs!
If mom enjoys cooking in a team, try purchasing the ingredients for her favorite meal and working together to prepare it. You can also surprise mom with a dessert that she doesn't need to make as an added bonus.
4. For the Should-Be Pampered
Mom could use some spa treatment too. Sending her to get a pedicure with a gift card can be a great gift, but turning the day into a mother-daughter (or yes, even mother-son!) pedicure day will make the moment even more special. As an added bonus, going with mom ensures she will actually use the gift card. As we know, moms are prone to ignoring their own needs and may let a gift card go unused for quite some time.
5. For the Deal-Hunter
Taking mom out for a day of estate sales, antique book sales or thrift shop hunting can be a great way to both bond and make sure mom gets just what she wants. Of course, with this method you might need to put a limit on what you will spend!
6. For the Hands-On
If mom likes projects, whether home improvement, crafting, or some other activity, get involved in her interests for a day. There are many options for moms who like to work with their hands! 
Crafting jewelry is fun and easy; go to a specialty bead shop to pick up unique beads to work with. Many specialty shops allow you to buy individual beads, so you will not waste any or spend more than you need to.
7. For the Mom with a Long To Do List
Working at home can help mom complete a long-anticipated project. Pick up a gift card to a local home improvement store so mom can choose what she likes. Can you paint the ceiling for her, or help swap out fixtures in the kitchen? Even the smallest contribution can give an entire room a facelift.
8. For the Theater Buff
If mom loves movies, have an in-home movie night. Discount movies are available at mass stores and supermarkets; purchasing two or three will usually cost under $15. Combine that with some theater-sized candy (typically $1 at supermarkets) and some popcorn, and mom will have a great excuse to step away from her desk.
9. For the Caffeine Addict
Perhaps your mom enjoys taking a break to drink coffee or tea in order to relax. A meaningful basket can be put together quickly and frugally by heading to a local discount store. Pick up a bag or two of flavored coffee, or a few bags of loose tea, and match with tea cakes or biscuits. Dropping in a few pretty napkins will give mom an extra treat.
What other ways have you made Mother's Day special for your unique mother?
*And hey, if you're spending a little too much time with mom, a perfect Mother's Day gift might be to get your finances in order so you can move out!
Click here for a Top Mothers Day gift which reaps years of dividends.