Get Inspired to Buy a Home With the Down Payment Movement
The Down Payment Movement can help your dream of owning a home become a reality. I'm joining with other financial writers and participating in the Down Payment Movement to help you become a homeowner.
Here's Why You Want to Buy a Home
You'll have a place to call your own!
You'll build up equity in the home so that over the years, as you pay off the mortgage, you'll own your home outright.
You can do whatever you want to your home. You want a girl cave, then create it!
You avoid rising rent costs, when you own your own home. (That is, if you borrow with a fixed mortgage.)
You get tax benefits from buying your own home.
Next, here's how the Down Payment Movement can help you get started saving for a down payment for your home.
How Will the Down Payment Movement Help You?
When you sign up for the Down Payment Movement, you're no longer doing this alone. You have a group of people who are rooting for you to succeed.
Sign up here for the Down Payment Movement-Now!
More importantly, there are great educational materials available, including a 12-week home buying course which gives you all the basics on the home-buying process.
Your free home-buying course includes:
Session 1: How to Know If You're Ready to Buy a Home
Session 2: How Much Home Can You Afford
Session 3: What Credit Score Do You Need to Buy a Home
Session 4: How to Get Pre-Approved to Buy a Home
Session 5: How to Choose a Real Estate Agent
Session 6: How to Find the Right Home for You
Session 7: What to Look for When Home Shopping
Session 8: How to Make a Successful Offer On a Home
Session 9: How to Apply for a Mortgage
Session 10: Is It Better to Have a 20% Down Payment
Session 11: How Does Mortgage Insurance Work
Session 12: What You Need to Know About Closing Costs
Here's Why I Joined the Down Payment Movement
I've owned 5 homes over the years, and the benefits have been amazing. From our first home that we bought in the 1980's in San Diego California, each time (except one) that we sold our home, we made a profit. And the time we didn't make a profit, we only lived in the home for 2 years, and that's just too short a time to expect to make a gain.
The reason that I joined the Down Payment Movement is that I want to help you learn how to buy a home and gain the benefits of home ownership.
So, I joined up with a group of smart financial writers, from across the country, to work together to motivate and educate you so that you can become a home owner. You'll begin saving more money for your down payment, so that you'll get into your home sooner, rather than later.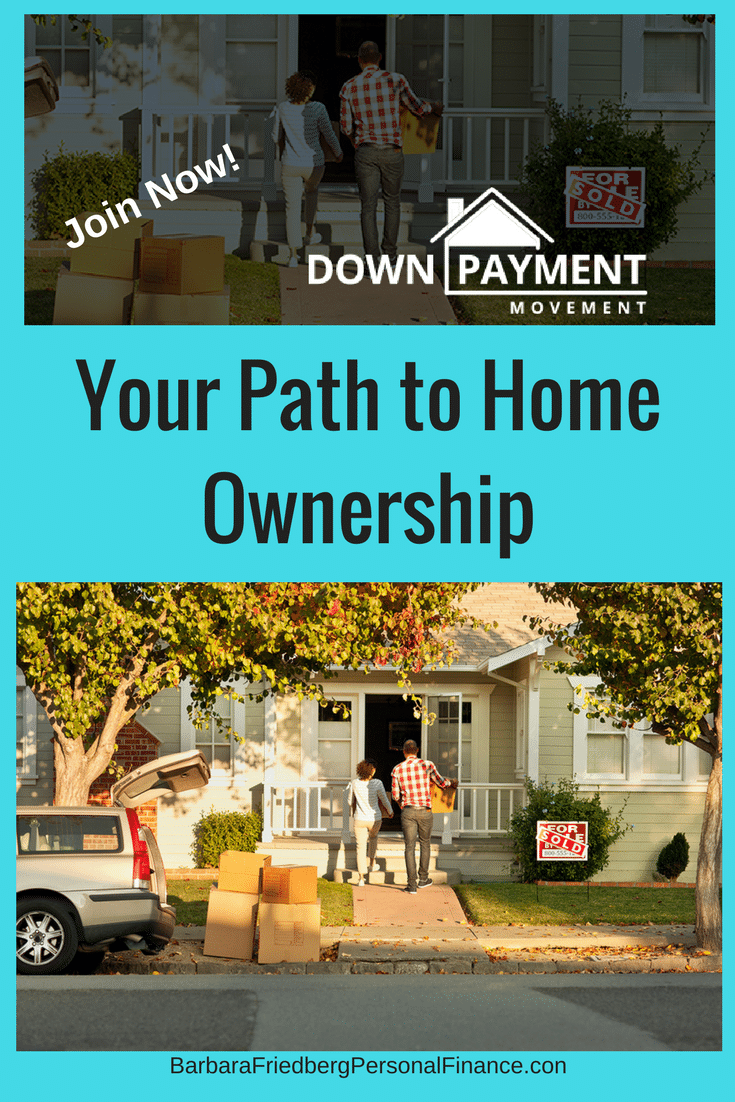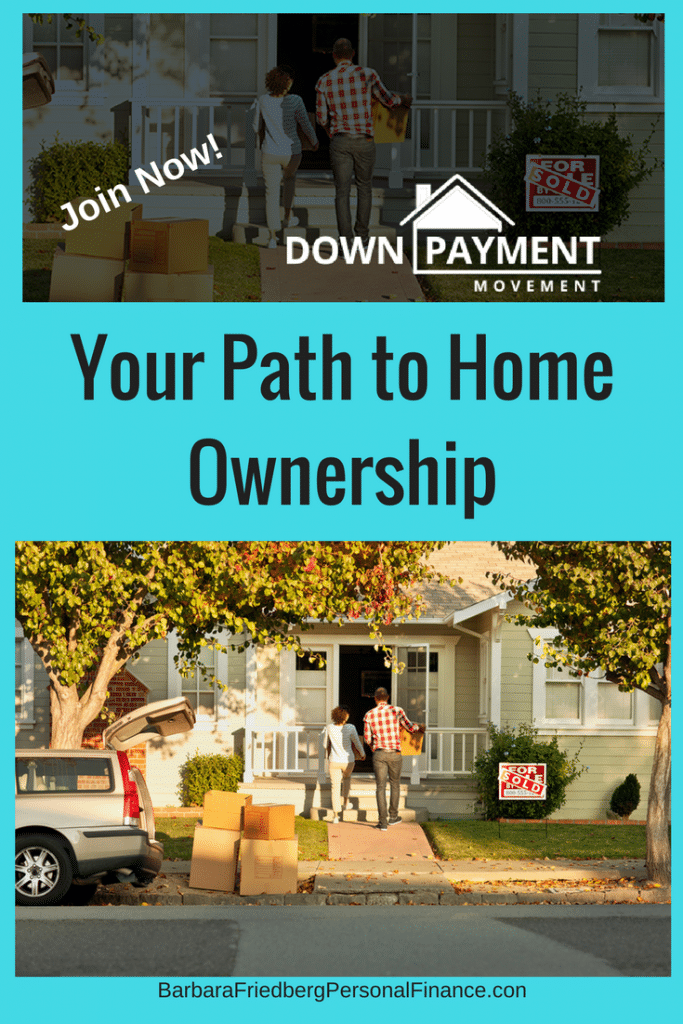 Who is behind the Down Payment Movement?
We are a group of 15 personal finance writers who have joined forces to motivate you to save for your down payment. You can read about each of us on the Partners page.
The Down Payment Movement is brought to you by:
PT Money
Michelle Schroeder
Tracie Fobes
Jim Wang
Barbara Friedberg
Teresa Mears
Joseph Hogue
Casey Fleming
Diego Corzo
Max Smith
Buddy Broome
Michael Dinich
Benjamin Feldman
Alanna Anthony
This movement is powered by Unison. You can learn more about the company on its website or at the Unison Blog. 
Here's How to Join the Movement
Click the button in the upper right-hand corner of the Down Payment Movement page to sign up and join the movement.
When you sign up, they'll ask you to pledge a specific dollar amount that you"ll save every month — for example, $100, $350 or $500, if you're really serious. This way, we can track our progress toward the goal of saving up $1 million in one year!
On the Down Payment Movement website you'll join others working towards buying a home. You'll read inspiring articles and learn about home buying
If you have any questions about the Down Payment Movement, you can find us on social media or send an email to the admin at [email protected]
Learn more about Unison, the company behind the Down Payment Movement here.
*Disclosure: Please note that this article may contain affiliate links which means that – at zero cost to you – I might earn a commission if you sign up or buy through the affiliate link. That said, I never recommend anything I don't believe is valuable.