HOW TO GET RICH QUIZ
WHAT TO DO TO GET WEALTHY?
PRINT THIS ARTICLE OUT AND POST IT WHERE YOU CAN VIEW IT EVERY DAY
Do you ever wonder how the wealthy do it? What do they have that I lack? Especially for those just starting out, without wealthy role models, you may feel confused. How do people get wealthy?
Of course you need a way to earn money; whether it is a paying job or your own business. If you're not earning anything, you have nothing to save. So step one is to get a good education so that you will be competitive in the marketplace. Once you have a good job, what's next?
That's where this quiz will help you figure out if you're on the right path to become wealthy. Do not be influenced by the media regarding wealth. The media is completely misleading. Most folks with a high net worth live modestly and dress normally. Think about it, if the wealthy spent all they earned, how did they amass wealth?
You must think outside the cultural norms to become wealthy. Take the quiz to find out if you're on the track to become wealthy.
*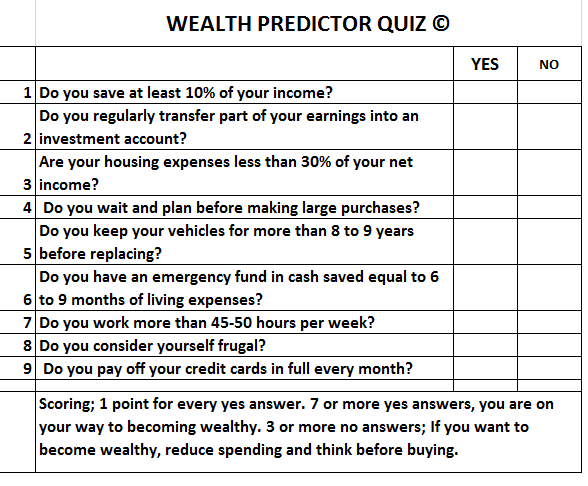 *Questions informed by research of Thomas J. Stanley, PhD and William D. Danko, PhD in The Millionaire Next Door.
Are You on the Path to Get Wealthy?
These questions may seem simple. In fact, you may consider them irrelevant. But the truth is the majority of folks with more money than the norm didn't win the lottery or inherit the cash. No, they worked hard, delayed gratification, spent on items of value, saved, invested and most of all didn't waste their hard earned money.
Getting rich isn't rocket science, it's discipline, determination, and a smart lifestyle.
What was your score? Are you on a wealth building path?