Are you lost when it comes to managing your money?
Do you wish there was someone to walk you through the basics of wealth building?
Would you like to learn how to enjoy today and have money for the future?
Money and Wealth Building Help is Here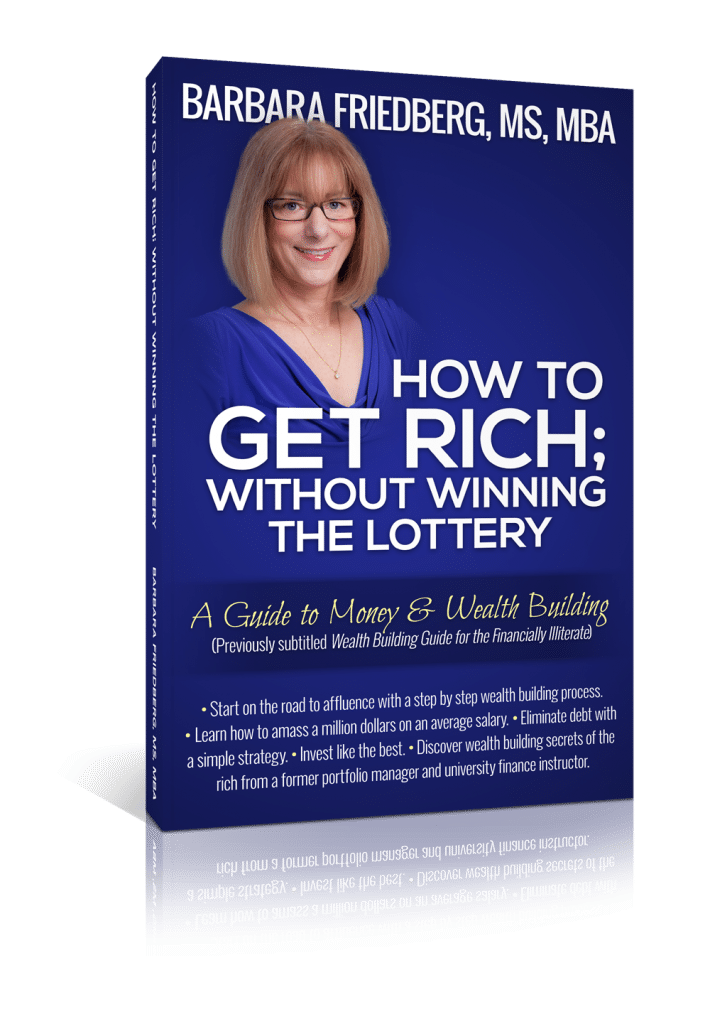 How to Get Rich; Without Winning the Lottery
Do you know how to get rich?
Discover wealth building secrets of the rich, in this book.
This how-to-get-rich primer guides you on the road to affluence in an easy to understand, step by step process for amassing wealth.
Find out how your money habits can turn into tens or even hundreds of thousands of dollars. Learn how to amass money for a home down payment and a 6 to 7 figure retirement fund through investing. Filled with examples and worksheets, you'll learn to turn income into wealth, whether you're self-employed or a company employee.
Getting rich doesn't happen overnight, but with How to Get Rich; Without Winning the Lottery, you'll have the solution to your money problems.
Learn strategies to amass more money with less financial stress. Uncover essential tools to help you navigate your own path to financial security. No matter what your lifestyle, money management knowledge, or financial education, you'll discover what it takes to accumulate more money than you could imagine.
It's never too late to get rich.
Get started today, and let this book be your guide to developing wealth-building habits for tomorrow.
Learn how to become a millionaire on an average salary.
Get a simple strategy to eliminate debt.
Understand the secret to saving.
Learn how to get rich from the stock market.
Invest like the best.
Discover wealth building secrets of the rich, in this book.
"This book has so much going for it. It's not only chock full of advice that is bound to work, it also has an abundance of checklists where you can assess how you are doing. I particularly liked the parts about the common (and unfortunate) temptation to spend to impress others. Her advice on avoiding this misguided approach to spending is both wise and brilliant.

When you've finished reading this book, you're highly likely to be a lot smarter not only about how you spend your money, but even how you look at money. The book's title is "How to Get Rich," but if I were in charge, I would subtitle it, "How to Be Happy." Mitzi Perdue (Mrs. Frank Perdue) – Professional Speaker, Businesswoman and author of How to Make Your Family Business Last
"If you want to lead a rich life-figuratively and literally-this is one book you don't want to miss. In her trademark warm, inviting, down to earth style, Barb Friedberg teaches you what you need to know to establish top notch financial habits at a stage in life where you've got the time to let those behaviors compound and reap rewards. If you are looking for a solid investment… buy, read, and act on the advice in this gem of a book." Manisha Thakor, CFA – Director of Wealth Strategies for Women at Buckingham Strategic Wealth
"If you want to reach financial freedom but feel intimidated by financial jargon, this is the perfect book for you. Barbara Friedberg is a wonderful writer and a natural teacher. She demystifies personal finance with clear examples and useful worksheets. Reading this book is like having a great friend explain everything you ever wanted to know about personal Finance. Anyone can pick up this book and immediately start improving their finances. It is an indispensable beginner's guide to personal finance." Will Chen – Co-founder Wise Bread.com
"This book is for anyone who wants to spruce up his or her finances and to build lasting wealth. It assumes that you know nothing about the world of investment. As a personal finance blogger, I know that Barbara's book can help those who find it daunting to deal with their finances. The book will teach you all the essential you have to have under your belt to build a sound foundation." Shilpan – Street Smart Finance.com
"Friedberg's book provides valuable, jargon-free advice to beginners who are foraying into money management for the first time. Her book is well-researched and backed with numbers, studies and data, and the information is presented in a way that's conversational and friendly. Give this book as a gift to the friend or relative who can't seem to hold on to a dollar." Paula Pant – Afford Anything.com
"Friedberg's book contains basic financial advice that anyone can understand. She presents it in a way that connects with readers and makes them think about their financial future. If you're the parent of a child who is not good with money or if you want a fresh financial start yourself, I highly recommend this book. It's economically priced, and at approximately 100 pages, it's a quick read, giving you more time to implement its strategies." Melissa Batai – Everything Finance.com
Why not buy a copy for a relative or friend who needs inspiration and instruction in managing their money?
Buy now and if you are not completely satisfied, send me an email and I will personally refund your money and you can keep the book, no questions asked.
Disclosure: Please note that this article may contain affiliate links which means that – at zero cost to you – I might earn a commission if you sign up or buy through the affiliate link. That said, I never recommend anything I don't personally believe is valuable.