Young and Oldish Money Podcast
Launched! Young and Oldish Money Podcast with How to Subscribe Step-by-Step
"Young and Oldish Money is created specifically for you with banter about money, investing, saving, debt, economics, tech and fun! Your young and old-ish hosts, Bobby Lee and Barbara Friedberg, successful financial pros, promise entertaining, hilarious and informative conversation about financial topics from generational perspectives.  You'll walk away with inspiration and actionable tips to increase your net worth and life satisfaction."
The Secrets of the Young and Oldish Money Podcast Launch
Bobby Lee, a friend, colleague, and fellow personal finance aficionado called me in the summer of 2014 and asked if I wanted to do a podcast with him. He's editor of 2MinuteFinance.com and a star in new age media, having earned a recent masters in the field.  You'd think starting a podcast would be straightforward. Choose a name, start recording, and post to iTunes. 
Not really.
One year later, we launched. After several name changes and a really long brainstorming list we chose the name; Young and Oldish Money Podcast. Next, Bobby took the lead on setting up the website, Young and Oldish Money. Then Bobby spent hours and hours handling the back-end tech along with the editing. It almost sounds like Bobby did everything. I certainly cheered him on with all of the set up.
After about a year, we're finally live.
Listen right now to the Young and Oldish Money Podcast! >>>>
For those who haven't started consuming podcasts yet, at the end of this post you'll learn exactly how to do it. 
Like all of our other decisions, Bobby and I agonized over what to discuss. We both like finance, but we also have other interests. We quickly ruled out my decorating passion (that just doesn't fit). Investing is my thing so I coerced Bobby into making this one of the primary topics. We both enjoy current events and economics just fits. Bobby is a techy and has his pulse on the latest tech offerings so we had to include this topic. To sum it up, we keep the topics in the range of money, investing, tech, and economics. 
Turns out we've become really good friends and have developed quite a banter. I'm the 'old-ish' part of the the team so you'll hear many age bashing remarks, from both of us. Actually, Bobby is a bit like an 80 year old grandma, so you never really know what will come out of his mouth!
Tune in to Young and Oldish Money Podcast
Behind the Curtain of Young and Oldish Money Topics
We choose topics we think will be both entertaining and educational. Of course, you'll always get ways to squeeze the last nickel out of your paycheck, investing, and retirement tips. But we also riff on pot investing, productivity, lifestyle topics, cars, and more.
We want to invite you to join the Young and Oldish Money Podcast listeners. If you like the podcast, please review it on iTunes. If you don't please email us at the Young and Oldish Money Podcast contact. 
If you're new to the podcast listening world and aren't a regular, here's how to get started.
Young and Oldish Money Podcast – Listen and Subscribe How-to-Guide
1. Install iTunes on your computer
On PC – Download iTunes.
On Mac – iTunes is typically pre-installed.
2. Install iTunes Podcast Listening App on your phone
For iPhone of iPad – Download the iTunes app
Podcast Apps for Android – You have several choices. Here are the top 2 rated by Verge:
3. Open iTunes
Click on Audio and search: Young and Oldish Money 

4. To Subscribe to Young and Oldish Money
Click the Subscribe button.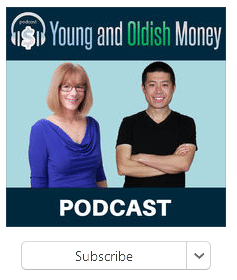 5. To Review Young and Oldish Money
Click the Ratings and Reviews button: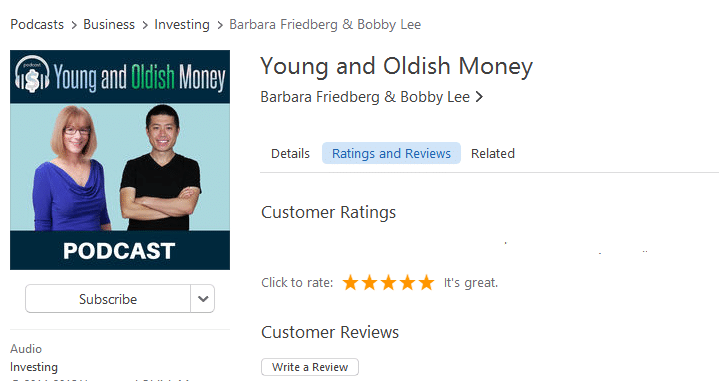 If you enjoy the podcast, please review. If you don't, please tell us.
6. Thank you for Listening
7. More information from iTunes about listening to Podcasts
Thank you in advance for checking out our Young and Oldish Money Podcast.