Top Ten Tax Saving Tips
With April 15th looming just around the corner, many people are still scrambling to file taxes (unless they filed for an extension). If you have not filed your taxes yet, one of these 10 tips might help you maximize your tax return this year.
Guest Contributor, Alexandra of Real Simple Finances.com
1. Choose your tax preparer carefully.
Some people prefer doing their own taxes. Doing your taxes yourself can be cheaper, and you usually have better insight into your own situation than your accountant will.
Personally, I visit a CPA. My accountant is wonderful to work with, and although it does cost us more money to have him prepare our taxes I feel comfortable having a professional handle my taxes and answer my questions.
In this case, you must make a personal decision. It is very possible for you to find ways to save money on your taxes on your own – after all, you have taken the first step in doing so by reading this article! However, tax professionals also have an arsenal of tax deductions that they are aware of.
Generally, if you are filing a simple tax return it may be a waste of your money to visit a professional. If you have complicated finances or many questions about deductions it may be beneficial to pay for professional help, at least for one year.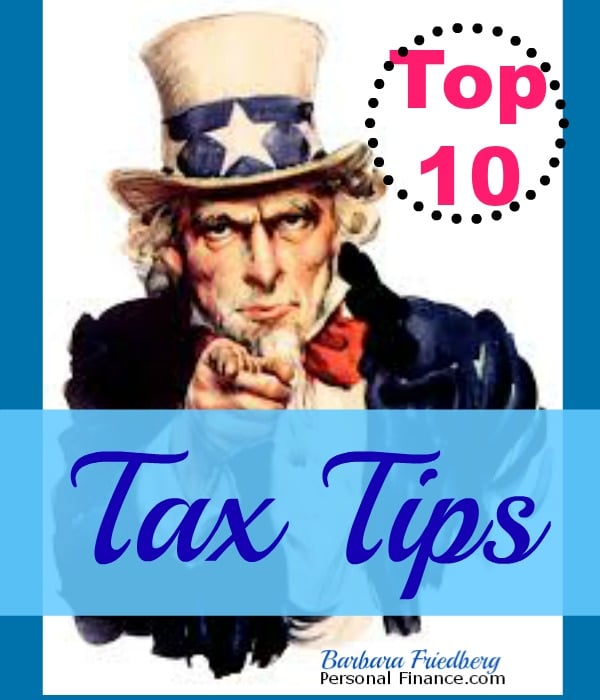 2. Get organized.
This may seem like overly simple advice, but it is something that many people struggle with. If you are not organized, you will not be able to put your best deduction foot forward, and you may miss many incentives or possible tax saving deductions.
One year my husband and I had made a large donation to the local Goodwill, and had not only forgotten to tell our accountant about it, but misplaced the receipt. Luckily, we found it before signing all of our paperwork and submitting our taxes and we were able to make a change, which cut our final tax bill. When you are organized, this does not happen!
Another benefit of organization is that you will be prepared for an audit should one come your way. Being prepared will make an audit much less intimidating, and a smoother process overall!
Action step: Right now (yes, right now!) grab a file folder or a box, and label it "2015 Taxes." Place this envelope somewhere you will easily find it, and place all tax-related documents inside. This will keep your organized, and prevent last-minute scrambling and "oops" moments.
3. Consider your debt.
When tax season rolls around there is some interest that you can write off. If you need to choose between paying down a student loan or another form of debt, remember that student loan interest can be a tax write-off.
The IRS has specific guidelines to help you see if you qualify for these deductions. You may also want to consult a tax professional if you are weighing the pros and cons to paying off specific debt.
4. Be charitable.
Donating to charity can give you a tax break, but you must be thoughtful while doing so. Be sure to keep your receipts for any donations made, and keep them organized so that they can be found easily.
An easy way to avoid miscalculating your donated goods is to make a list of the items you are donating. On this list you should write the dollar amount you believe this item is worth (there are also online calculators to help with this task). Often receipts for donated goods are not this detailed; you can save yourself a huge headache in case of an audit by keeping your donation list along with your receipt.
This tax saving tip has the additional benefit of keeping your home organized, so it's win-win!
5. Check your withholding-for tax saving tips.
You may be able to increase your paycheck every week. National Payroll Week has a Paycheck Maximizer app to help you make slight adjustments to your W-4 that could save you money.
There are two schools of thought here: some individuals prefer to have extra money withheld from their paychecks so that they have a (almost) guaranteed payday come tax return season. Others prefer to withhold as little as possible, aiming to either owe or be refunded around $500. The second group prefers to have all of their money up front, while the first group prefers being sure that there will be no confusion about withholding.
You must choose which group you agree with more; it can be hard to part with an extra $50 each week if money is tight, but the April payout can be a real treat.
6. Think about the future.
Do you plan for retirement? Investing in a Roth IRA could get you a tax savings of $372,220 before retirement.
401(k)s and IRAs are beneficial because the money invested in them can grow tax free. Paying taxes on your income before contributing to a Roth IRA means that when you are retired you will not need to pay taxes on your money. That can be a major relief later in life!
Remember when I mentioned that withholding extra money each week can usually grant you a higher tax refund? Take the money you get back each year and put it toward the $5,500 maximum IRA contribution; since your tax refund should never be considered guaranteed income, you will not miss the money and future-you will thank you!
7. Think energy-efficient.
Homeownership is expensive and difficult at times, particularly if your home is in need of some upgrades. New windows, a new furnace and more efficient heating can be expensive, but there are ways to save on these necessary updates. If you are planning on updating your home, consider some of the Energy Star tax credits you might be eligible for. In some cases you can write off up to 30% of the cost of these upgrades. These tax saving tips are especially apt for those with older homes, you'll save money now, and in the years ahead.
8. How is your health?
Visiting dieticians and trying weight-loss plans can be financially draining. However, if your doctor has recommended that you take steps to reduce your weight or improve your health because of a few medical conditions you might get a tax break.
Not everything is a tax write off, of course. You cannot write off nutritionally-healthy meals when you go out to dinner with friends, but if your medical expenses exceed 10% of your income you may consider writing them off the next time you file your taxes.
9. Are you together, or separate?
If you are married there are benefits to filing together. On our accountant's recommendation my husband and I have filed jointly since we have been married; he was able to show us the difference in our potential tax return between married-joint and married-separate, and our tax bill was smaller when filing jointly.
That being said, another friend of mine files separately from her husband. She does their taxes at home, and has found that they receive a higher refund when they are separate. Whichever method you choose, remember that there are pros and cons to each side. However, historically speaking there have been greater tax breaks for couples filing jointly.
Added bonus: If you are contributing to an IRA (see tip 6), couples filing jointly are able to contribute a higher amount each year to their IRAs, according to TurboTax.
10. Taking care of business.
If you make any money on your own – tutoring, freelance writing, a self-run lawn care business – you need to file taxes on your earnings. When I was a direct sales consultant I filled out a Schedule-C form each year listing my income and my expenses, and filed this form along with my regular taxes. The Schedule C is quite easy; what is important, however, is considering what actually constitutes a business expense.
Before trying to write off business expenses as losses, be sure that they are actually business expenses. You cannot write off your entire cell phone bill if you use the cell phone for personal reasons as well as business, for example. You can, however, write off your business phone line, the new lawnmower for your landscaping business, or any other expense that you can document as being used solely for business purposes.
Disclaimer: I am not a tax professional. The tips provided below have worked for me or close friends, but everyone's situation is different. Consider your own financial situation carefully, and consult a tax professional when you need help. 
What tax saving advice has worked for you? Which tips would you put on your own top ten?