Top Tax Tip Worth $372,220
US News & World Report: Smarter Investor Blog-Top Tax Post
"Good morning,

I think we're heading in the right direction as far as content goes. We've had some great tax planning advice stories, which have proven popular and we're providing readers with more specific investment advice, which makes it more likely that your pieces are picked up by places like MSN Money." ~editor, Smarter Investor Blog, US News and World Report
Every month I get an email from my editor at The Smarter Investor Blog at US News and World Report. I anxiously await the monthly rankings to find out how my posts fared. The editor does an awesome job of telling us what the readers want and which posts are doing well.
Now I'm  a bit extremely competitive. Not only do I love to compete but I especially like to win. Of course, who doesn't like to win?
My highest US News and World Report Better Investor post ranking was the #7 post, so you can imagine my delight when out of the top 25 posts for the month of March, my "17 Legal Secrets to Reducing Your Taxes" placed #4.
I must admit, these top tax tips were quite good and who doesn't want more money in their own pockets and less in the pocket of the IRS? (legally)
How I Became Tax Savvy
As a girl, my dad started training me early about the tax system and how to reduce my income taxes legally. From having my own business and thereby deducting all related business expenses to making certain to keep a log of non-commuting business mileage, I am always thinking about how to keep more of the money my husband and I earn.
Every year I review the IRS.gov site for new tax information and usually pick up a copy of J.K. Lasser's Your Income Tax.
And just like I want you to learn to invest and grow your wealth, I also want you to keep more of your earnings with smart tax planning. Please understand that you don't need to be an accountant to understand saving money and reducing taxes.
Tax Help-Top Tax Tip
I'm so committed to helping you build wealth and keep more of what you earn that I'd pay you to listen to this top tax tip if I could!
Anyhow, it is not too late to save on your taxes.
Tax Tip Worth $372,220
There is 1 tip which will put over $300,000 in your retirement portfolio, even if you are 40 years old.
Contribute to a Roth IRA before April 15th. If you've already filed and received a refund, plow that money into an IRA account at a discount investment broker now.
Set up a new IRA account or contribute the maximum of $5,500 into an Roth IRA existing account at a discount broker.
By letting that money compound tax free until retirement, you are giving yourself a gift of thousands of dollars. See how this top tax tip works.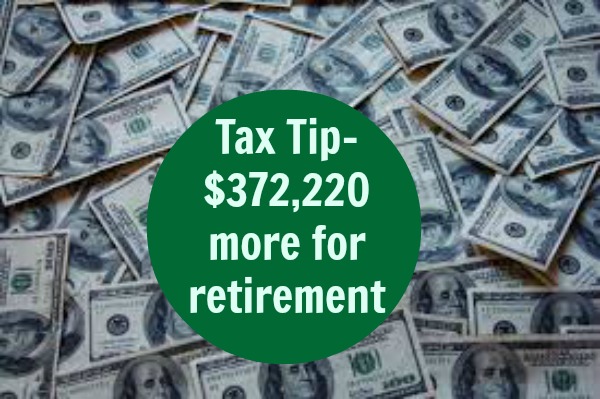 Joaquim's Story
Joaquim does not have a retirement account and he's 40 years old. He's worried and afraid he'll have to rely only upon Social Security in his old age. He earns a decent salary and decides to contribute to a Roth IRA account.
He still has a few days (until April 15th) to make a Roth IRA contribution for the prior year. Even though he doesn't get a tax deduction for contributing to the Roth IRA, he understands that the money in the account will grow tax free until he decides to withdraw it. And when the money is withdrawn, there is no tax to pay.
The Roth IRA gives him many options for the money in the future. He can begin withdrawing his funds at age 59 1/2 without a penalty (if he takes the money out before that time there's a 10% penalty) or he can leave the money invested indefinitely. Unlike a Traditional IRA, there is no required minimum distribution at age 70 1/2.
Joaquim commits to investing $5,500 each year in his Roth IRA until his 65th birthday.
He chooses several index stock and bond mutual funds and earns an average return of 7% per year. At age 65, Joaquim's annual $5,500 dollar investment annual investment or $137,500 total Roth IRA Contributions (total contributions of $5,500 * 25 years) grows to $372,220.
That's right, Joaquim contributed nothing for retirement up until age 40. At age 40 he decided to contribute $5,500 per year for 25 years to a Roth IRA in an investment account. At age 65 he has $372,220.
If you are 40 years old and you believe you missed the chance to save for retirement, it is not too late. Start investing for retirement today and you still have several decades for your money to grow and compound.
(a version of this article was previously published)