September Investing Personal Finance Tips – Don't Fear the Stock Market
With Investment Education and Discipline Comes Prosperity – Finance Links +Personal Finance Tips
I'm an investor and have been one for decades. I invest regularly, and have done so since the 1980's, and despite several market crashes, our family is facing retirement in good shape. For the average individual, if history holds, sensible investing in the financial markets can lead to a secure future. These personal finance tips and investment advice will boost your stock market IQ.
But, like anything else, education, discipline and persistence are required to build wealth through investing. And understanding that the stock market crashes on occasion will help you prepare for the volatility that comes with a commitment to the markets. 
5 Stock Market Crashes Since 1987
I've seen the stratospheric inflation in the late 1970's and early 1980's. I've lived through all of the stock market crashes since the mid-1980's. And, despite these economic shocks, you'll learn that the economy and markets have prospered.
On black Monday October 19, 1987 the DOW fell 22%.
The Asian Crisis of 1997 was next with a 60% hit for international stocks.
Then came the whopper, the Dotcom Crash of 2000 to 2002 when the stratospheric technology companies fell to the earth.  Between March 11, 2000 and October 9, 2002, the Nasdaq Composite lost 78% of it's value.
Most recently during the 2007 to 2009 mortgage meltdown and credit crisis the S&P 500 tanked 57.8% between October 11, 2007 to its low on March 6, 2009.
Yet, despite these stock market crashes, From January, 1987 through August 10, 2018 the S&P 500 returned roughly 10%, including reinvested dividends!
Best Investment Advice for Market Crashes
During every market crash, I held fast and never sold. In fact, after each crash, when investments went on sale, I went shopping. The commitment to staying in the markets, and picking up stocks on sale has worked for me and many other successful investors.
Now, we are in the midst of a nine year bull market. For investors, this has been a profitable time.
Yet, at some point the markets will falter, and you need to be prepared and educated.
I've hunted around the internet to find some excellent articles to educate and inform.
Remember, invest for the long term and stay the course, through the ups and downs.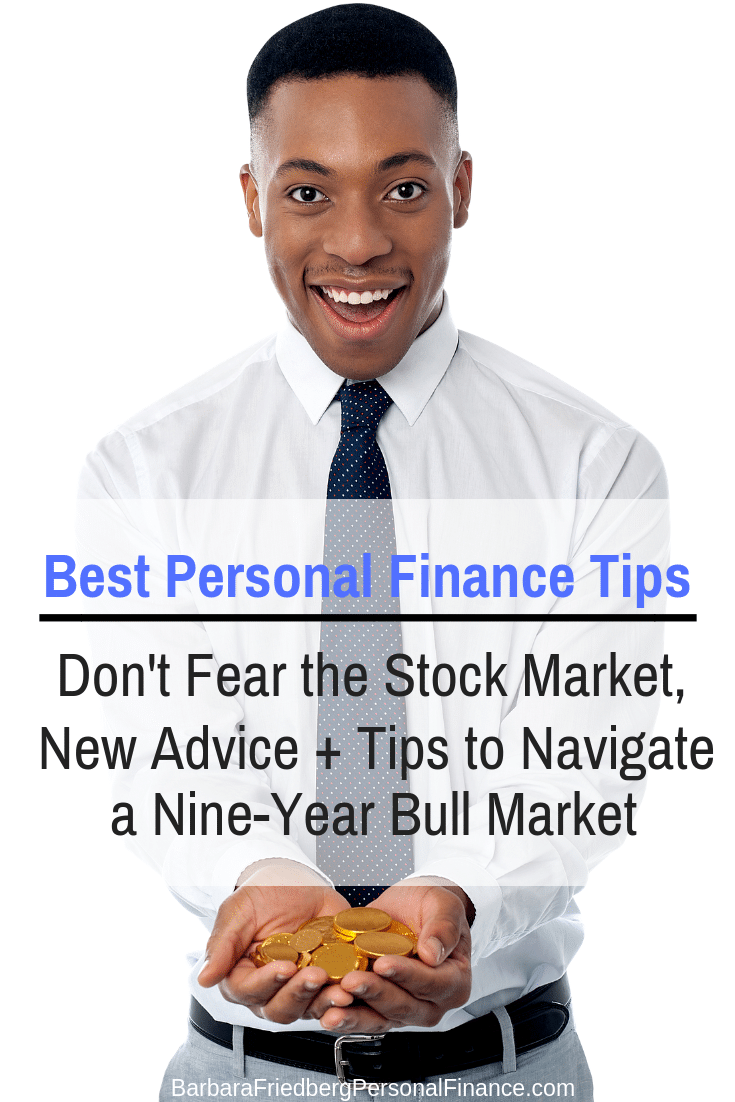 September Financial Reads to Understand Investing, Build Your Wealth and Calm Your Nerves
Mike talks about his experiences during the 2008 market crash and what he's learned about diversification. 
"During the market crash in 2008, I kinda-sorta misplaced $20,000 worth of mutual funds. This represented 66% of my total funds invested in the market at that time.
That was a gut-punch.
Do you know what was worse?
When I lost 66% of my invested money, I also lost 66% of my net worth.
That was a kick in the groin… Followed by a gut-punch and a smack in the face. Then The Rock came by to give me the People's Elbow… And when I got back up, Chuck Norris stopped by to roundhouse kick me in the face."….
"With the U.S. stock market continuing to hit new highs, I have been asked by some readers if they should wait to invest in the stock market. Interest rates are rising, we are over eight years into a bull market, and some pundits are starting to call for the next downturn. People are worried about investing at the peak of the market, so they are holding off. But they really shouldn't be. In today's post, I'm going to break down why you should still be investing in peak markets.
Timing the market is just as hard as picking stocks, but that is exactly you're doing if you are holding onto cash and waiting for a market downturn. You're betting that the pullback will more than compensate you for the lack of return while your money sits in cash. You're also betting that you'll have the discipline to put the money in when everyone else is taking it out. So, what is the problem with making that bet?"…..
"How do you know if you're emotionally prepared for a market meltdown?
If you have money in the market, I hope that's a question you've at least considered.
Don't get me wrong. I'm not predicting a market meltdown is coming.
However, it would not be surprising if it happened.
Why?
I'm concerned for the thousands, potentially millions of newer investors who've never experienced this kind of market event.
We're going to look at some history, put some concrete numbers to what can happen, and talk about some behavioral science principals that may be able to help you."……
"There's really no good reason for a teenage boy to end up in a high school girls locker room. None based in reality anyway.
At least working as a janitor over the summer puts one on solid legal ground to enter a girls locker room. When a boss assigned two such janitors to clean rust from the girls showers one summer, it surely didn't meet the Playboy inspired adolescent expectations of the younger of the two.
Even with the assignment, the place was foreign and the younger janitor, Stephen, took notice of the peculiarities. A right of passage for teenage boys is getting over the embarrassment of showering out in the open after gym. In the girls locker room, Stephen's first discovery was that the showers had curtains on them for privacy.
He then noticed nondescript metal boxes on the wall. What the hell were these? His companion explained, briefly and crudely, exactly what the boxes contained. It seems the school understood a lot more about teenage girls than Stephen."…..
"Personal finances are personal. No two situations are the same and the best way to take control of your money and life differs for each unique individual. However, there are some personal finance tips that can help many of those looking to improve their financial standing.
There are dozens of alarming stats about the "average" individual's current financial situation. Here are 3:
Out of every 10 Americans, 6 don't have $500 in savings.
49% of Americans are concerned, anxious or fearful about their current financial well-being.
The average American household has approx. $8,161 in revolving debt.
The personal finance tips below aren't going to single-handedly save anyone from a dire situation. But a small shift in spending habits or a mindset adjustment could generate major savings and earning potential. The right book or podcast might change your financial journey forever. Compounding small financial wins can have an amazing return with limitless ROI across a lifetime.
My Sons Father.com introduced me to Bear Week Those that know me know that I am always a bit bearish. A copy of The Bear Dance hangs in my office and I'm probably in the minority with a framed stock certificate of Bear Stearns. I anticipated my bear week post to come to me quite naturally and quickly.
However, always the contrarian, I decided to take the path less traveled rather than the easy path that was laid out in front of me to talk about bubbles.
Today, I would like to focus on bubbles. Now before you click away I'm not talking about stock bubbles, tech bubbles, tulip bubbles, or any of the other cliché bubbles that have frankly been beaten to death. Rather, I want to talk about the real bubble that can destroy your financial dreams and wreck your goals: the social/cultural bubble."…..
"The basics of personal finance:
Spend less than you earn. Stick to your budget. Start investing for retirement now. Always pay your credit card balance in full each month.
These sayings are popular because they're short, simple, and tried-and-true.
While there are nuances behind each individual's personal situation, all of the information you need to become wealthy could fit on one side of a 3×5 index card.
So if personal finance is so straightforward, why isn't everybody wealthy?
Part of this is due to personal circumstances, true.
But for many people, one of the first big roadblocks separating them from financial independence is the disconnect between one's current behaviors, goals, and values.
If any one of those three "inputs" is out of line, you'll find it difficult to reach your desired financial destination – or at the very least, you'll find you waste a lot of time, money, and energy throughout the process."
What drives your beliefs about money?"……
"I'm always baffled by people who "don't do podcasts." When I ask why I hear a lot of the same responses. I'm a big advocate for podcasts, so naturally, I try my best to convince them to give it a try.
If you're in the "I don't know" camp, it's time to change that and start taking advantage of the power of podcasts.
For one, they're free, and two, you can learn about so many different topics you'd normally not be able to consume so easily. A perfect kind of topic to learn about through podcasts is personal finance. I'd much rather listen than read.
Some of the podcasts on this list aren't specifically focused on teaching you how to invest or budget your money but encompasses an overall theme of money. I find that listening to a mix of shows that offer tangible advice about your money (how to's, real takeaways) with learning about general financial topics (Planet Money, Freakonomics) is the way to go.
Planet Money by NPR
Show length: ~ 20 minutes
What you'll learn: Fascinating stories about the economy and money
Examples of previous episodes:
Peanuts and Cracker Jack
The Fake Review Hunter"……
"Personal finance can seem overwhelming and complicated but it's really not. It's actually simple enough that I was able to break it down into 10 sentences.
Hope this helps, let me know in the comments section below.
1. Spend less than you earn
There is a reason this one is #1 on our list. Spending less than you earn might seem simple and obvious yet a vast majority of people are still living paycheck to paycheck struggling to make ends meet.
If financial freedom is your goal essential you start tracking your spending with a budget andcontrol your money.
2. Create an emergency fund immediately"…..
Recent Investment Articles Across the Web by Barbara A. Friedberg
5 Easy Strategies to Manage Your Investments at Next Avenue by PBS
Why Lump Sum Investing Works to Your Advantage at US News and World Report
5 Places to Invest in a Frothy Market at InvestorPlace
Fear Punished My Net Worth, Don't Let it Damage Yours at GoBankingRates