Filing a Tax Extension Advantages
"A tax extension is an extension of time to file your tax return. However, it is not an extension of time to pay your entire tax bill." efile.com
Federal Taxes are due on April 15th.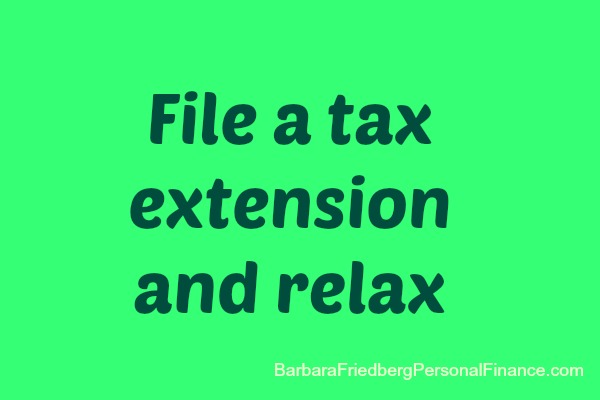 Why I'm Filing an Extension for Last Year's Tax Returns
I used to believe that it was a character defect to get an extension on paying taxes. I didn't realize that as long as the bill is paid in full by the due date, then there's no harm in delaying the paper work. And the IRS gives you six months, until October 15th, to turn in the 1040 and all the accompanying required tax forms.
I got my tax organization and detail together on time this year. I paid estimates to make sure I'm current on all taxes owed.
When I called my accountant to ask whether I should rush my data to him for completion by April 15th or take my time (with the agreement that he would file an extension), he said he would file the extension.
Obviously, it's easier for him to file the extension for me and complete the tax filing when his time frees up.
If the accountant files an extension, should it matter to me?
Should You File a Tax Extension?
The time is coming up to get that tax return in. If you've paid the taxes owed and don't have time to get the forms in now, here are some advantages to filing an extension.
As a side note, if you happen to be a procrastinator, waiting to get the taxes done for six months won't make the task any more palatable later and procrastinating could make putting the task off worse.
First decide if you want to take an extension by answering these questions:
Are you at your wits end right now?
You don't have a tax preparer?
Do you plan on filing your own taxes but haven't completed them yet?
You haven't bought the tax preparation software yet?
Are other pressures in your life overwhelming you?
Will you have more time in the summer to handle tax related matters?
If you answered "yes" to any of these questions, maybe it is time to file a tax extension.
Advantages of Filing a Tax Extension:
1. It's  easy and quick to file an extension. Download Form 4868, Application for Automatic Extension of Time to File U.S. Individual Income Tax Return. This download includes all instructions to complete the form as well as methods of payment.
The IRS has improved its website with helpful information, including this chart with all of your electronic tax payment options.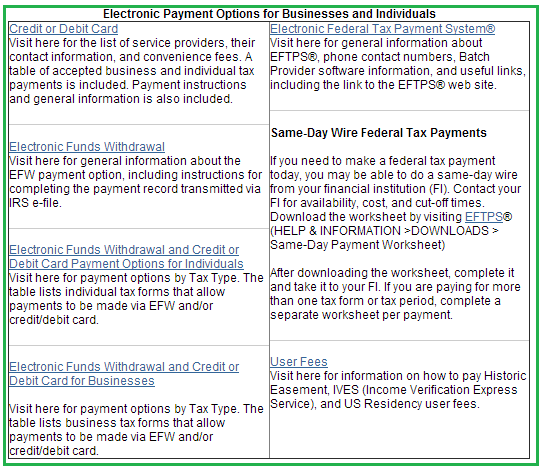 2. It's free to file an extension so you avoid the late payment tax filing penalty. The penalty of late filing without an extension is stiff. Normally you'll owe 5 percent of the unpaid taxes for each month or partial month that a tax return is late. And the penalty starts to accrue the day after the tax filing due date. Fortunately, the penalty won't exceed 25 percent of your unpaid taxes.
3. You may only need to pay 90 percent of the tax due or 100 percent of last years tax bill by April 15th.
4. A tax extension is likely not a tax audit "red flag".
According to filelater.com, "No one outside the IRS knows for sure how the audit selection system really works, but many CPAs have said that tax extensions actually decrease your chances of getting audited.

Why, you ask? Many financial advisors and accountants believe that IRS officers have an "audit quota" which begins around tax filing season. Some theorize that these quotas get filled well before the tax extension deadline in October (or September for certain business tax extensions). Thus, when the surge of tax season is over and the tax returns which have been approved for extensions are finally submitted, the IRS agents have less incentive to put those returns in their audit pile.

There is some discussion as to whether or not this is true, but filing a tax extension certainly won't single you out for unfavorable treatment by the IRS. Approximately 10 million taxpayers filed a tax extension last year, including individuals as well as businesses."
5. Your accountant may have more time to thoroughly and accurately prepare your taxes. Accountants are people too and subject to making errors. As we all know after a late night working, we're more likely to make mistakes. From January to April 15th, accountants are very busy. In the later spring and summer they have more time to devote to your tax preparation. This might result in the accountant doing a better job completing your tax return.
Remember that a tax extension allows you extra time to file your  tax return, not extra time to pay what you owe!
How to File a Tax Extension?
According to the IRS, there are three ways request an automatic extension of time to file a U.S. individual income tax return:
1. You can electronically file Form 4868 (PDF), Application For Automatic Extension of Time To File U.S. Individual Tax Return
2. You can file a paper Form 4868, by mail.
3. You can pay all or part of your estimate of income tax due using a credit or debit card (EFYPS) and obtain an extension during the process. This approach may involve an extra fee.
If now is especially busy and you expect more free time for tax preparation in the upcoming months, consider filing an extension of time. Just remember, those six months can pass by really quickly, so don't put off your filing until October!
Read What Others are Saying About Taxes
A version of this article was previously published (some comments remain).
Have you ever filed a tax extension? Did it cause you to procrastinate even more?