Retirement Tweets-Retirement Help Right Now
Retirement Solutions from Twitter
I just returned from my Ohio where my sis and I gave my mom an 85th birthday party. Surrounded by 30 of her vital and active friends, I thought a lot about retirement.
Most of Mom's friends are retired, although not all. And the media headlines are filled with retirement news; for example, "American's don't have enough money saved for retirement", is common one.
Yet, in a recent U.S.A. Today article, "Many Americans Fear Going Broke in Retirement"  I noticed in the airport, there was a conversation reporting that although many Americans don't feel they are saving enough for retirement, they do not want to change their current lifestyle.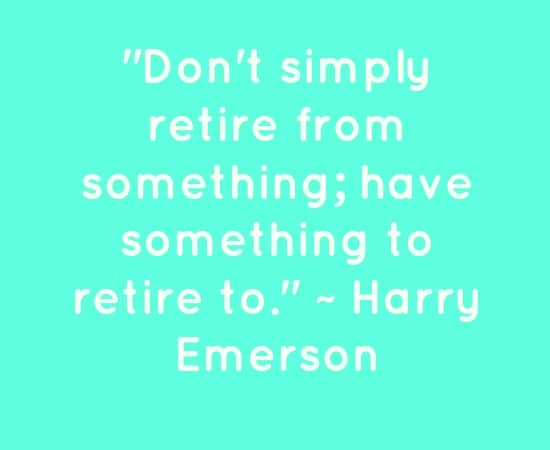 I have difficulty understanding that viewpoint, as I was raised to live below my means and if I couldn't afford something, I just didn't get it. I'm perplexed that some folks are completely unwilling to change their current lifestyle in order to spread out their earnings over their entire life. As an adult, saving and investing is an ingrained habit. I automatically invest any extra money I get. But, this isn't an article to goad you into feeling bad about retirement, but about the latest twitter links about retirement topics.
By reading about retirement information, you'll be better able to tackle your own financial future.
Retirement is a time in our lives we will all experience. For some retirement is well planned, for others, it is not. Regardless, I encourage you to think about retirement and begin planning. Your future self will thank you.
14 #Retirement Tweets
I love twitter, because of the quick access to ideas, inspiration, and information. Please enjoy these current
"#Retirement Tweets"
Todd Tressidder @Financialmentor "Do you want to make a big dent in your retirement savings requirement? http://bit.ly/1pnQ3L4
@FrugalRules "4 Steps to Help Your Parents Move Into a Retirement Community" http://bit.ly/1wsoMJa
John Cornish III @moneytalkguy "Best and Worst retirement locations". Forbes.com http://onforb.es/1nxxO69
@MarketWatch "11 ways to get more money in retirement" by Paul Merriman. http://on.mktw.net/1jwRRcH
@Bankrate "Dispelling the greatest Social Security myth of all time" via @TheMotleyFool http://bit.ly/1k4ihbx
@Retirement Media "5 Excellent Part Time Retirement Jobs" http://bit.ly/1lUj3Ue
@Bankrate "$1 million isn't the milestone it used to be. Is it enough to get you through retirement? By Dana Anspaugh http://bit.ly/1mvtE9M
@MarketWatch "7 things to put on your to-do list between the ages of 55 and 65" http://on.mktw.net/1pnSDRi
@gogirlfinance "Saving for retirement should ease anxieties, not produce more." @levoleague http://bit.ly/1oO53iK
@DepositAccounts "25% Americans Are Not Saving For Retirement? – At least those are the recent statistics." http://bit.ly/ShZ8a8
Well Kept Wallet @deaconhayes "1 in 4 Americans are saving for retirement. Yikes!"@CNBC http://cnb.cx/1kxakKG
@rwohlner "The Retirement Savings Crisis: An Illustration." http://bit.ly/1po6fvG
Rodney Brooks @Perfiguy "Many Americans fear going broke in retirement" @USATO http://usat.ly/1h2sXHp
Robert Powell @RJPIII "Five Myths About Retirement" @WSJ by Tom Lauricella http://on.wsj.com/1tr9Rus
How many of you avoid thinking about retirement? Who has a retirement plan?