Let's Die Broke-Thoughts on Retirement Savings
Myth: You Should Outlive Your Retirement Savings
Guest contributor; Dr. Stanley Riggs
As the TV insurance salesman, the financial advisor and the financial product promoters all say:
"You don't want to outlive your money."
Well…maybe I do.
When I was writing Build Wealth & Spend It All (2014), I based the last chapter on my memories of my 96 year old mother's final 18 months of life spent in a nice nursing home. My mother, a grade school teacher, and my father, a municipal worker, both worked and saved for a combined, accumulative 90 years…and it was all gone in 18 months.
Saving for a comfortable retirement is a worthwhile, if not necessary, endeavor. But saving money for retirement savings very late in life does not pass the basic cost benefit analysis. My frugal parents would forego a Saturday night movie to save, perhaps, $10, a Sunday dinner at a nice restaurant to save $30 and a Sunday afternoon drive in the country to save $10 in gas. That's $50, and it didn't even last through my mother's first breakfast on her first day in the nursing home. It simply failed basic cost or lost opportunity vs. benefit analysis.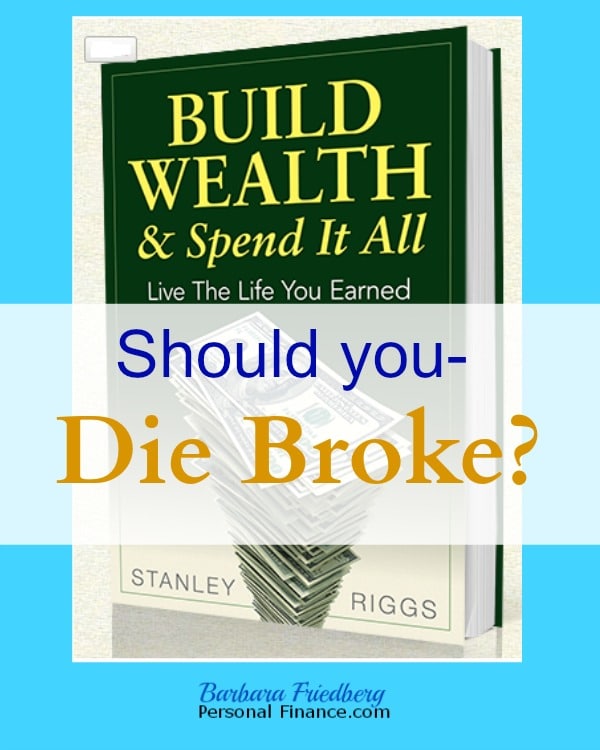 Should You Gift Your Inheritance?
We Baby Boomers need to consider gifting our inheritance while we are still alive, so we can gift it during times of greatest need when the benefit will have its greatest impact to provide an education or skill that will change a life, a first home that will fulfill a dream or cover a medical expense that will ease a pain. Post mortem bequests to adult children, who may already be retired, are just a failed allocation of both capital and resources. At this point the adult children may not even need their parent's retirement savings-or they will benefit less from the money.
We Baby Boomers should let go of the concept of financial planning that guarantees we will outlive our hard earned money. We need to plan to enjoy gifting and spending everything we have earned and saved in life, while we can still enjoy it with our loved ones, before we find ourselves in the nursing home and before we die. If, as they say, the ultimate revenge in old age is having a life well lived, then ending up as a ward of the state for the last year or so of life is a price worth paying. And, after 45 plus years of working and paying taxes, there should be no shame in that.
Steel baron and philanthropist Andrew Carnegie, builder of public libraries across the country, famously said:
"He who dies rich, dies disgraced."  
I plan to be the guy in the nursing home with the greatest memories and the least amount of money. I would rather die broke and with rich memories than die rich with broken dreams.
Guest Contributor, Stanley A. Riggs, MD; Dr. Riggs has been buildilng wealth for over 50 years through several very different and very successful careers, each of which make him a multi millionaire. You can contact doctor Riggs at StanleyRiggs@aol.com, and learn more about this fascinating book at Build Wealth and Spend it All. 
Click here to get FREE investing book. It will reduce money stress + build wealth