Wallet-Happy Gifts Dad Will Love!
By contributing columnist,  Alexandra Deluise
Father's Day is always a difficult holiday to shop for because my father is one of those "don't get me anything" types. While this would make for a very frugal Father's Day indeed, I still enjoy finding ways to let my dad know I appreciate him. Realistically, there are no Perfect Father's Day Gifts yet, there may be gifts which are just right for your dad.
The following gifts go beyond the cliché necktie or slippers for dad, while keeping your wallet full and giving dad something he'll enjoy.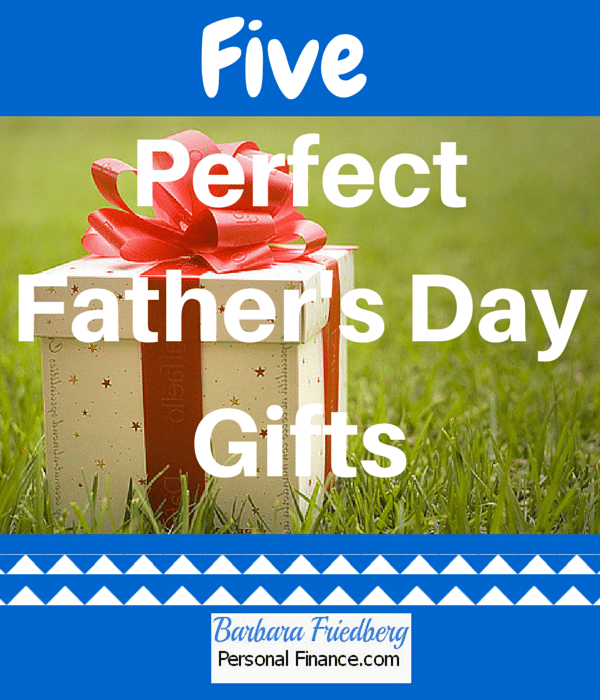 1. Perfect Father's Day Gifts-"No gifts, please!"
If your dad really doesn't like gifts, treat him to an experience. Some fathers prefer games like golf or bowling, but there are other great ways to bond with dad and take advantage of the great June weather.
My husband will be taking his father out fishing this Father's Day – if you already own the equipment or can borrow it from a friend, there is little cost involved in picking up bait, packing a lunch, and heading to the nearest fishing hole. Just be sure to check local fishing restrictions to avoid fines!
Camping is also another great experience to share if your dad likes the great outdoors. This is an activity that can be customized, depending on where your dad falls on the scale of "I'll sleep outside, but need running water" to "I'll build my own tent using trees I cut down myself." My father falls on the latter end, so camping with him involves very little – a few MREs (food in a bag you just add water to – surprisingly tasty!), a portable stove, sleeping bags, a tent, and a spot in the woods.
Click here for Free micro book-How to Invest and Outperform + Wealth Tips Newsletter
More pampered camping is available for low site rental fees, and can include running water and activities such as canoe rental. These camping sites can give you time for bonding with dad and nature, while avoiding the undesirable bear encounters all-too-common in camping activities with my dad!
These activities, like many others, can be done for one-on-one time with dad, or as full-blown family activities.
2. Perfect Father's Day Gifts-The Car Enthusiast Dad
If dad lets you touch his car, giving it a full detail can be an excellent gift to show dad how much you appreciate him. Remember, dad is worth more than a quick scrub with a rough brush! Get the right tools – such as a soft sponge for the car, a brush for the tires, and wax – and really make that car shine. Many locations overcharge for such services, that can be done affordably and in an hour or two. Dad will thank you, and so will your pockets!
Out of all of the Perfect Father's Day Gifts, this one has a "street value" in the hundreds of dollars!
3. Perfect Father's Day Gifts-Sweet Gifts
An expensive box of chocolates is tasty, but homemade treats can be customized to be even sweeter! Some of my personal favorite sweets are those covered in chocolate – and they're super easy to make.
First, choose your base: I love using cream-filled cookies or pretzels, but the choices are endless.
Use a double boiler (or a heat-safe bowl resting on top of another pan) to heat melting chocolate in your dad's favorite flavor or color. When the chocolate is smooth, dip your base in the chocolate until covered to the desired amount.
Let harden on wax paper, then package. Be careful to store chocolate covered treats somewhere cool – June can be unforgiving on even the most delicious chocolate covered pretzels.
4. Perfect Father's Day Gifts-Feeling Crafty?
If the father you're celebrating this year has small children, Father's Day can be as creative as you and the children are. With a few art supplies you can make it known just how appreciated dad is, whether it's through a card or sign, or a bigger undertaking through a bit of inspiration from Pinterest.
Grown children can make crafty gifts for dad as well. From birdhouses, either bought pre-assembled from the store and painted or assembled yourself, to a bookshelf or a welcome plaque for the home, you can make (or buy and paint!) almost anything to fit with dad's interests.
5. Perfect Father's Day Gifts-Caffeine Fix
Every year, my brother would buy my dad a bag of ground coffee from his favorite coffee shop. This tradition started when my brother was young (hey – coffee is affordable!), and as he got older he worried he wasn't spending "enough" on dad. As it turns out, my father looks forward to this present every year, and I'm almost jealous I didn't think of it myself! "World's Best Dad" mug optional. There's got to be more than one perfect Father's Day Gift!
Dads always seem to be a lot harder to shop for than moms are – without the easy fall backs of flowers (guilty), chocolate (guilty) and jewelry, it can sometimes be easy to get caught up in the spending-focused society we live in. Overall, show your dad how much he means to you this Father's Day without worrying about whether the price tag falls into the "enough" range. After all, the best gifts are the ones dad will love – even if they're free!
Maybe Dad would like a low cost plan to cut investment fees to the bone and manage his own investments. Click here for a perfect Father's Day Gift Book!
Staff columnist Alexandra DeLuise combines her banking experience with real-world financial advice to provide simple money tips to everyday people.