MY JOURNEY FROM SLACKARD TO STAND-OUT; How to Use Goal Setting for Success
 Goal Setting-The Secret to Success
"Our goals can only be reached through a vehicle of a plan, in which we must fervently believe, and upon which we must vigorously act. There is no other route to success". Pablo Picasso
I am what you would call a "late bloomer." As a teen, I was overcome with stress and fear of failure. Although I've always been intelligent, I never thought I was smart enough or competent enough. It didn't help that I attended a high school filled with overachievers.
My strategy; avoid competing, do the minimum, and slide by. I would not recommend this route to anyone. Nevertheless, I graduated in the top 25% of my class, went to college and graduated with a degree in Economics. Too scared to compete for a professional job, and afraid I didn't measure up, I went for a clerical job fresh out of school.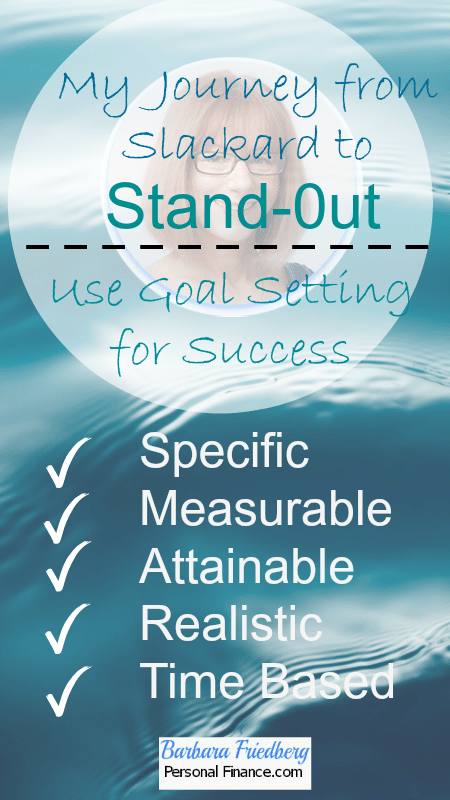 During my 20's I recognized that a clerical job was not a good fit, and that I could do more with my life. By my mid 20's, after a two year stint as a realtor, I decided to go to graduate school in Counseling and Higher Education Administration. With the encouragement of my new husband, I went after challenges that in no way did I feel qualified for. I got a competitive internship in the university counseling clinic which led to being selected for a  permanent job at a major university. Mind you, I gradually began to let go of the fear that I was unqualified and inept. Over time, with hard work and discipline I got promoted and did very well in mid level management at the university.
Flash forward a few decades.
Had a baby, took some time off, and moved around the country a bit.
Meanwhile, secondary passions of investing, economics, and finance took center stage. Concurrent to my parenting priority, I delved into investing. I built a decent investment portfolio, managed it, and created additional financial security for our family.
Through my financial expertise, I began work as a portfolio manager for a privately held company where I grew into a principal role and chief financial officer. By this time, our daughter was on her way, and in spite of tremendous fears I took the plunge and decided to go back to school for an MBA in finance. Mind you, I was not young at this point, but well into mid-adulthood.
After graduating with a near perfect average, and continuing as my portfolio manager and financial officer's job, I wanted to give back. That's when I applied to teach Investments at a local college. From there I continue to teach and attempt to pass on not only my love of finance, but also some of my life lessons. 
Where does Goal Setting Fit in?
There is magic in goal setting. I could not have achieved any of my success without goals. For some reason, the simple act of writing something down, no matter how outlandish the goal might be, starts the process of making it a reality. Of course, writing the goal down and then following up by doing nothing is pointless. But the act of clearly communicating to yourself what you want to accomplish is crucial in order to move forward.
My current successes are directly related to goal setting and maintaining a positive mental attitude in spite of any fears and anxieties I might harbor.
Three Goal Setting Strategies for Success
 1. Break large efforts into manageable bites. Write down several goals you wish to accomplish over the next several months. Then choose the one you want to focus on first.
Under your priority goal, write down the smallest steps you can think of to get you started right now. Edwin Locke, PhD takes this idea a bit deeper. He recommends that in addition to creating quantifiable steps, set a deadline. After setting your mini goal, put a completion date next to it and enter it into your calendar.
2. As I stated in my money making article earlier in the week, welcome setbacks and failures. Along with goal setting, this is the most important contributor to success.
Ask yourself, "Is this permanent or temporary?" How long will it last? Most defeats are temporary. As the sports commentators say, HAVE A SHORT MEMORY. Move on. In a Monday night New York Giants v. Dallas Cowboys football game, Eli Manning, Giants quarterback threw two interceptions in the first quarter. Yet, the Giants went on to WIN the game. Do not dwell on the defeat but move on. Look at your positive qualities and accept that FAILURE IS TEMPORARY.
3. Attitude is everything. My mom said it best in her recent guest post. Clearly evaluate the lesson from a misstep and determine what you can learn. In investing, losses are inevitable. NO INVESTOR EVER AVOIDS LOSSES. To be successful  evaluate what is in your control and what isn't and then move on. Be mastery oriented and positive. Chase the mental fears and critiques away. Keep a growth mindset and figure out how to "make lemonade out of the lemons."
Hungry for more?  I've talked about this topic before in Patience and Persistence, The Keys to Unlimited Success on the Yakezie website site.