IS THE IPHONE 5 WORTH IT? PERSONAL FINANCE CHOICE & Links
Personal Finance Factors to Consider Before Buying the IPhone 5?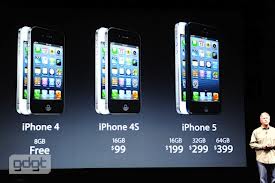 The Apple's IPhone 5 went on sale this week.  Some folks waited in up to a week to snare a place in near the front of the line.  Like every purchase there's a case to be made for either side. Open the news on your browser and you're hit with "IPhone Sale Draws Huge Crowds" at CNN Money. Check out all the other news sites, print, online, television and the IPhone story is front and center. With all this coverage, one would think that the launch of the new IPhone is the biggest news in the world.
Consider these factors to decide whether to buy the phone or not.
Pros – Buy the IPhone 5 if:
You're a marketer and want the exposure that waiting in line offers (oops, that was yesterday).
You have no consumer debt and typically spend less than you earn.
It will give your life a great amount of pleasure and won't mortgage your future.
Someone else is giving you the phone as a gift.
You can sell your old IPhone and significantly reduce the cost of the new phone.
You job depends upon you owning the newest model.
You planned for the purchase and set aside funds to pay for it.
Cons – Don't Buy the IPhone 5 if:
You have significant consumer debt.
You want the phone to impress your friends.
You typically spend more than you earn.
You think it will improve your status with friends and associates.
You have no savings or emergency fund.
The monthly phone contract cost keeps you from saving.
 "Success isn't measured by money or power or social rank… (but) by your discipline and inner peace." Mike Ditka
Once you have adequate food, clothes, and shelter, material things will not provide inner satisfaction. Any new gadget is fine as long as you are not sacrificing your financial future in order to keep up.
Barb Recommends Personal Finance Reading
Editors pick; Do you want to slash shopping costs? My jaw dropped when I read this article at Family CEO Blog about a strategy she used to save a bundle on her daughters birthday gift. I don't know what it is, but it she paid about 66% of the actual cost due to her savvy shopping tips.
 Barb Across the Blogosphere
Please check out these sites that recently published my articles:
What are your thoughts on buying the new IPhone 5? Add any additional pros and cons.
image credit; google docs_toucharcade.com