Investopedia News + Links
Investopedia News-I'm Hired
Sign up here and be the first to know when newest investing book launches! + Get Investing Rules right now!
I'm humbled and honored to be an Investopedia.com contributor.  Investopedia.com has been my "go to" resource for credible investment information for years and I'm excited to write for this premier investing information website. And if you've never visited Investopedia.com before, I invite you to stop by. 
Please enjoy my inaugural article: "How Advisors Can Help Clients Stomach Volatility".
In this post, you'll learn five important strategies to cope with market volatility. We all know that investment values go up and down, but as our investment portfolios reach historical high valuations, many of you  have written to ask about how to handle volatility. This article will give you some guidance and reassurance.
Please enjoy the following personal finance and investing articles.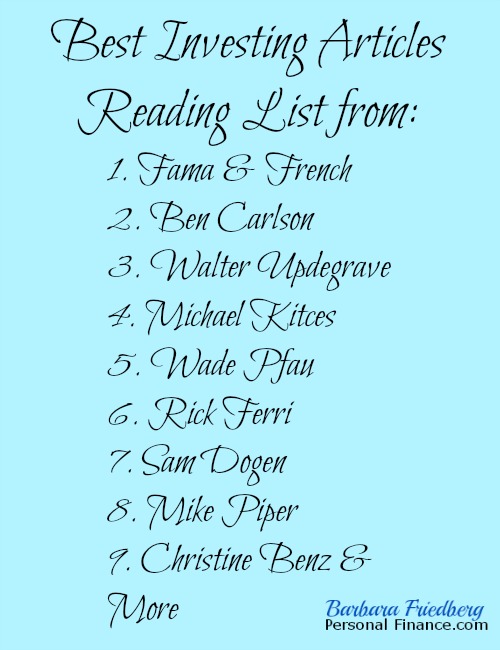 Investing + Money Articles
Luck versus Skill in the Cross-Section of Mutual Fund Returns (Digest Summary) by Eugene Fama and Kenneth French (summarized by Claire Emory) in CFA Digest
What's an Investor to do About Bonds? from Ben Carlson from A Wealth of Common Sense
4 Ways to be a Smarter Investor from Walter Updegrave from Real Deal Retirement (and CNN Money)
The Problem With Low Volatility by Monevator
5 Steps to Rebalance Your Investment Portfolio at Smarter Investor Blog from U.S. News and World Report (by Barbara Friedberg)
Why Bother With Social Security Break-Even Calculations? by Mike Piper at The Oblivious Investor
What Should I do With My 401(k)?-An Illustration by Roger Wohlner The Chicago Financial Planner
Fighting Through Risk Tolerance Questionnaires by Rick Ferri
Retirement Income From a Position of Strength by Wade Pfau's Retirement Research Blog
7 Surprising Truths About Investing You May Not Know by Investor Junkie
Managing Sequence of Return Risk with Bucket Strategies Versus A Total Return Rebalancing Approach by Michael Kitces at Nerd's Eye View
65 Ways Retirees Can Cut Their Day to Day Expenses, by Christine Benz of Morningstar
How I Use negative Feelings About Finances to My Advantage by Kristin Wong at Get Rich Slowly
 Should I Contribute to my 401(k) or Invest in an After Tax Brokerage Account? by Financial Samurai
Daily Investing Tips from The College Investor
Star Manager or Team Approach by Barbara Friedberg for Daily Capital Blog
Sign up here and be the first to know when newest investing book launches! + Get Investing Rules right now!