Investing Wisdom for Today's Market + Links
US News and World Report and InvestorPlace Investing Highlights + Curated Investing Reads
I write for US News and World Report and InvestorPlace (and more) about various investing topics. These articles are cutting edge with actionable investment ideas for today. Although I can't republish the entire articles on this website (that's a big taboo) I can give you a taste of the article and you can click through to read more.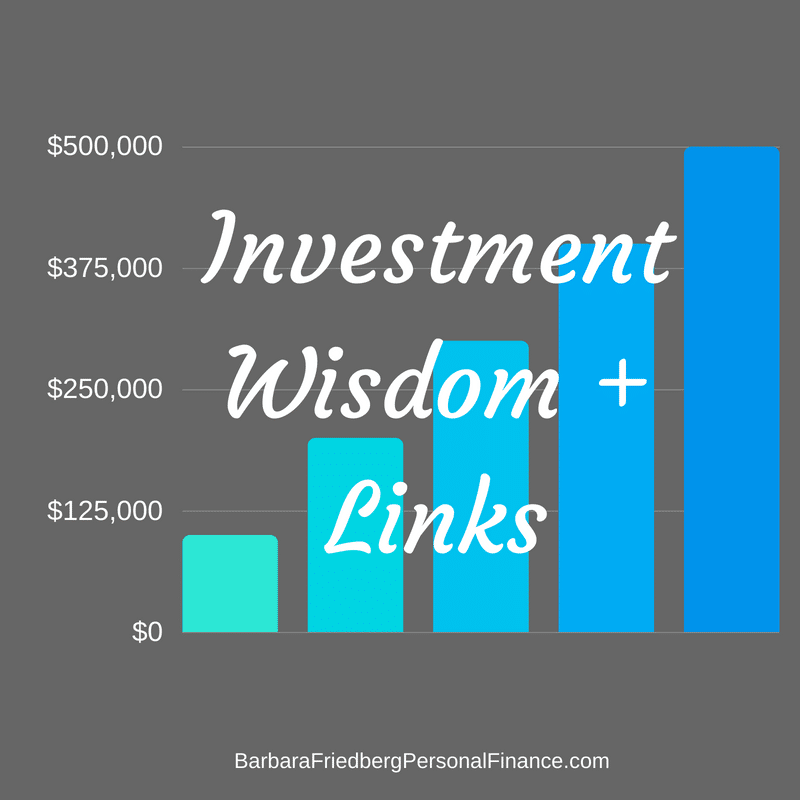 Enjoy my latest writings about emerging markets, retirement withdrawals, investing mistakes to avoid and the best robo-advisors for sophisticated investors.
Bonus; 6 Retirement Planning Tips for 50 Year Old's
Next, check out a curated list of other top notch investment articles from across the web. To continue reading, just click on the article title.
by Barbara A. Friedberg
Some countries are better than others for investors.
Big risks and rewards in emerging markets.
Contrarians rejoice, there are sectors of global markets that aren't overvalued. But, proceed with caution – emerging market investments could provide gems or dogs, so be patient when investing in this volatile market sector. Typically, emerging market countries have low to medium per capital income and are beginning to participate more fully in world economic markets.
Both big countries like China and small countries like Tunesia are emerging markets.
With greater volatility, less stability and superior growth potential than developed markets, emerging market investing requires patience and a strong stomach….
By, Barbara A. Friedberg
All but one of these market gauges are broadcasting the same message.
How do you gauge the true worth of a market like the S&P 500? Like individual stocks, the price paid for the market as a whole may be higher or lower than its actual value, and market valuation matters.
To maximize investment gains, you don't want to overpay for stocks, whether it's an individual company or an entire market index. A significantly overvalued stock market might even prompt you to take action, perhaps by selling some stocks and shifting more of your assets into cash or bonds.
But there are many ways to value the stock market, and we describe eight of them here, including how they currently compare with historical markets. All but one of these market metrics are broadcasting the same message now: The market is overvalued….
by Barbara A. Friedberg
Today's withdrawal strategies must account for falling markets and longer
lifespans.
The 4 percent retirement withdrawal rule, initially introduced by MIT graduate and financial planner William Bengen in 1994, calls for retirees to withdraw no more than 4 percent of their assets annually so as to not outlive their money.
Yet, the 4 percent rule is a concept based on overly optimistic bond returns, says John Robinson, owner of Financial Planning Hawaii in Honolulu. The rule not only fails to account for market fluctuations but also an individual's personal goals, adds Paul Brown, CEO of Clearstone Wealth Management in Liberty Lake, Washington.
According to recent research, a safe retirement portfolio withdrawal rate is closer to 2 or 3 percent, although even those numbers aren't a hard-and-fast rule. "At the end of the day, there is no identifiable specific percent rule for any given retirement time horizon but rather a range of choices based on investor preferences and the practicality of implementation," says Robinson….
By Barbara A. Friedberg
Investors often succumb to their worst impulses in a topsy-turvy market.
Last year, the stock market's ups and downs were a gentle bobbing ride on a lazy river. This year, the market has more peaks and troughs than the Storm Runner roller coaster at Hersheypark.
In 2017, the S&P 500 had just eight days with 1 percent movements for the entire year. As of mid-April, the S&P 500 had moved up or down at least 1 percent on 28 days in 2018. That's 15 increases – which no one complains about – and 13 drops. Thanks to all the ups and downs, the S&P 500 closed at May 29 down 0.2 percent for the year.
Although the market index is on target for a 10th consecutive year of positive returns, there's no end in sight to the volatility, and volatile markets are when investors often succumb to loss aversion. This is the tendency for investors to feel the pain of losses more than the joy of gains. Consequently, investors get impatient and sell…..
By, Barbara A. Friedberg
The Roth IRA is a generous gift from the IRS
Your Roth IRA is a golden gift account from the IRS that protects your assets from taxes for decades. So, after contributing to the Roth IRA account, with after-tax dollars, the investments within the account grow and compound tax-free.
The icing on the Roth IRA cake is that you can withdraw the money in the account, tax-free if you're over age 59 ½ and if the funds had remained in the account for at least five years. If that's not enough, unlike a traditional IRA or 401(k) retirement account, you can pass the account on to your heirs without taking any required minimum distributions during your lifetime……
By, Barbara A. Friedberg
Consider these ETFs to add diversification to your portfolio
Investors can easily create a stock and bond "set-and-forget-it," diversified, lazy exchange-traded fund (ETF) portfolio — then kick back and relax. But what if you want more than just the typical stock and bond ETFs in your affordable investment portfolio? There's a case to be made for traveling off the beaten ETF path. Consider adding alternative asset classes — commodities, sector bets, smart beta funds and more — without breaking the bank.
Needelman Asset Management in Ladera Ranch, California touts the benefits of broader diversification, including serving as an inflation hedge, potential higher returns and lower correlation with existing assets. And well-known investor Jim Rogers described several of his current global ETF holdings including China, Vietnam, Korea and Indonesia sector funds in a recent ETF.com interview by Sumit Roy.
For investors seeking greater diversification for affordable fees, here are several ETFs to consider:
1. Franklin Liberty U.S. Low Volatility ETF(FLLV)……
By, Cullen Roche 
Donald Trump made a big stink at the G-7 this past weekend because he refuses to understand the simple reality of the US trade situation and insists on promoting a populist trade position that makes little sense. I'm gonna keep this real simple so bear with me for a second.
The USA runs a trade deficit with most other countries in the world. This means we import more than we export. Whether this is "good" or "bad" depends on lots of factors. For instance, when I go to the grocery store I trade money for food. I run a deficit with the grocery store and I run a temporary food surplus. Is that bad? No. It's just a trade. And depending on which side of the trade you're on it might be viewed as good or bad. That is, after all, why we call it a "trade". Both sides get something they want.
There's nothing inherently bad about a trade deficit. It doesn't mean one side is winning and one side is losing. But understanding why one side has a deficit and the other has a surplus is an important part of understanding this discussion and whether it can be fixed with changes to trade policies……
By, Mike Piper
When deciding when to claim Social Security benefits, it can be helpful to use a calculator that runs the math for each possible claiming age (or, if you're married, each possible combination of claiming ages) and reports back, telling you which strategy is expected to provide the most total spendable dollars over your lifetime.
Find out; Can I Retire Early? Find Out with OnTrajectory Calculator
Maximize My Social Security and Social Security Solutions are the two best-known paid calculators in the field. For a few years though, there was a decent (basic) free option as well: "SSAnalyze," hosted by an advisory firm called Bedrock Capital. Unfortunately, Bedrock Capital was bought by another financial firm late last year, and the buyer did not repost the calculator on their own site.
So, in April of this year I decided to make my own. It's available now, and you can try it out it here:
https://opensocialsecurity.com/
I'm calling it "Open Social Security," because I'm making it open-source, with three goals in mind……
By,  ESI 
In posts like "The Best Way to Maximize Your Investment Return" and "How a Side Hustle Business Can Get You to Financial Independence in 10 Years" I use 8% as a long-term return percentage when doing investment growth projections for stock index funds.
Many sites will use 10% since it's around the historical long-term return of the stock market. And, of course, Dave Ramsey uses 12%, much to the chagrin of many money bloggers.
I like to be conservative, so I use 8%.
Lately when I've done this, someone will chime in with a question about 8%…..
By, Dividend Earner |
Investing in dividend stocks has brought peace to my finances and it has provided me with an investing strategy to grow my portfolio and earn an income from it. Yes! You can get your cake and eat it! You can grow your portfolio with a 10% annual growth rate of return (ROR) and earn dividend income at the same time.
Unfortunately, you can't just buy any dividend stocks to reach those results. You need to put a plan in place starting with the basics. Master the basics and you will be on your way to build a strong dividend portfolio. Take some time to get a headstart by learning from others and their mistakes.
Read on for the 3 simple steps to start dividend investing. Skip the mistakes and start with a good strategy…..
By, Jon Dulin
So you want to know how to become a stock market millionaire?
It's much easier than you think. Let me rephrase that, it takes a lot less work to become a stock market millionaire than you think.
In fact, the most work you do is at the beginning of the process. Once you have your foundation laid, you can pretty much put things on auto-pilot. How great is that?
If you take about an hour or two of your time now to lay the groundwork, you are 95% of the way to becoming a stock market millionaire. What do I mean when I say laying your foundation? I am talking about creating your investing strategy…….