HOW DOES ATTENDING A PROFESSIONAL CONFERENCE GROW WEALTH?
Fincon 2013-Where Personal Finance Website Publishers, Bloggers, and Freelancers Get Noticed
& Links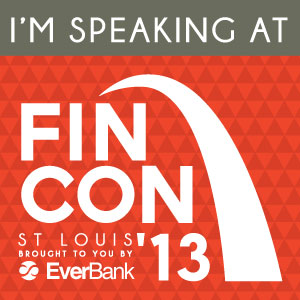 I've been attending professional conferences for as long as I've been employed. First as a realtor, next as a university administrator and career counselor, and now as a personal finance website publisher. Heck, I even go with my husband to his professional conferences.
The contacts and benefits I've made far outweigh any out of pocket expenses.
I've been to the inaugural Fincon in 2011 in Chicago, last year's Fincon in Denver, and I'm speaking this year on Investing at Fincon 2013 in St. Louis.
The benefits of attending Fincon or any professional conference include:
Job opportunities
Freelance opportunities
Partnerships
Knowledge and information to grow your business
Expanding professional relationships and colleagues in your field
Motivation 
Inspiration
Through attending Fincon and other professional conferences, I've personally garnered lucrative freelance opportunities, met bloggers with whom I've formed a mastermind inspirational group, learned volumes about running an online personal finance website business, obtained a publisher for my upcoming book-Personal Finance; Encyclopedia of Modern Money Management, and made countless professional contacts.
In sum, going to a professional conference grows not only your financial wealth, but your personal wealth as well!
Fincon 2013 Tickets are on Sale Now
If you are a personal finance blogger and unsure about whether to attend Fincon 2013, tickets are on sale Thurday August 22 and Friday August 23rd for just $59. The hotel rate is an affordable $119 per night at the Hyatt Regency in St. Louis.

Consider attending and make an investment in your online future!
Barbara Recommends:
Since I hosted the Carnival of Personal Finance this week, I'm not going to give you too many other links, but there are a few reads (and listens) I can't pass up!
Who doesn't want free money? How to Get Free Money – These 16 Companies Will Give You $1,715.25 from The Penny Hoarder offers lots of ideas!
If you've ever considered location independent work, you must listen to this week's Stacking Benjamin's Podcast 017– featuring Natalie Sisson from The Suitcase Entrepreneur. 
The perfect cash equivalent investment; I Bonds. I invest the annual maximum in these bonds each year. Save and Conquer sheds some light on these under promoted U.S. Government investments in What are I bonds?
Dreams Cash Come True reminds us about Adjusting Your asset Allocation as You Get Older. I am getting closer (than I'd like to admit) to retirement and just put in an offer to purchase Treasury Inflation Protected Securities (TIPS) yesterday to add to the "fixed" portion of our portfolio.
How Bad Does a 401(k) Need to be Before it Makes Sense to Skip it?  The Oblivious Investor answers this important question. The article discusses high expense ratios for all the plans options. What's an investor to do?
Barbara Across the Web
Investing Answers published The 10 Rules of Wealth They Should Have Taught Us in School. I'm pleased to announce that I am a regular contributor to this awesome Investing Website!
Carnivals:
Carnival of MoneyPros hosted by Money Q&A
Yakezie Carnival hosted by Well Kept Wallet
Finance Carnival for Young Adults hosted by Fine Tune Finances
Lifestyle Carnival hosted by Bite The Bullet Investing
Carnival of Financial Independence hosted by Reach Financial Indepenedence
Carnival of Financial Planning hosted by The Color of Money
Carnival of Wealth hosted by Control Your Cash
The Wealth Builder Carnival hosted by My Wealth Builder
Carnival of Personal Finance hosted by Barbara Friedberg Personal Finance
Festival of Frugality hosted byAvant Credit