SAVE MONEY ON FOOD; How to Not Eat Through Your Wallet, No Matter How High the Fiber Content
NEW MONEY SERIES FOR THE SERIOUSLY BROKE COLLEGE GRAD; Part 2
Welcome to our new guest contributor, the Broke Bitch. She is a recent college grad with a minimum wage job. Enjoy her irreverent tips for saving and spending. Caveat; Her ideas are her own and I bear no responsibility for their content!
Be sure to check out Part 1 of the Broke Bytch Series; True Confession About My Housing Arrangements and Other Cheap Living Options
Cheap Food Ideas
When I lived on my own (ah, the good-old days of freedom) to save money on food I exercised a few strange strategies to save money. One creative approach was going to a dollar store for food. Obviously, I wouldn't advise doing your entire shopping there, but buying items like canned food or cereal are generally less expensive than in grocery stores and are relatively safe (relatively being the key word).  Although it can be a good option, I cannot stress enough how important it is to be careful about what you buy.  I'm begging you to please not be an idiot and buy a week's worth of meat at any dollar store.
For other items, I suggest buying in bulk or sale items. Be sure to study the unit price. Store policies vary and some groceries place the unit price next to the cost of the item, at other markets the unit price is not so easy to uncover. Make sure you find the lowest unit price in order to get the best deal because sometimes the bulk items might have a higher unit price and in that case, it isn't an actual bargain. (Barb's comment, I've found the unit cost higher on the larger size than the smaller one more than once) It's also important to remember that buying the cheapest item isn't necessarily the best value.  Choose food that's filling and can be used in a variety of different ways so you don't get bored. Rice, peanut butter, and pasta are cheap and filling options. Oh, and any food that's healthy is probably a good idea too (still working on this one).
Food Lessons
Here are two instructive food lessons from my own life. Once I bought a ridiculously large block of cheese because I love cheese. I put it on everything. Why did I get the jumbo size? Cheese is filling, it was on sale, and it is normally way out of my price range.  However, on the flip side, cheese is not super healthy in large amounts and I ended up gaining weight and getting these awful cheese headaches all the time. Thinking about it now, I suppose if I just practiced moderation, things would have turned out much better for me. Oh well.
Another time I got an insanely large bag of generic fruit loops (I believe they were called crunchy fruit). Like an idiot, I carried that bag around with me wherever I went.  It ended up being such a poor decision because sweet cereal so bad for you and its not filling.  Carrying the bag around had the added benefit of causing people to give me weird looks that seemed to say, "Girl, you do know that you aren't eating actual fruit, right?".   After much trail mix and error, I finally found an item good in bulk, rice. It's good but boring so there isn't much to say about it.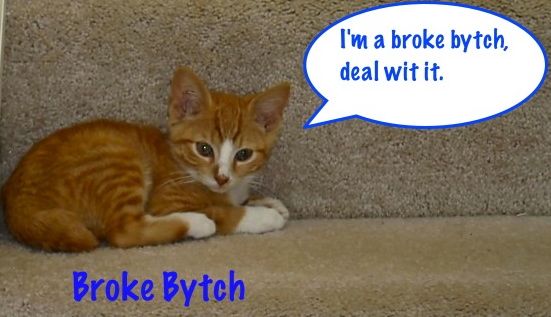 Healthier Food Options
Trying to save money on food, I ended up eating junk food because its so cheap.  This is unfortunately indicative of a larger trend in our society, the healthier something is, the higher it costs.  In order to have at least a little nutrition in my diet, I get frozen fruits and veggies, which are usually cheaper than fresh fruits and veggies and still hold good nutritional value.  Also if you have the luxury, farmers markets generally offer fresh produce at cheaper prices than the typical chain grocery store.
Best Shopping Tip
Although it seems like a no-brainer, before you go to a grocery store, you need to make a list.  My friend's family would just wander through the aisles and pick up whatever looked good and/or cheap.  However, they ended up overspending because they bought multiples of things they already had (Barb's comment; I've done that too). Imagine a home with three full fridges and two pantries overflowing with food. Their electricity bills must have been through the roof.
Reevaluate what you want and see if there is a cheaper option.  For example, instead of buying bottled water, get a water filter instead.  Or if you hate water, suck it up and drink it because its good for you.  Fun fact, a lot of times when you think you're hungry, you're actually thirsty.  Also not eating is a good way to save money on food.  I feel like there is a downside but I can't think of it….I'm so hungry……..
Do a Cost-Benefit Before You Spend
At the risk of sounding patronizing, oh who am I kidding, I'm on a blog, narcissistically touting my advice on saving money which has thus fore sagely included "buying sale items", clearly, I'm at no risk of sounding patronizing, I am already patronizing.
Um, that weird rant out of the way, I want to mention the worth of doing a cost-benefit analysis of the food items you buy because it can greatly cut down the amount of money you spend on "treat" items.  For those who don't know, a cost-benefit analysis is when you compare the cost of an item with how much you need it, or how much it will benefit you.  If the price is higher than the benefit, scrap the item.
An item I usually debate is laffy taffy candy (yes, I have the taste buds of a five-year-old). I decided if its 50 cents or lower I can have one, if not, no candy for me.  I wish there was some sort of science or math equation to help make these decisions easier or perhaps a personal robot to tell you whether or not you can afford things or just do your shopping for you. But who am I kidding, you are probably too poor to afford one anyway.
Eating Out on the Cheap
In general, I advise buying staples (the food, not the office supply) from the grocery store over eating out.  However, if you are going to eat out, do some research on the best happy hours in your town.  I know one restaurant near me has a two dollar taco night on Thursdays which is muy bueno.  In some cases missing happy hour is inevitable.  I experience this sucky-occurrence when my friends want to go out to eat after work.  In those situations I tend to eat beforehand.  That way I eat less than I normally would and spend less dough.
Also if you're going to be out all day, pack a snack so you don't end up spending twice as much on a sandwich or granola bar (wow, I totally surprised myself with that non-sarcastic advice).
My last tip about food is kind of a no-brainer, but it needs to be said: try and seek out (free) events with free food.  Consider attending events you're not interested in.   True, this takes a somewhat unchaste person to sneak out of a boring event after getting their fill of the spread but a truly flagrant individual will bring glad-ware and ziplock baggies.   And yes, in case you're wondering, I have done that and yes, I'm proud of my utter shamelessness.
Until next time……..
-The Broke Bitch
Part 1 of the Broke Bytch Series; True Confession About My Housing Arrangements and Other Cheap Living Options
Can't Get Enough Saving?
What are your tips for saving on food? Ever done anything to save that you're embarrassed about?