Finovate- A Glimpse into Your Money – Tech Future
FinovateSpring 2015-Disrupting Financial Technologies
Since 2007, Finovate conferences have showcased cutting-edge banking and financial technology in a unique demo-only format.
 Click here for Free micro book-How to Invest and Outperform + Wealth Tips Newsletter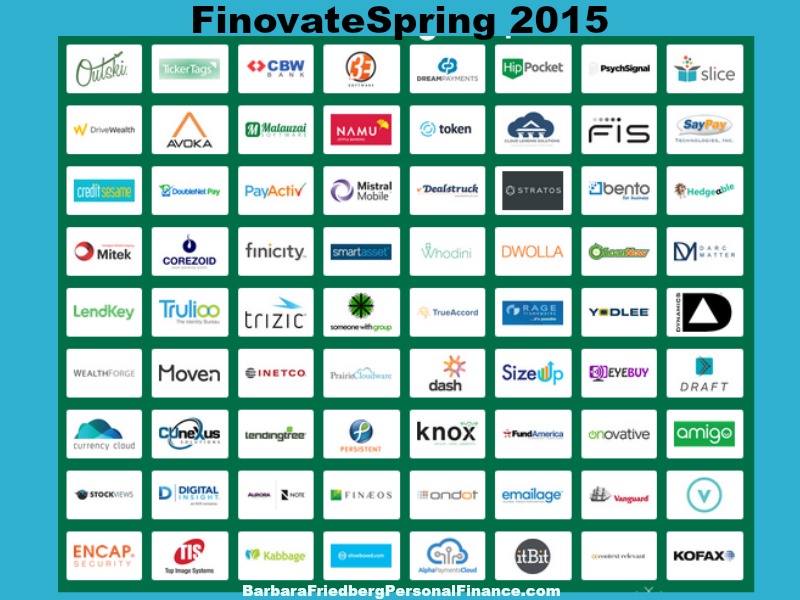 The Future of Financial Innovation
Finovate travels around the world collecting and showcasing the new and noteworthy financial products and innovations. Some of the presenting companies have been around awhile such as Yodlee, who's looking to urge consumers to make wiser financial choices and Lending Tree, which is striving to help the consumer with better lending choices. The majority of companies are demonstrating new product launches.   
The companies traverse the financial landscape, with Draftapp's revolutionary investment fee and comparison tool to Money Amigo who's attempting to level the playing field by giving the under-served markets access to low cost financial services.  StockViews gives the user crowd sourced investment opinions and TickerTags scours the internet for trending information on investable companies to give greater financial information to investors.
Moven @getMoven leverages behavior science to help consumers make smarter money choices. They've even been called a  "bank of the future". DriveWealth @DriveWealth, is working to help investors globally tap into U.S. markets. They offer "Brokerage as a service" to the world. 
Crowdfunding is so last week- Someone With Group @Some1WithGroup is taking this concept to hospitals to help families set up campaigns to pay for medical services. It's a win-win.
Finovate on Twitter
For a quick view of the Finovate conversations, check out these live tweets.
@Onovative-"Ever wonder when and how your bank should follow up with and cross sell new customers? onovativebanking.com/bank_onboarding"
"@Trulioo presents GlobalGateway, a bank-grade ID verification platform for businesses #Finovate finovate.com/globalgateway"
"@currency_cloud detubint Payment Engine to remove complexity from international payments @Finovate"
@KatJoyWhite-"Apparently there are 6600 tech companies in San Jose #FinovateSpring"
@AXALab-"On stage at #Finovate-SizeUp – shows how your business compares to competitors & identifies best places to advertise"
@Waltrcox-"@currency cloud was my favorite demo of the day. Very compelling to build a live web app during a 7 minute pitch!"
@CapcoConnect-"Forgot what that $200 purchase was at #amazon?"
@Shoeboxed-"can help by syncing your email with your banking app #Finovate"
@benmough-"When Banks Compete, You Win #finovate" 
@wmakt-"@itBit provides amulti-currency platform for bitcoin trading. #finovate"
2MinuteFinance-"@LendKey showing off Lending Tree-like marketplace for student loan refi. Great time saver!"
@waltrcox-"Digial receipts all the rage this morning at #Finovate"
@KelseyUmemoto-"Portfolio diversification represented as a cube. Awesome tool to help build your portfolio (Vanguard). #Finovate"
The Finovate Takeaway
My favorites related to the investing and personal finance world and included Draftapp, Moven, MoneyAmigo, and SmartAsset. For the stock pickers there were some interesting innovations; StockViews, Hedgeable, and TickerTags. Then there's itBit for those looking to get into Bitcoin trading (remember, this is quite speculative).
Some of the B2B products may be showing up as greater security for your money and implemented by banks and financial providers. All in all, it's fun to preview the new fintech apps, software, websites, and offerings.