Financial Spring Cleaning How to with Gloria Martinez, founder, WomenLed.org
Winter's giving way to spring and warmer weather, which means the holidays and tax season are in the rear view mirror. It's time to look ahead to vacation and all the activities that make summer so much fun. You'll want to be ready for it all, so take time now to do a little financial spring cleaning.
Make sure your records and resources are in good order and ready for whatever comes along.
Spring is a time of renewal, when you clear out the excess and determine what you want to keep and what you can get rid of. With a little diligence and planning, you can also declutter your finances and put yourself in good shape for the rest of the year with a step-by-step, financial spring cleaning. 
 
Financial Spring Cleaning Tip #1 – Unload Old Bills
Like many people, you may have lingering bills or credit card debt dating back to the Christmas season. If you charged Christmas presents on a Visa, MasterCard or a department store card, bear in mind that you'll be paying interest on them as long as you're servicing that debt. Bite the bullet and pay it off so you're free to save money for summer fun and beyond. It'll also make it easier to play for the coming year … and to save for next holiday season.
Bonus; 29 Fun Ways to Make Money in the Summer
Financial Spring Cleaning Tip #2 – Fine Tune Your Budget
If you find that you've gone over budget in some parts of your life, now's the time to rearrange your finances and get things under control. Don't be distressed if your budget hasn't gone as planned. Sit down, reassess where you've been and what you have coming up, and remake your budget accordingly. The unexpected happens – take the time now to re-budget for the future.
In Personal Capital vs. Quicken you'll find resources to manage your finances online and know what's coming in and going out.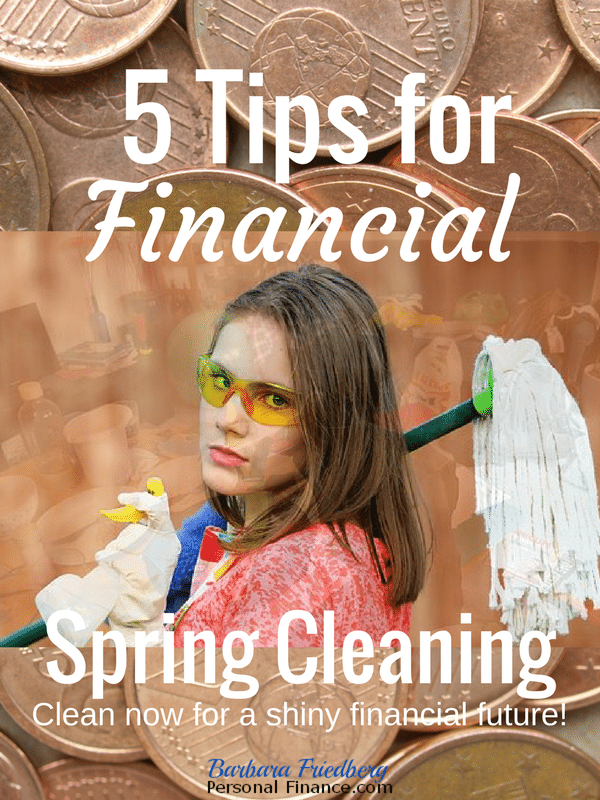 Financial Spring Cleaning Tip #3 – Clean up Your Credit
As long as you're cleaning up your finances, review your credit situation to make sure there's nothing on your credit report that shouldn't be there. During the period from Thanksgiving through tax season, a lot happens financially, and it can be easy to overlook something, especially if it's unexpected.
It's well worth the time and effort to investigate your credit report – bad credit can result in high interest rates or the denial of financial privileges such as a car or home loan. Pay down credit card debt, bearing in mind that your utilization rate should be no higher than 10 percent – an important factor where potential creditors are concerned. According to the Federal Trade Commission, one in five credit reports contains mistakes that can adversely affect your credit rating, so pay close attention.
You're allowed to get a free credit report from each of the credit reporting agencies each year. Learn more at AnnualCreditReport.com. 
Financial Spring Cleaning Tip #4 – Get Rid of Document Clutter
Address document clutter by determining which documents you need to hang onto and which ones can be shredded or thrown out. Tax records and relevant receipts should be kept filed way for seven years, as a general rule. Scan and keep them electronically, and hang onto physical copies as well. You can safely get rid of all those ATM receipts, canceled checks from three years ago, and warranty records for devices you no longer have or use. Remember, if you're getting rid of old credit card receipts and statements, make sure you have them shredded and disposed of.
Financial Spring Cleaning Tip #5 – Know Your Worth
Just as you assessed your budget and credit report, you need to determine how much your assets are worth to have a complete picture of your financial health. Fortunately, it's not that difficult to figure out your net worth.
First, list everything you own and owe. Next, add up all of your assets, including retirement accounts, savings, your checking account, the value of your home, and so forth. Finally, subtract your total debt to find your total net worth. This is the kind of information you need in order to determine whether you're in a position to make a major purchase, such as buying a new house.  It's also an important number to track each year to make sure that you're making financial progress.
Spring is symbolic of a new start. It's a perfect time to get a handle on your finances before you jump into summer activities. By doing a thorough financial spring cleaning, you'll have the comfort of knowing how much you can spend, and where you need to tighten things up a bit.
Gloria Martinez runs WomenLed, a group that celebrates women's achievements in the workplace and is dedicated to increasing the number of women-led corporations, organizations, and small businesses. It is her aim to help increase the number of women-led businesses by educating others about the topic.