4 FACTORS THAT KEEP YOU FROM SUCCESS (AND HOW TO BEAT THEM)
I've been toiling in the recesses of my home office working on several projects. One is on the precipice of coming to fruition after several years in the making. During the past few years, there were many times when I wanted to quit and wondered whether the project would ever succeed.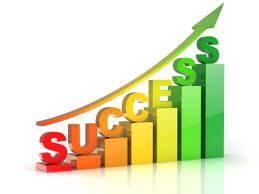 The payoff for success is in the future. Don't fall prey to the factors that keep you from succeeding.
Lack of Direction
In the Truth About Making Money While you Sleep at Copyblogger, Jon Morrow lays out some ideas about becoming a successful internet entrepreneur.
Find folks that are doing the best job, and copy their methods. He did not say steal verbatim what they are doing, but implied that it's not necessary to reinvent the wheel to become successful. He also didn't suggest that everyone can do it, it's easy, or quick. In fact this guy comes across as genuinely knowledgeable and interested in helping others become successful.
According to Morrow, "Your blog post isn't just a blog post. Your podcast isn't just a podcast. Your video isn't just a video.

They're components of a system.

If you're not getting any results from it, it's not the media's fault. Blog posts and podcasts and videos and any other media can and will create sales …

… but only if the system wrapped inside the media is effective. If the system sucks, the result will suck, and the flashiest and most whizbang media in the world won't save you."
Define your path. Ask those you admire for feedback. Look around at others who are making their mark. Become inspired by their accomplishments and learn from their work. Charles Richards, author of the Psychology of Wealth recommends reading biographies as a method of learning from the best.
Fear of Selling
Morrow lays out the importance of sales and marketing in whatever you do. You may be the greatest employee in the world. You might have the most awesome website ever. You may be the next Adam Lambert……But if you don't sell and promote your product (yourself), you will languish in obscurity forever.
Don't fool yourself into thinking that if you do a good job, your product will sell itself. Look at Geico and it's omnipresent lizard. That company is highly successful, yet continues to put it's product out at every opportunity. Learn from successful businesses. They are successful because they are constantly reminding you about how their products can make your life better.
Lack of Branding
When you build your own brand, you have no competition. Think about Trump, Oprah, Prince, or Springsteen. Their products are amazing and their brands are unique. Sonia Simone of Copyblogger encourages bloggers to hone and exploit their unique contributions. It may take a bit of time and thought to nail down what you bring to the table. Realize that you have a unique contribution.
I'm shocked and impressed that in my endless pursuit of home decor perfection, I come across Martha Stewart's products everywhere, from Home Depot, to Michael's, and Target. Is there any store she hasn't conquered? She is the epitomy of branding and marketing.
Figure out your essence and market it well.
Quitting too Soon
Decades ago, I sold real estate as a profession. I continued for two years. The first year was a learning year and by year two I was selling a home a month. And this was during a time period with very high interest rates. I didn't realize how well I was doing. I was frustrated with the high interest rates and I quit.
I went to seminars and studied sales and real estate marketing. My trajectory in sales was outstanding, I just didn't realize it. For the short time in the business, I did exceptionally well. Had I stuck with the field a few more years and  as interest rates fell, I'm confident my sales would have continued to grow.
I learned an important lesson. Success and accomplishment take time. If you quit too soon, you don't allow yourself the opportunity for success.
Success Strategies
Be clear about your goals. No one can do everything. Choose one or two paths on which to focus and put your energies into your top priorities.
Practice talking about your ideas and projects positively and concisely. The more you acclimate yourself to self promotion, the easier it becomes.
Identify how you want to be regarded. Are you the go to guy on buying a car? Are you the woman that knows everything about investing? You cannot be great at everything. Be clear and consistent on your message and develop BRAND YOU.
Keep stepping toward your goals and remain positive. The negative self talk is just around the corner. Beat it down. At night, when I'm tired, the self doubts come up. Recognize the negative thoughts for what they are and don't overweight their importance.
Continue pursuing your goals and look at a setback as an opportunity to rededicate.
Success is much more than money. So much of the joy of life is in creation and process.
Success is not in arriving, but in the journey.
Can't Get Enough Success?
Barb Across the Blogosphere
How do you conquer your success blockers?
image credit; google images-clareity security