Create Financial Goals You'll Achieve with Experian
How to Create Financial Goals- Experian Twitter #CreditChat with top Money Bloggers
I was honored to be asked to host an Experian #CreditChat twitter event. For those unfamiliar with a twitter chat, it's a twitter conversation on a particular topic where everyone is invited. The topic this week was:
How to Create Financial Goals You'll Achieve in 2015
True to my obsessive nature, I created my answers to the chat questions in advance. That way, I could cut and paste them right into the chat. I mistakenly assumed I would have the perfect and best answers for every question. Well, I was mistaken. The amazing guests and participants also had exceptional money advice about how to create financial goals.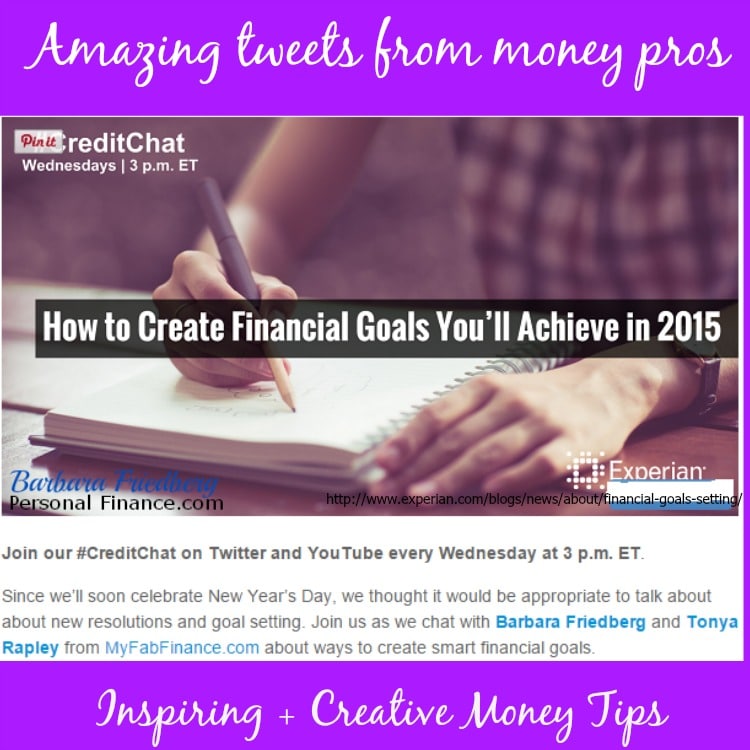 Mike Delgado @mikedelgado – I'm excited about today's chat because I'm excited to learn about how others create goals for the new year.#creditchat
Writing goals down is like magic. There is power in goal setting. As soon as the goal is written, it's power begins. As long as you review and revise your goals, you'll likely reach them. Without goals, your progress wanes. 
These goal setting tweets are filled with wisdom beyond 140 characters. And be sure to follow these wise money pros on twitter.
Why is it important to set financial goals?
Tonya MyFabFinance @MyFabFinance-Financial goals serve as your roadmap to financial freedom
Leslie H. Tayne @LeslieHTayneEsq-Setting a financial goal can make it easier to save your money. It's easy to put money away when you know where it's going!
Tarra Jackson @MsMadamMoney – Financial goals creates a clear pathway to your prosperity. It is your Wealth Roadmap. W/o it, you'll lose time & $$$
Barbara Friedberg @barbfriedberg – 1st reason: To reduce money stress. 2nd reason: To clarify what's important to you and how you will pay. 3rd reason: To smooth out cash flow during entire life (that means retirement too)
Krystal Blais @k_rystal_clear – While it's good to live day by day, it's always a good idea to be prepared for the future & setting yourself up for success!
  Experian @Experian_US Dec 31

Special thanks to @MyFabFinance and @barbfriedberg  for being our featured guests today! Solid advice on goal planning. #creditchat
What types of financial goals should a person think about creating?
@MyFabFinance – I created free goal setting sheets for people who need a little help w/ determining what their goals are.
@k_rystal_clear – I'm one of those people who create "dream boards" w/ photos & quotes of what I want to achieve
@barbfriedberg – I love to set goals & write them down = power + control
@LeslieHTayneEsq – Goals don't have to be huge though. It could be as simple as putting a part of your paycheck into savings all year.
@MsMadamMoney – Financial Goals to Set: Debt elimination, Emergency Savings, Retirement Savings, Giving, Wealth Protection & Play Money! 😉
@SenseofCents– Financial goals can include debt payoff, home ownership, retirement, financial independence, and more.
@wisebread @Experian_US – Both short term (i.e. Emergency fund) and long term (i.e. Retirement). The hard part is balancing the two!
 @tkstaxlady @Experian_US – annual, quarterly and monthly financial goals help you keep your eyes on your progress
@LeslieHTayneEsq – TOO ambitious. If you're still paying off credit card debt, "Being a Millionaire in 5 Years" might be a little too much
@wisebread – not coming up with actionable steps to achieve the goal. You need a plan of attack, not just an endpoint
@mikedelgado – It's easy to get overwhelmed and frustrated with your financial goals if not realistic. Need to adjust as life happens.
@tkstaxlady  – comparing yourself and your progress to other people's goals and progress…Each journey is different
@MyFabFinance – A common mistake is focusing on the goal and not identifying the processes that will create the outcomes
@barbfriedberg -Biggest mistake is not writing the goal down.
Sign up now to get a discount copy of my new book; Invest and Beat the Pros-Create and Manage a Successful Investment Portfolio (and get a free Investing Cheat Sheet now).
 What are the steps involved in creating a financial goal?
@LeslieHTayneEsq – Know your situation. Know your priorities. Know your needs. Know your wants
@MyFabFinance – First step in creating financial goals. Acknowledge and be honest with yourself about where you are starting from
@TravelingWallet  @Experian_US – Setting a baseline, before you can improve you need to know where you stand. With exact numbers you can set goals.
What are ways to stay motivated and on track to achieve your financial goals?
 @LeslieHTayneEsq – Don't forget your goals. My phone alarms all have little messages attached to remind me of them as soon as I wake up.
@mikedelgado – Share important goals with a close friend who can keep you accountable. H/T @jjeffrose "battle buddy" tip "Soldier of Finance.
@MyFabFinance – It's important it is to break your goals down. It's hard to remain motivated when your goal seems out of reach.
@MyFabFinance – When working towards financial goals, run your own race. Don't worry about what others are doing.
@MsMadamMoney – Remember that financial goals to financial freedom is a marathon not a sprint. Pace urself & get an accountability partner.
@barbfriedberg – Focus on the benefit of achieving the goal-less money stress- more money for what matter's to you
What happens if your goal is not achievable? How/when do you adjust?
@MyFabFinance – I say you adjust a goal once you recognize that it's unachievable. If you are committed to the goal, break it down.
@MsMadamMoney – If financial goals r not achieve … modify and move forward. Goals are adjustable. It's OK! 😉
@tkstaxlady @Experian_US – I use @ynab to budget cuz it helps me adjust for those moments…Move money  from one line item to compensate.
@theivyinvestor – When you keep track of progress toward goals weekly/monthly, you see problems early & can make adjustments.
@barbfriedberg – You will always reevaluate-that's part of the process
Coming soon, my new book; Invest and Beat the Pros-Create and Manage a Successful Investment Portfolio- Sign up here (and get a free Investing Cheat Sheet now).
What are your strategies for to create financial goals that you'll achieve?