9 Cheap New Years Eve at Home Ideas
Cheap New Years Eve at Home 
With drunk drivers on the loose, and the crazies out and about, here are some Cheap New Years Eve at Home ideas for a great New Years Eve. Try these with the family, a few friends, or a big group.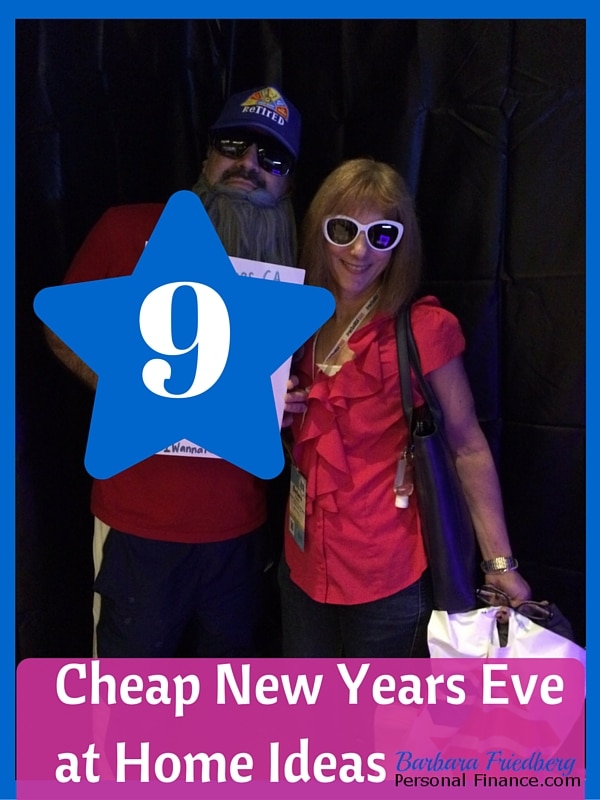 FOOD for a Cheap New Years Eve at Home
Pot luck is the way to go. If your guests bring some grub, they are automatically invested in the event! Set a theme for even more fun. Try hors'doerves, sandwiches, dips, international, or any theme you can come up with. Finger foods are recommended. Also, pot luck cuts down on costs!
DRINKS for a Cheap New Years Eve at Home
Create some fun drinks; it's New Years after all! You can make alcohol punch, Sangria, mixed drinks, beer, wine, or whatever combination you prefer. To keep the costs in check, keep it to a few choices! For those teetotalers, soda, mock-tails, or punch keep the fun rolling.
9 ACTIVITIES for a Cheap New Years Eve at Home
Get the guests or just the family off the couch for a great time. For extra fun, video tape the activities and play them back on the big screen for a good laugh! Try these cheap New Years Eve at Home games and activities. 
1. Charades-Divide the group into 2 teams. Each team writes out a secret TV show, movie, or book on a slip of paper and places them in an open bowl. One at a time, a team member acts out the TV show, movie or book title they selected with the goal of getting their team members to guess with in a pre-determined period of time. The teams alternate until every one has a chance to act out a clue. The team with the most correct guesses wins! 
2. Taboo-First, pick up a game of Taboo, the word guessing game with an exciting loud  beeper included. Watch Ellen DeGeneres and Katy Perry play!
3. Pictionary-No need to buy the game. Divide into teams. One player from the team draws something while the other team members guess, within the allotted time period. Alternate teams and the team with the most correct guesses… wins!
4. Balderdash-No board game needed! Grab a dictionary and give each player a pencil and small slips of paper. Players take turns being the leader. The leader finds an obscure word in the dictionary and tells the group the word. The leader writes the correct definition on a piece of paper while the other players attempt to write a 'believable' definition. Everyone reads their definition in turn while each member votes for what they believe is the 'correct' definition. The winner of each round is the one who's definition gets the most points.
5. Wii games– Tennis, bowling, and boxing tournaments. With a smaller group, competing with dance-a-thons and game tournaments is the best!
6. Newlywed game-with any sorts of couples (don't have to be married or opposite gender!). Friends work too. Watch another video from the Ellen Show with Melissa McCarthy, Ben Falcone Ellen and Portia DeRossi!
6. Dance Parties-Choose a decade and rock it out! Try 70's disco, the 80's, 90's or go old school with the 60-70's Motown sound! If you prefer, go regional-the Latin sound is always fun for a cheap New Years Eve at home!
7. Musical Chairs-This one is awesome with adults or a mixed group of adults and kids. Set up a circle of chairs, with one less chair than participants. One personal controls the music. As the music plays, guests walk around the chairs and when the music stops, every tries to sit. Since there aren't enough chairs, the one without a seat is 'out'. Then one chair is removed and the game continues until there are 2 players and 1 chair remaining. The winner is the last one seated.
8. Cookie Decorating-This is one of my favorites. Make or buy several dozen sugar cookies. Set up decorating stations with a variety of icings, candy and other toppings. The guests each take a cookie and go through making it their own!
9. Theme Rent-A-Movie Night-If you like thrillers, choose an Alfred Hitchcock retrospective. James Bond aficionados, go from Gold Finger on up to the latest Spectre. 
What are you waiting for-stay home and have cheap New Years Eve fun this year!
This article contains affiliate links, to help keep the lights on.
A version of this article was previously published.