CHEAP ENTERTAINMENT AND TRANSPORTATION TIPS (Part 3)
More from the Broke Bytch
Entertainment and Transportation: Time to wake up from your drunken stupor and get home (oh wait, that's me..)
Welcome our new guest contributor, the Broke Bytch. She is a new college grad with a minimum wage job. Enjoy her irreverent tips for saving and spending. Caveat; Her ideas are her own and I bear no responsibility for their content!
Check out Part 1 of the Broke Bytch Series; True Confession About My Housing Arrangements and Other Cheap Living Options and
Part 2; SAVE MONEY ON FOOD; How to Not Eat Through Your Wallet, No Matter How High the Fiber Content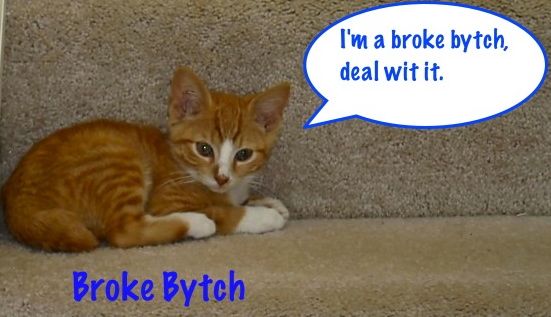 Cheap Entertainment for the 20-Something (not PG rated)
Cheap forms of entertainment are hard to come by, especially depending on what you like to do. Before I begin my post I must introduce it with somewhat of a disclaimer in order to preempt someone commenting on the limited sphere of information in this post: I am an early 20-something and most of my friends are the same age, keep this in mind when considering my point of reference. I am not aware of what people over 30 do for fun, I assume it is something like watching television or occasionally going out to a movie. This assumption stems simply out of my early earnest investigations of my parents' "social life" which subsequently proved too boring to continue.
However, I can comment that at least for myself and my cohort group, a major form of entertainment revolves around drinking. Since I already mentioned happy hour in my previous post, and it's not this huge secret concept I'll move on to my other favorite way of getting drinks on the cheap. Stand next to the drunkest person at the bar and suggest that they buy you a drink (have I mentioned I'm shameless? You shouldn't be surprised). I would suggest for women, showing a little cleave but that's never been successful for me, in fact it actually has been a disaster. So, I cannot in my right mind condone it.
Another thing I find we 20-somethings like to do is go to clubs. Find a club with the option to arrive early, before the cover takes effect. If you do that, perhaps bring a book, some cards or a board game for the four plus hours until the club gets hopping.
If you are the type of person who needs to get tipsy/drunk in order to have fun at a club, I suggest drinking before and then taking public transportation or have a responsible/sober friend drive you. But make sure to thank them because we all know how much it can suck being the designated driver in a group of wasted individuals and having to babysit your grown-ass friends.
Nevertheless, as much as I enjoy a good social lubricant, being without can be just as fun. I enjoy drinking a soda (much cheaper) and watching my friends make fools of themselves. Now that's cheap entertainment!
I am a sucker for First Friday type events. Once per month all the galleries are open with free refreshments and activities downtown. One gallery sold $2.00 art trinkets. Great for a cheapskate like me. Many museums have other free days and activities where young adults can mingle.
In our area we have a "meet-up" online listserve with lots of cool activities and they're usually free. Some of my favs are wine tasting (big surprise), hiking, and some social media get togethers. One meet-up included an entire taco bar for free.
Crystal at Budgeting in the Fun Stuff shared 5 cheap entertainment ideas over at Sweating the Big Stuff, for more ideas.
Cheap Transportation
This brings me to my next point: transportation. I mentioned it before but seriously, public transportation is awesome if you want to save gas money. Yes I am all too aware it has its disadvantages like taking a long time, uncomfortable seats, and sometimes weird/smelly people are on it. But other than that, it's great. I personally really enjoy watching the crazy people on the bus talk to themselves and make the uptight assholes sitting near them really uncomfortable. Talk about free entertainment- I could write an entire blogpost on the people I've witnessed on the bus. There was this one lady who was dressed entirely in a clown suit……..wait, I'm getting off track again, what was I saying? Ah yes, transportation.
Another amazing cheap transportation option is having your relative pay for your gas money (thanks mom and dad), or have your friends and significant other drive you around. I know what you're thinking, yes, I'm sometimes a bit obnoxious. Fortunately, my other positive qualities force my friends to keep me around. At least I'm entertaining.
I try to carpool whenever possible, even if it's a bit inconvenient, it saves a ton on gas, and I can listen to music and avoid my friends blather (when I'm not driving).
As always, I am so grateful that you read my random ramblings!!
Peace, Love, and Harmony
Broke Bytch
As always, I welcome your comments (I'm begging you) post your tips on free entertainment and/or transportation!!!!