Cheap 4th of July Fun-7 Great Ideas
7 Ways to Enjoy the Fourth of July + Maybe Build Wealth
By contributing columnist,  Alexandra Deluise
The Fourth of July is one of the highlights of summer for me. The holiday almost always includes a cookout, fireworks, and time spent with family around a campfire with marshmallows.
This year, July 4th is on a Wednesday. You might even take off Thursday and Friday for time to recharge, relax and have some fun. This means five full days of potential festivities and cheap 4th of July fun! However, getting crazy on this patriotic holiday can cost a lot if you are not careful. Save some money with these frugal tips for a fun-filled holiday weekend.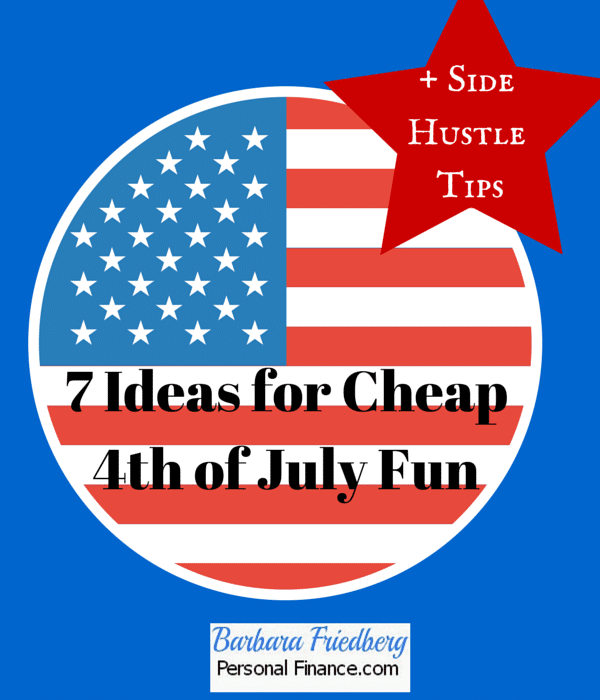 7 Cheap 4th of July Fun Ideas
1. Keep the 4th of July in Perspective
One of the most dangerous things about holidays are our own expectations. Remember what you are grateful for, and keep those things front and center during your Fourth of July celebrations.
2. Awesome Outdoor Activities! (+More Cheap 4th of July Fun)
I love outdoor activities, and the Fourth of July is a great time to engage in them. The best thing about outdoor activities is that they can be very cheap, and last for years! I love this indoor/outdoor frisbee golf set. 
Corn hole/Bag Toss: A quick internet search shows that sets go for $40, but with a deeper search you can find sets for as low as $15! Now that's a great and cheap 4th of July fun activity. Corn hole is one of my family's favorite games to play; we bought a set a few years ago for around $30, and have used it at every cookout since. The boards easily fold into the traveling case, and we're off!
Water Obstacle Course: If it's really hot, break out the sprinklers and have some fun. This does not have to be just for kids! Add a grown-up challenge by timing runs through different sprinklers, slip-n-slides, or other obstacles, and compete for bragging rights or a small prize.
Sidewalk Art: Another child's activity that many adults can become overly enthusiastic about is chalk art. Grab a large bucket for under $10, and gain instant curb appeal (hopefully!) as everyone gets involved.
3. Party Hop!-Rock-Bottom Cheap 4th of July Fun
The best way to save money on holiday parties is to be a guest. There are always ample barbecues and pool parties going on during this weekend, and, as long as your friends aren't as boring mellow as mine, you will probably find yourself with at least one invitation this year.
Of course, you shouldn't arrive to a party empty-handed. Bring a bottle of wine, a red, white and blue themed dessert, or an easy-to-make casserole to share, and you are also helping your hosts save money. Win-win!
4. Throw a Pot Luck-Easy and Cheap Fun
If you enjoy being a host(ess), opening your house and yard to guests during a holiday can be a lot of fun. It can also be very expensive when you think of everything that goes into hosting a party – food, decorations, disposable plates and utensils, and drinks, at the very least!
My husband and I love to host large, food-filled parties. I always feel inclined to make fruit salad when we have outdoor get-togethers, which is a costly dish when made from scratch, and my husband enjoys smoking ribs in addition to grilling burgers and hot dogs. While making delicious food for our families and friends makes us happy, it does not make our wallet too happy.
Instead of taking on the burden of feeding everyone yourself, choose one or two items that you will provide and ask others to bring a dish to share. In addition to saving money, you will free up time otherwise spent preparing dishes, and you will be able to relax and enjoy the party.
Tip: If you are hosting, use wholesale club (BJs, Costco, Sam's Club) memberships wisely.
Every three or four years I buy a gigantic box of plastic silverware from my local wholesale club. This box, which costs me around $15, lasts through every party we have over the course of those years. It's a fantastic purchase, and well worth it! I also buy plates and cups at wholesale prices.
Get your side-hustle on this summer + visit our Make More Money Portal
However, not everything is worth shopping at wholesale clubs for. Make sure that you are actually saving money with your purchase! Further, your purchases should make sense for the number of people you are hosting. If you are having four friends over, buying a flat of 12 oz soda cans may seem like a great deal, but in reality you would save a lot more money buying store-brand soda at $1 for a 2-liter bottle in three flavors.
For larger cookouts (8+ people) I find that buying meat and rolls at my local wholesale club is the best deal, particularly when my husband smokes ribs. However, when we are only having my family of 6 over we generally buy ground beef from the supermarket and make our own patties. Buying 50 hamburger patties that will then take up too much space in our freezer makes no sense, especially when two of my family are vegetarian!
5. Free Entertainment
The great thing about the Fourth of July is that it comes with free entertainment across the states – fireworks! Buying your own (in whatever size may be legal in your state) is fun if you do not live near any displays, but I particularly enjoy the kind that don't cost me money and pack a bigger bang.
One of my biggest problems with firework displays is that usually they involve getting stuck in traffic for hours after the event. Are you an avid walker? Traffic can be avoided by some strategic parking and a brisk walk.
Tip: Familiarize yourself with road closings around the firework areas. This information is usually noted in newspaper or Patch articles, and should let you know what detours will be available.
Tip: Scout out local businesses within a reasonable walking distance to the fireworks that are unlikely to charge for parking. In the past I have parked in Stop and Shop parking lots about 1-1.5 miles away from the fireworks. While it was a bit of a hike (wear comfy shoes!), it was great to have little traffic to contend with while leaving.
6. Keep the Side-Hustle Going
There are many ways you can build wealth during the summer, and one of my favorite ways is doing child care for people around the holidays. You can absolutely capitalize on the Fourth of July by offering many different services.
Pet sitting: For those who don't want to leave Fido alone during the fireworks. One of my dogs is absolutely terrified of loud noises, and needs someone with her during thunderstorms and fireworks to keep her nerves at bay.
Fun-filled children's activities: The great thing about my sidewalk art and water obstacle course ideas is that you can use them for children as well. Set up a Fourth of July themed afternoon, and let parents enjoy adult-only parties while their children remain safe and happy.
Sell your tasty creations: Go on Pinterest, and you will see endless red, white and blue themed food items. If it is legal to do so in your state, you can make these creations and sell them to others hosting parties. You can make things as simple or extravagant as your customer's budget allows!
7. Get Away From it All
There are many ways to take cheap summer vacations, and some places (like Atlantic City and Washington DC) have ridiculous fireworks. Summer is the best time to vacation in my opinion (contrary to my husband who prefers winter skiing trips), so find yourself a beach, grab a good book, and take some time off midway through the year.
If you plan you might even be able to score a trip to New York on $100 a day. With AirBnb and other home sharing sites, you can travel today, for less than in the past!
With cheap 4th of July fun, you'll create memories and wealth in life.
Staff columnist Alexandra DeLuise combines her banking experience with real-world financial advice to provide simple money tips to everyday people.
Final cheap 4th of July fun tip-relax on a hammock and read How to Get Rich; Without Winning the Lottery
Disclosure: Please note that this article may contain affiliate links which means that – at zero cost to you – I might earn a commission if you sign up or buy through the affiliate link. That said, I never recommend anything I don't believe is valuable.
Updated; June 30, 2018