EXCITING NEWS: 20 Minute Guide to Investing is NOW AVAILABLE! If you have any interest in learning about investing, either now or later, you must download this FREE eBook!
GUEST POST by Michael Trinkle, ForexTraders
This advanced investing article offers a look at what happens when the value of the dollar (currency) goes up and down in relation to the value of other international currencies and what those changes mean to YOU! It's not a crystal ball, but a strong hypothesis!
Michael Trinkle is a writer for ForexTraders which is an educational/informative resource center for the currency exchange market. He has been interested in the stock market, investments, personal finance and spreading the word about currency trading for much of his life, but has most recently fulfilled this passion by working for ForexTraders            
This year has been one of turmoil in the currency markets and forex such that headline news has fastened a time or two on what the U.S. Dollar is doing in the market.  For six months, the Dollar seemed to be on a strengthening binge, brought about by debt issues in Europe and a weakening of the Euro.  However, it has been a topsy-turvy ride for the past year, and the relative strength of the greenback has now settled in at a level very similar to this same time a year ago.  With all of these fluctuations in value, what can the Average Joe on the street expect in the way of basic price changes in the market?
From a fundamental perspective, our formidable deficit has saddled us with a weakening Dollar (takes more dollars to buy foreign goods and services) trend for the past eight years. You go abroad and it's much more expensive! Although, recently, there have been a few breaks in this trend.
The Board of Governors of the Federal Reserve System actually maintains a Dollar index that is weighted in the same proportion that our international trade balances are transacted.  The resulting chart is shown below and represents our Dollar's relative value versus a broader pool of currencies over time: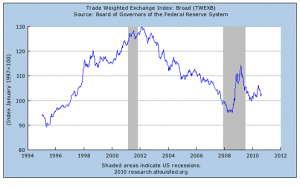 The strength of the Dollar versus this chosen basket of foreign currencies reached its peak in 2002, but it has been on a general decline thereafter to the present value for today, roughly "parity", but a decline of some 20% from 2002 highs.  Without positive economic recovery results leading to deficit reductions, analysts' expectations are for further declines in the future.
What impacts on our budgets can we expect?
To begin with, the recent strengthening was fortuitous for the summer travel season.  Over the last eight-year period as the Dollar weakened, gasoline prices at the pump climbed over the $3 level.  However, with a stronger Dollar, gas prices over the summer months remained below the $3 level.
Oil prices generally move in the opposite direction of the Dollar.
A weakening Dollar will eventually translate to higher prices at the pump, and the same can be expected from utility and power companies.
Higher oil prices also mean higher costs for the transportation industry.
The Average Joe has had to accept higher costs at his local grocer, as well as at most other retail establishments.
Here's some good news (at least partial good news):
On the positive side, The Euro has weakened significantly with respect to the Dollar.
Your favorite sunglasses or fashion item from Europe will be cheaper, but cheaper imports can also provide downward pressure that encourages lower domestic prices for other commodities and manufactured goods.
Lastly, there are your "big box" stores, namely Wal-Mart and Target.
Contracts with large Asian producers are typically in Dollars, and the local currencies tend to be pegged to the Dollar as well.
Changes in the forex market have little short-term impact on these long-term contracts.  There is no need for Joe to get on a forex demo account to anticipate the best Wal-Mart shopper deals around the corner.
What do you think?
The Average Joe/Jane in America is 25 or older and has an income of $32,000 per year.  With this income, Joe can afford the basics, but frugality is a necessity.  Fluctuations in the Dollar's value have gone full circle over the past year, but a forecast of continued weakening will eventually cause price increases in his most basic expenses.
Write in and tell us your thoughts? Do you think the international markets & interrelationships affect prices in the USA?
Image credit: Mang M
BarbaraFriedbergPersonalFinance across the blogoshere:
I am honored to have my work showcased at these sites recently. Why not stop by the websites and check out the fine articles?  
Len Penzo dot com posted 20 Minute Guide to Investing is Here!
The Yakezie Network site, Financially Poor, and Wealth Artisan posted BarbaraFriedbergPersonalFinance member post
The Saved Quarter published The Secret to Amazing Life Success
Personal Finance by the Book published Passive Income; Fact or Fiction-part 2
Watson inc. who wants an mp3 player?
The Yakezie Carnival at Joe Plemon Personal Finance by the Book promoted Passive Income Fact or Fiction
Free from Broke posted Budgeting  for the Fun Stuff
BIG GIVEAWAY including ipad at new retirement site Donotwait! Sign up now!