August Finance Reads-Sharpe, Buffett, Trump and More
With the Chinese Yuan falling, Donald Trump rising, Greek debt still in the media, there's plenty to think about. For a quick diversion, here's some of the articles I've been reading recently. I hope you enjoy them as much as I did.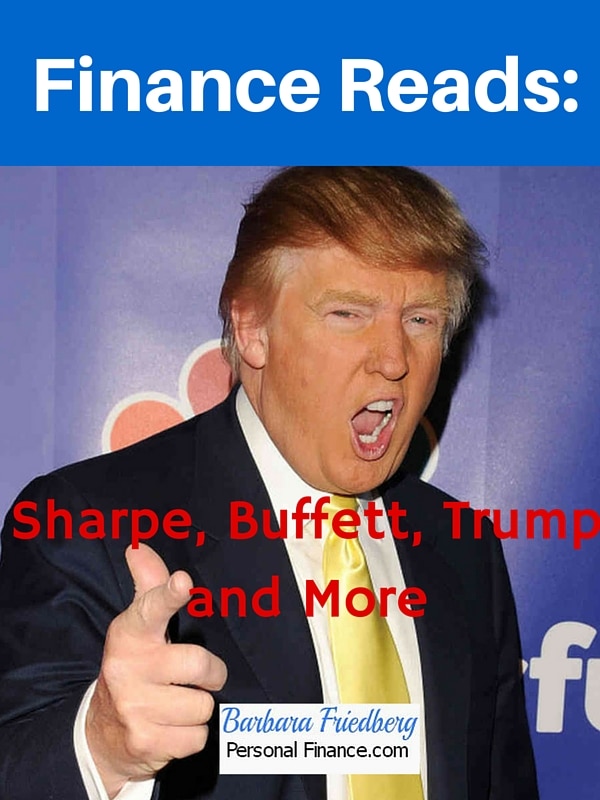 "Valuable Lessons From Warren Buffett's Letter to Shareholders", Cullen Roche of Pragmatic Capitalism – Cullen does a great job of pulling out the key takeaways from Buffett's last years annual report. My favorite was "stop paying high fees". My 'ah-ha' lesson was "risk is not volatility". He referenced Buffett is saying that risk is actually not meeting your financial goals. Simple and true!
How to Get the First Million Dollars", Peter Anderson of Bible Money Matters – He took inspiration from the Quora question, "How did you make your first million dollars?". The responses to that question gives insight into various ways to get to that 7 figure benchmark.
"5 Money Saving Hacks Backed by Scientific Research", Jim Wang at Wallet Hacks hits the books in this must read post!
My simplest solution to hitting a million at age 65 is to start at age 30 and invest $555 per month in a diversified portfolio of stock and bond mutual funds. (Assumes you average a 7% annual return.)
Indexed Investing: A Prosaic Way to Beat the Average Investor; William Sharpe, Nobel Prize winner – This legacy work by founder of the Sharpe ratio and stalwart of modern investing lays out the importance of an index investing approach. This is a research-informed article and still important, more than a decade after it's initial publication. (Now you know what a finance geek I really am)
"The Power of Dividend Income"; John Dulin of Money Smart Guides – John explains how dividend investing exemplifies the magic of compounding. He graphically shows how reinvesting those dividends can really add up. 
"If You Prioritize Stability; Don't Prioritize Stocks"; PK at DQYDJ.com. I had a tough time picking an article to feature because I got caught up in the calculators and visualizations. PK is so smart and his data interpretations are fascinating. In this particular article, he takes the simple concept of 'higher returns necessitates greater risk'  and expounds upon it. 
"The Best Way to Pay Back Student Loans While in College"; Magnify Money. With student loan debt blanketing the media, this article is a down-to-earth view of how to keep student loan debt in check. Too much debt can mortgage your financial future, so it's best to keep this debt to a bare minimum.
"Donald Trump's Best Stock Picks"; CNN Money. Although I'm not a political supporter of Trump, I admit that he's the most entertaining candidate on TV. That's why I couldn't resist including his stock picking information. He may not be presidential material, but he is certainly worth a look for his business acumen. 
"How Much Apple Stock Do You Really Own?"; Roger Wohlner of The Chicago Financial Planner. The basic premise of this article is to understand what you own. If you have mutual funds, ETFs and individual stocks, you may not have a great idea of your investments. If several funds have large concentrations in one stock and it drops, that might explain the fund share value drop. 
Here's a Taste of My Recent Online Work
"7 Questions to Ask Before Retiring"- Investopedia.com
"7 Smartest Moves to Make Before Interest Rates Rise" – GoBankingRates.com
"The Dark Side of High Yield Investing" – U.S. News and World Report-Money
"Investing-Time to Sell? Manage Your Money, How Long to Keep Financial Records" Young and Oldish Money Podcast-launching soon!
Click here to get Invest and Beat the Pros-Create and Manage a Successful Investment Portfolio. Perfect if you're interested in building wealth with investing.