14 Holiday Activities to Build Wealth and Memories
Holiday Activities, Experiences, Wealth + Memories
"As we express our gratitude, we must never forget that the highest appreciation is not to utter words, but to live by them." ~John F. Kennedy
Call me scrooge, but I think activities and memories are better holiday gifts than stuff you get, tire of, and forget about.
These ideas will last a lifetime.
Although our daughter is all grown up, I still remember the holiday cruise we took with my entire family over a decade ago. And I don't know about you, but I can't remember the gifts I gave or received for the holidays last year!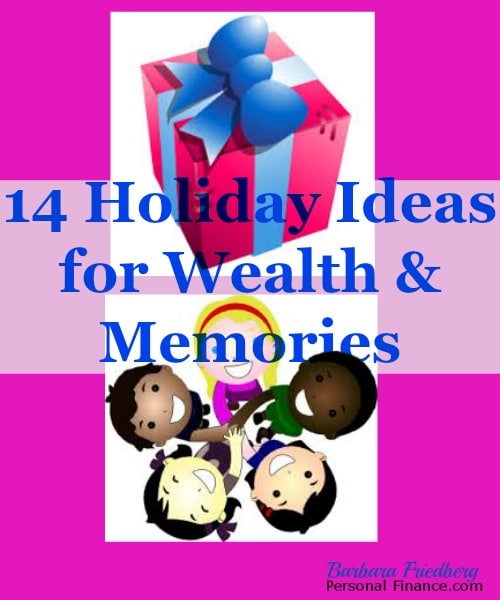 How to plan holiday activities that are meaningful to you and yours.
Sit down as a family and brainstorm special activities you'd like to do. At first, nothing is out! You can certainly cull the list later.
Do a google search for holiday events near your home. Check out hay rides, light shows, Santa sightings, community Hanukah lighting ceremonies, library and movie theatre events.
Next use the following holiday activities  list to inspire your meaningful family holiday celebrations.
 14 Holiday Activities to Build Wealth in Life + Memories
Find a place where the family can help others. Go to a homeless shelter and bring books and toys to the kids. Read the little ones stories or serve the meals.
Go for a hike. There is nothing more inspiring than being out in nature, no matter what the temperature.
Write a family holiday story together. Then print it out into a book.
Cook a meal as a family. Plan it out together, shop for ingredients, and make sure to bake a dessert. I promise this is an experience you'll remember.
Make a gingerbread house. Just make sure not to eat all the candy for the outside! (Oh never mind, that's just me.)
 "Gratitude is not only the greatest of virtues, but the parent of all the others." ~Marcus Tullius Cicero 
Plan a family craft and use it to decorate the house. Ornaments or holiday decorations are always fun. Go out in nature, collect pine cones and paint them gold and other bright colors. And this is for the entire family, not just Mom or Dad and the kids. Everyone join in.
Play an old fashioned board game together and make indoor s'mores in the microwave (graham cracker + chocolate + marshmallow > zap for a few seconds).
Make a holiday family video and post it to YouTube. Share with friends and family.
Go to the dollar store for a shopping spree! Give each person a few dollars and see what treasures they find.
Live in a small town? Schedule an overnight in the closest big city and "play tourist".
Make a massive gratitude list > make it beautiful with colored markers or special computer fonts. Hang it up to remind you of your blessings.
Visit a nursing home and bring holiday gift bags of sweets and toiletries.
Live in a warmer climate? Mini putt is great fun for all ages.
Have lots of snow? Nothing beats a family sledding day at the nearest golf course.
 "At times our own light goes out and is rekindled by a spark from another person. Each of us has cause to think with deep gratitude of those who have lighted the flame within us. ~Albert Schweitzer
What are your most treasured holiday activity memories?
Quotes sourced from brainyquotes.com